A Company-Branded Digital Workplace
Configure your company portal with our extensive customization options,
so that your digital workplace looks and feels like your brand.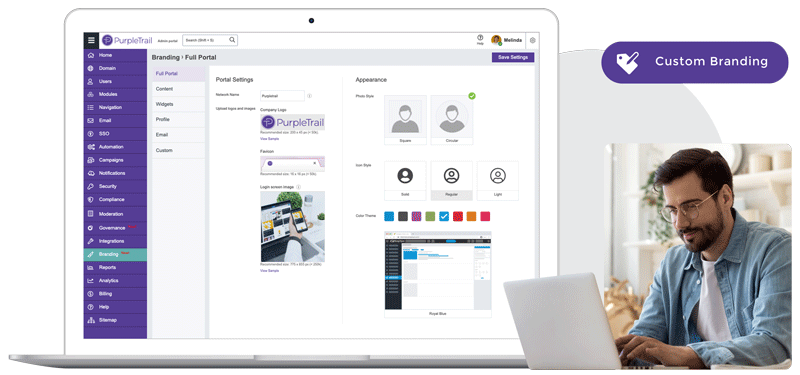 We chose to have our company app branded in the AS Watson colors and the AS Watson look and feel so that there's an instant recognition with all of our employees.
- Jan Kees Fokkens, Social Intranet Project Manager, A.S. Watson Benelux
A Self-serve Interface
Admins can easily incorporate their company's own unique branding into almost every aspect of MangoApps. Assign custom appearance settings, color themes, text styles, and more with a self-serve branding module.
Complete Visual Control
Admins can add custom CSS & JavaScript to their network, giving them the freedom to tailor all of the visual elements in MangoApps.
A Platform That Matches
Your Brand's Look And Feel
Matching The
Style Guide
Widgets, pages, dashboards and other content areas can be branded/customized as well, providing consistency throughout your platform and ensuring that new content matches the company's style guide.
A Consistent
Brand Experience
Maintain brand consistency across devices. A user receives the same branded experience whether they access the domain through desktop or the mobile app.
No other platform we looked at could achieve the visual style we wanted. With MangoApps, we were able to create something beautiful and elegant that can serve as a knowledge management platform for our entire firm.
- Debra Helwig, Senior Internal Communications Manager, KCoe Isom

How Our Customers Use The Branding Module
Meet Specific Needs
MangoApps allows admins to go beyond built-in functionality by adding their own code directly into the program
Strengthen Company Culture
Build brand champions by helping employees feel more connected to their company
Adoption Made Easier
Domain branding makes the adoption and continued use of MangoApps an easier and more intuitive process
Flexible Dashboards
Admins can create a global universal dashboard for all employees, or allow workers to personalize their own
A 'Native-built' Tool
MangoApps' extensive branding module allows you to create something that feels like a native-built tool