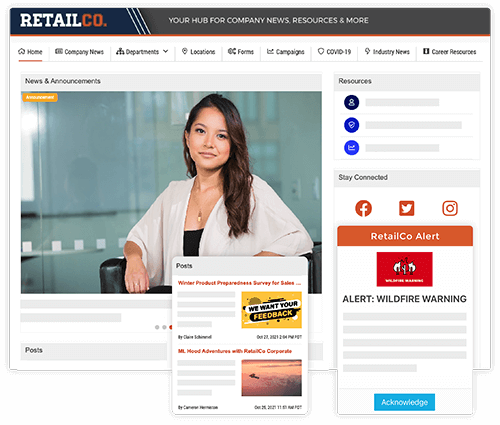 Company Communication
Reach Every Employee
Get company news and other messages out to everyone on the channels they prefer. That means better access for frontline teams, and less disruption for desk workers.
Push news out to targeted employee segments with interactive posts
Organize team-level resources and information with company & department sites
Reach everyone quickly in crisis situations with emergency alerts
All Company Communication Features
We're seeing gains in communication, culture and strategy alignment, and consistent single-messaging. MangoApps helps us do that in a manner that isn't just blasting out a bunch of broadcast emails. We're able to get away from this and establish communication that is hasty, consistent, and keeps key messages in front of our people.
- Cheryl Olson, Head of People & Culture, Great Western Bank
Team Communication
Empower Every Employee
Employees who are able to find information and collaborators can build new connections, avoid duplicated work, and accomplish what would otherwise be impossible.
Find and message colleagues quickly with the employee directory
Groups act as dedicated team communication and collaboration spaces
Speed up the flow of information with chat and private messages
All Team Communication Features
Employee Engagement
Make Every Employee Feel Heard
Keep your team happy and engaged by giving everyone a voice and creating a space to recognize when someone goes the extra mile.
Give shout-outs to your star performers with employee recognition
Surveys & polls create a space for management to gather actionable feedback from all employees
Encourage participation and friendly competition with gamification levels and badges
All Engagement Features
I think it's strengthened our culture because it's given all of our employees a voice, including those who didn't have one before. Everyone can read or submit success stories from throughout the company... You can be proud of what you're doing, and others can celebrate with you.
- Rebecca Stone, Internal Communications Coordinator, Ram Tool

Content Management
Centralize Your Company Content
Save time and promote efficiency across your whole organization with flexible, searchable repositories of content and knowledge.
Collaborate in real time with document management, sharing, and versioning
Create an organized, up-to-date repository of knowledge with libraries and wikis
Give each employee private access to personal documents with the employee vault
All Content Management Features
Team Collaboration
Bring Collaboration Into The Open
Promote transparency and efficiency by bringing collaboration into team workspaces, so projects get across the finish line quickly and nothing falls through the cracks.
Create searchable team workspaces with projects and groups
Stay on the same page using team updates, with comments and reactions
Distribute and oversee action items with task management
All Collaboration Features
Employee Training
Connect Every Employee To Learning
Bring out the best in your team with learning resources that are always available, so both growth and reference materials are at their fingertips.
Create and deploy training materials with our intuitive LMS
Track participation and manage recertification with audit-ready certificates and transcripts
Create courses for your partners and customers with public access
All Training Features
Workflows
Digitize All Repetitive Workflows
Take simple, time-consuming tasks off of your team's plate, so they can focus on more impactful work.
Collect information and track activity with interactive forms and tracker spreadsheets
Automate approvals, inform colleagues, and more with no-code workflow templates
Build your own custom workflows for other tasks and data management
All Workflow Features
Dashboard & Newsfeed
Personalize Every Employee's Work Hub
Versatile entry points ensure that all of your employees will be able to bring MangoApps into their workflow and find information quickly.
Let each employee optimize their work hub with a customizable widget-based dashboard
Stay on top of your most important tasks and updates in real time with the news feed
Find anything you need quickly, with universal search that crawls document content and past conversations
All Entry Point Features
Integrations
Integrate Your Enterprise Systems
Integrate with all your enterprise systems from a single dashboard so your employee tools are accessible from a single, secure dashboard.
Create a secure, uninterrupted experience with a wide variety of SSO integrations
Centralize user administration and access control with Active Directory
Set up our Office 365 & GSuite Widget Packs for a seamless employee experience
All Enterprise Integrations
Our team members now use MangoApps as the jumping-off point to get to all the tools they need to do their jobs. Our decision to set up our intranet with that functionality in mind was very deliberate, and our setup has worked remarkably well.
- Debra Helwig, Senior Internal Communications Manager, KCoe Isom

Administration
Manage Your Work Hub With Ease
Our administration portal balances deep security and analytics features with a straightforward, company-branded interface that requires no technical background.
Mobile, desktop, and web apps ensure access from everywhere for everyone
Enterprise-ready security features (built on the AWS cloud) keep your data secure
Unified, comprehensive analytics and reporting let you measure and monitor everything
All Administration Features