Keep Files Synchronized
Sync files across devices and platforms with a standalone, robust client for both PC & Mac.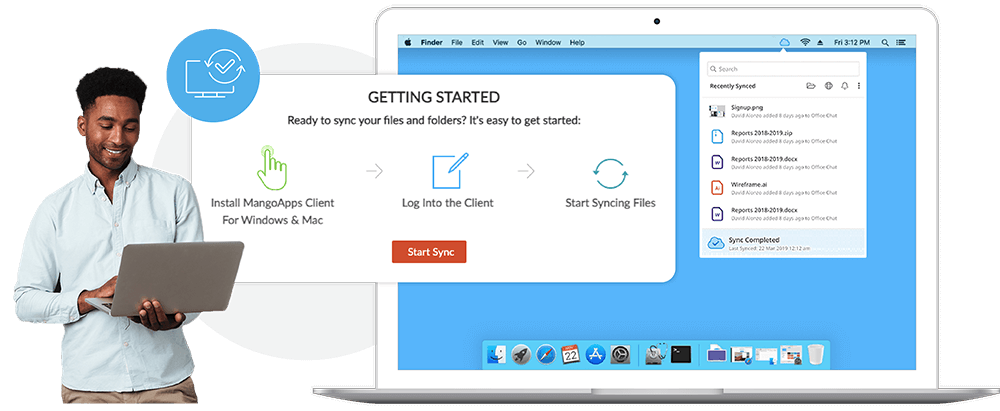 Configuring
Desktop Sync
Selective desktop sync allows users to choose which folders are actively synced to the computer. Adding and removing selections can be done at any time from the desktop client.
MangoApps
'My Drive'
Files and folders created in the MangoApps 'My Drive' are private and only accessible by their owner. If needed, these files can be shared with co-workers and teams.
Recently Synced Quick Access
The recently synced view allows the ability to view up to 200 recently synced files, with a look ahead search to narrow the results.
Additional File Sync Features
MangoApps File Sync allows for syncing of large files up to 10GB.
Users can select to sync only desired network folders upon setup or select/deselect the syncing of desired folders at any time.
Files can be synced on both Windows and Mac OS. Either platform's desktop client can be used to enable and manage file sync and settings.
Users can set file sync bandwidth limits to ensure that network speeds are not hogged by large or continuous file syncs.
IT Friendly Client
SSO options are available and supported for your domain, making it secure and easy for users to login. The client is configurable to allow sync requests to go through the company's proxy server.
Admin Control
Admins can view a list of all synced computers and files in the admin portal. They can control and unlink any user's computer in the event that an employee leaves the company or a device is lost/stolen.
Other Features
MangoApps file syncing can be paused and resumed at will by the user, by selecting the setting in the desktop client.
Users can drag and drop a group of files or even folders on their desktop into their 'My Drive' or other existing directory.
Previously synced files can be moved online with ease. Right clicking on a file or folder will present the option to 'move,' allowing the users to select a new destination.
Users can unlink a computer in cases where the device is no longer going to be in their possession. Data will still remain on the computer and will need to be deleted manually if needed.
How Our Customers Use File Sync
Keep Files In Sync
Users keep files synchronized between devices for online/offline use
Access Files On-The-Go
Employees maintain access to files on the go with the mobile app
Edit Files Offline
Edit documents offline, syncing when the device goes online again
Monitor Employee Usage
Admins monitor usage and disable file syncing when an employee is terminated
Keep Content Up To Date
Teams manage file versions and have access to the most updated documents