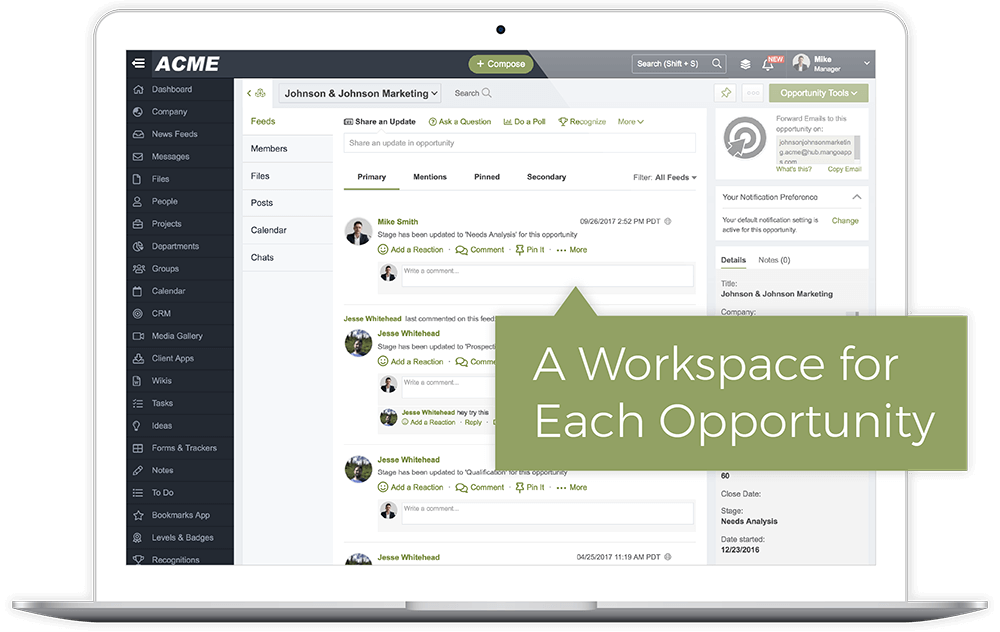 Sell Smarter and Faster With Domain Experts
Know the answers to hard questions, from competitor info to what moves are needed to win business. Forward external communications with a sales opportunity right into MangoApps as a News Feed in the opportunity workspace. The team can follow along on the sales progress and chip in as needed, allowing sales reps to take action faster and smarter.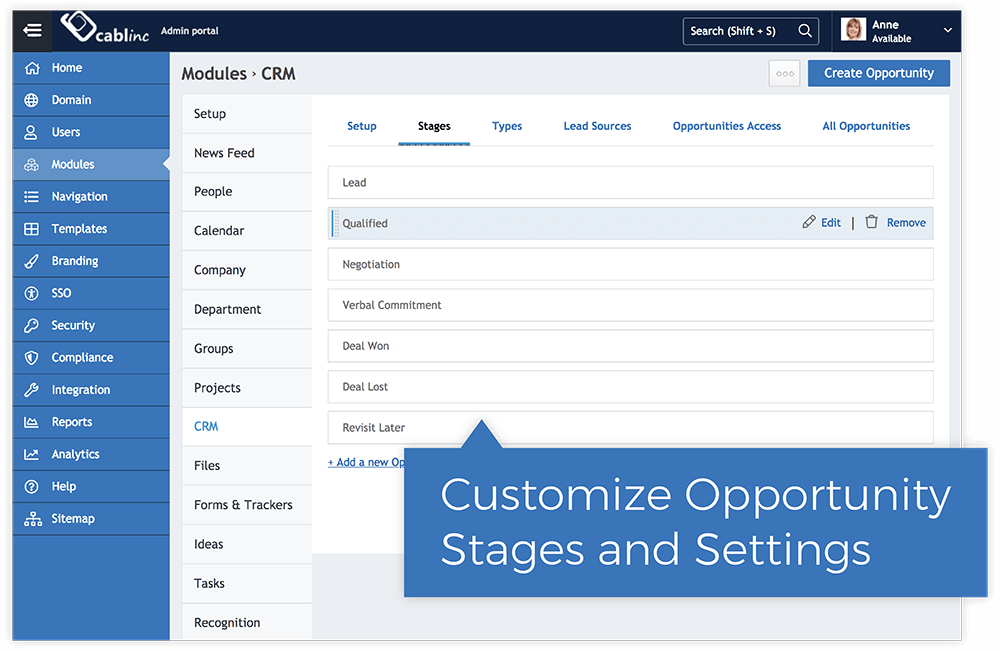 Streamline Opportunity Management
CRM solutions should map to opportunity management and business processes, not the other way around. Easily customize MangoApps to reflect the company sales and forecasting stages, lead generation sources, and more. Drive process, productivity, and consistency in a way that works for the business.
Additional CRM Features
Manage and Assign Categories
Assign categories for opportunities to get a big picture or an eagle eye view by grouping opportunities based on necessary classifications.
Invite Opportunity Followers
Colleagues can be invited to opportunities for help or to follow along on progress.
Add Notes To Opportunities
Sales reps or others involved in the process can add notes and comments to enrich the sales process.
Integration With Online Meeting Tools
MangoApps CRM integrates easily with GoToMeeting and Join.Me to make the sales process and outreach even easier.
Set Local Currency
Easily setup the currency to match what the business deals in.
Transfer Opportunity Ownership
Network admins on the MangoApps domain can transfer owner rights of any opportunity to other users as needed.
How Our Customers Use CRM For Teams
1

Create a streamlined and powerful sales process with the right tools and collaboration

2

Use a focused pipeline, customizing opportunities by stage and categories

3

Integrate and sync opportunities from 3rd party CRM systems

4

Share crucial sales files, documents and proposals with necessary recipients

5

Take the power of MangoApps CRM on the go, from any device
Bring your frontline and office teams together on one common platform
It has never been this easy to create the perfect employee experience for your deskless and deskbound workers. Contact us to discuss requirements, pricing, rollout and support. Get your free demo today!