All the Features you Want, Nothing you Don't
MangoApps is a modular, feature-rich platform that is both deep and wide. The platform features are organized in configurable modules to provide best-in-class solutions.
Administration Portal
Easy Administration
MangoApps' comprehensive administration features are built to make management easy. We help admins organize and run their networks effectively so all employees can enjoy a safe, collaborative and effective environment.
Establish sharing permissions, set your time zone, and make other global changes across your entire network
Reset passwords, change emails, remove users, and make other changes to manage specific users
Understand every aspect of the employee experience with detailed user engagement reports and analytics
Enable or disable modules in MangoApps at any time, creating the perfect environment for every occasion
View feature details >
Security & Certifications
Security & Certifications
MangoApps security and certification offer a wide range of application-level security solutions, ensuring your account is always safe. From data retention settings to how users access information, you have complete security control.
Establish additional sign in security with password length and complexity factors and two-step authentication settings.
Set custom IP ranges for your platform, limiting MangoApps accessibility to the office or to a specific area.
Remotely suspend or wipe-out data from a lost or stolen device without disabling the entire user account.
Log and capture any suspicious activity including attempts by employees to access unauthorized information.
Detect over 1 million viruses, worms, trojans and other threats with MangoApps' automatic document virus scan.
View feature details >
Single Sign-On (SSO)
Single Sign-On
MangoApps supports nearly all single sign-on options in use today for both cloud and on-premise applications. Whether you work with SAML, OAuth, Active Directory, or even custom SSO applications, MangoApps has you covered.
Easily access all of your accounts with single sign-on capabilities for GoogleApps, Office365, and more
Integrate without interruption with MangoApps' Custom SSO, designed for any authentication system
Provide users with a safe and secure integration experience in all SAML 2.0 SSO and IAM services
Keep passwords and important content safe with single sign-on through Microsoft's Active Directory
View feature details >
Integrations & Connectors
Integrations and Connectors
Automatically authenticate users, pulling information and activity from external systems into MangoApps
Incorporate all of your pre-existing programs into a user-friendly, engaging, and centralized space
Enable single sign-on capabilities for employees across the organization for a seamless work experience
Communicate with trusted external email addresses in MangoApps, reducing distractions and removing spam
Upload, access, and edit any of your Microsoft Office documents with bi-directional integration
View feature details >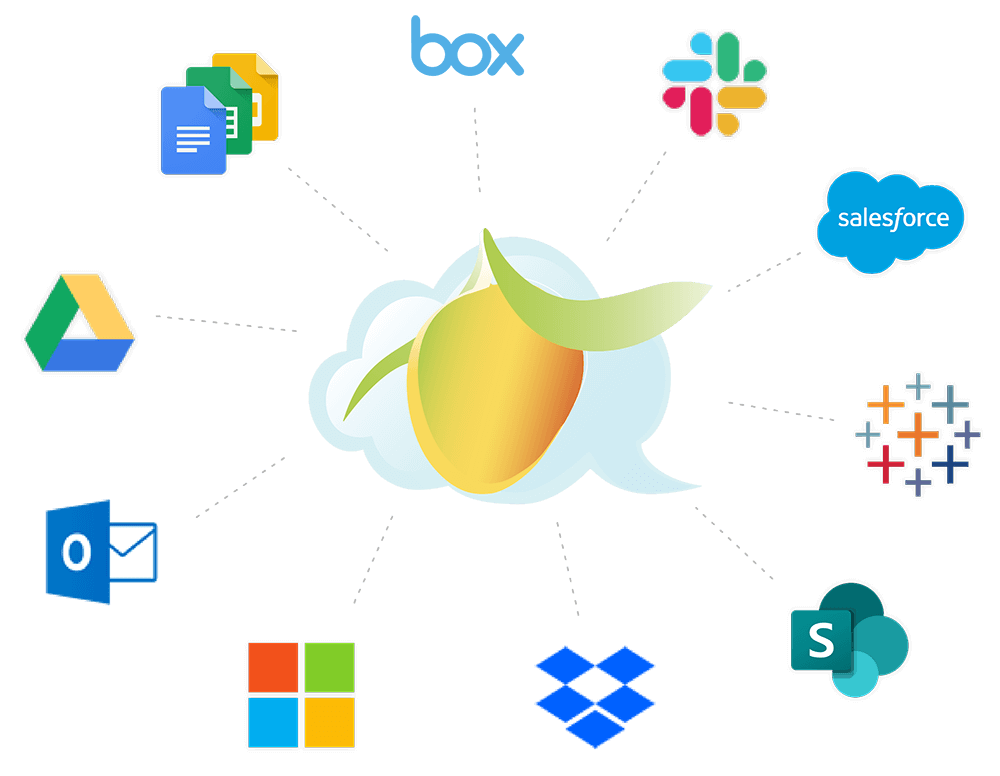 Open APIs
Open APIs
MangoApps Open API's are a completely programmable interface that allow developers and domain admins to extend MangoApps and create custom web, desktop or mobile applications designed to meet their unique business needs.
Create custom employee experiences specifically tailored to fit your individual organization.
Build specific solutions with complete data support for input or output in XML and JSON formats.
Expand and adapt the abilities of MangoApps to meet changing company size, goals, and circumstances.
Embrace a hands-on approach to your unique platform's development and management.
View feature details >
Branding & Customization
Company Branding
MangoApps company branding features let administrators make their network truly their own. Admins can adapt and edit almost everything in MangoApps to create an engaging and interactive extension of their brand.
Incorporate your company's logo, themes, and unique branding into almost every aspect of MangoApps
Design your network with custom CSS capabilities to perfectly match your organization's look and feel
Enable or disable modules in MangoApps at any time, creating the perfect environment for every occasion
Keep terminology consistent by relabeling features to match what's already familiar in your organization
Create customized branding for outgoing emails by altering heading, signatures, colors, fonts, and more
View feature details >
Controlled Personalization
Personalization
MangoApps Personalizations give every user their own individual experience. With personalized features employees can create the aesthetics, style, and organization they need to love their workspace and optimize efficiency.
Start the day off right with an individualized workspace tailored to meet your personal work preferences.
Personalize your platform's layouts, colors, settings, and more to create an environment you truly enjoy.
Build a truly centralized work experience with user-generated shortcuts and personalized quick links.
Sort content and see info fast with customized primary, secondary, mentioned, and pinned news feeds.
Manage your individual notification preferences to always see important updates without unnecessary extras.
View feature details >
Language Support
Language Support
MangoApps Language supports several of the world's most widely used languages with a built-in framework to easily incorporate additional languages and dialects. We help users communicate in a comfortable environment all over the world.
Allow offices around the world to select the language and dialect that best matches their specific environment.
Give individual users the ability to customize and communicate in their own personal language preferences.
Translate module names in MangoApps to match the cultural and language needs of your organization.
Instantly submit translation recommendations and report any translations issues to the MangoApps help center.
View feature details >
Email Notifications
Email Notifications
MangoApps Email Notifications help users manage updates effectively. With customizable email notifications, employees can interact with messages, drive employee integration, and make sure they always have the latest information.
Interact with or reply to any MangoApps post, update, or message directly from your external email inbox.
Simplify employee integration with MangoApps email reminders for new employees or during your initial adoption phase.
Receive regular email digest summarizing all of the relevant activities that have recently happened in MangoApps.
Customize company email notifications to include unique formatting, company logos, colors, and essential branding elements.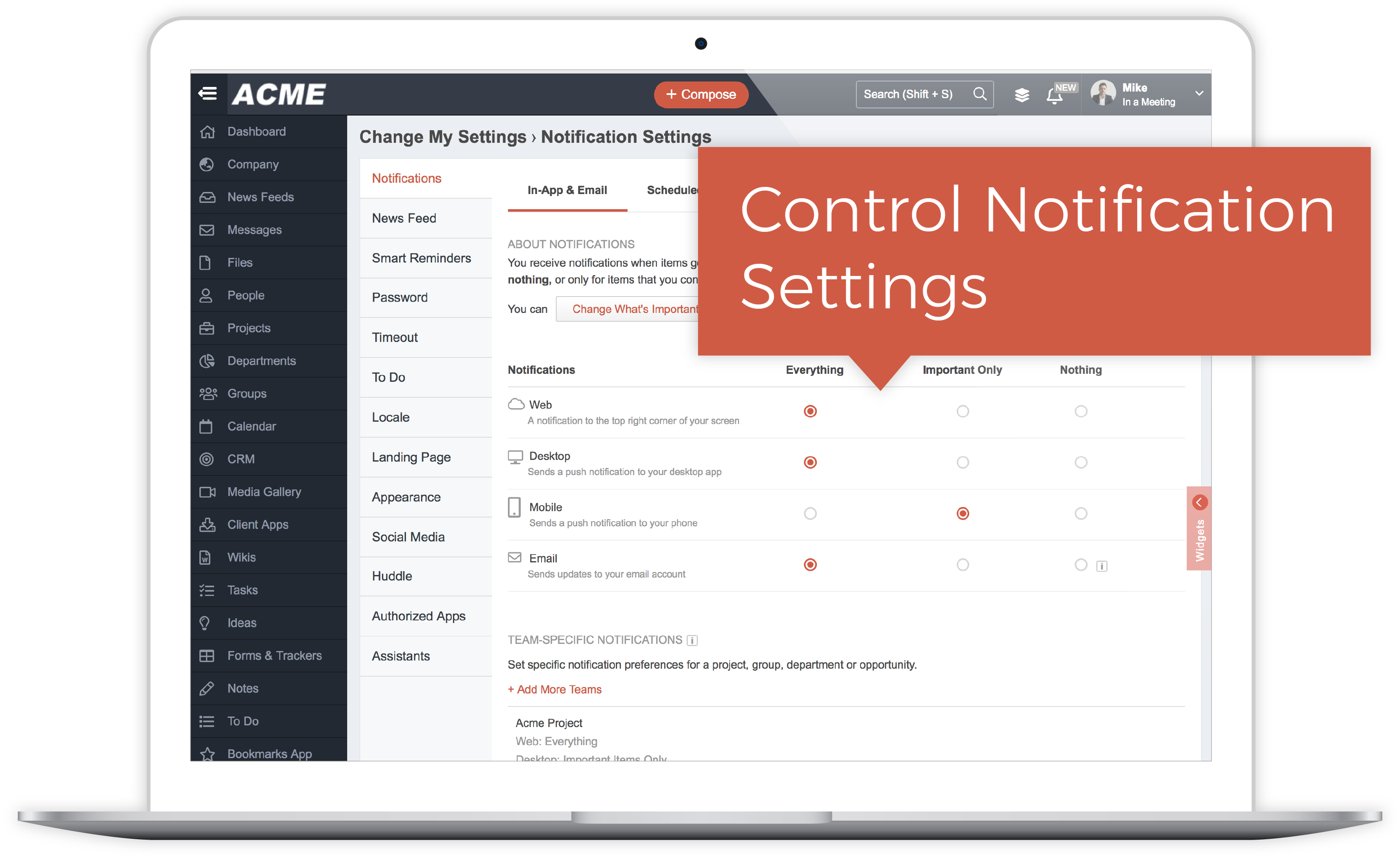 Push Notifications
Push Notifications
MangoApps Push Notifications keep employees updated, informed, and connected to their teams no matter what else is going on. With push notifications, communication stays instant and effective wherever the workday takes you.
Receive push notification directly to your mobile device, staying up to date on important activity in real time.
Adjust your personalized notification settings, helping you stay informed without distracting or irrelevant information.
Easily disable or snooze your push notifications to stay focused and on task during busy times of the day.
Ensure you still see instant messages, chats, and other important updates when working away from your desk.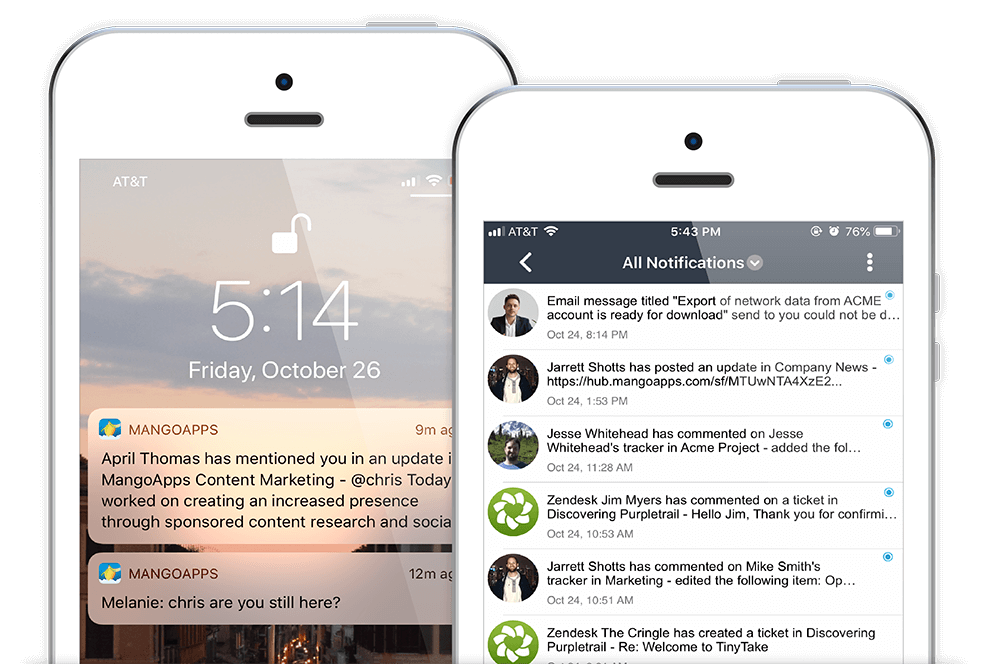 ROI & Analytics
ROI & Analytics
MangoApps ROI and Analytics Reports gather important insight into company usage and user engagement to determine your company's average monthly savings, employee hours saved, employee engagement levels, and much more.
Receive specific insight into your company's ROI with detailed graphs, reports, and internal analysis.
Improve overall employee engagement with monthly analysis of highly, moderate, and non-engaged employees.
Gain helpful insights into popular posts, favorite content, and what kind of communication is beneficial to employees.
Integrate Google analytics and create comprehensive reports about how users interact with information within MangoApps.
Track individual or group log-in activity to assess how, when, and were employees access MangoApps.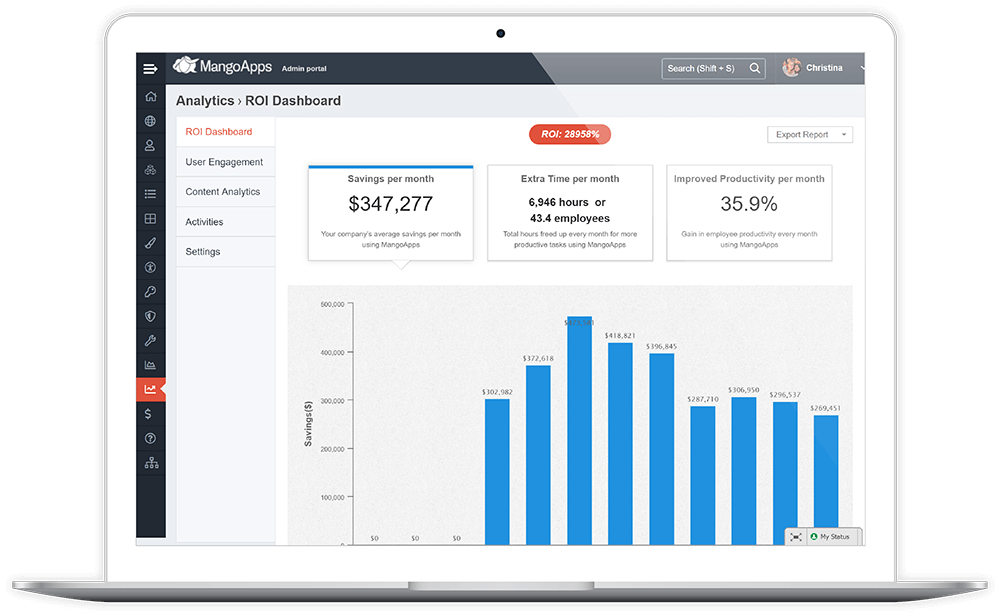 Usage Reports & BI
Reporting & BI
MangoApps Usage Reports and BI give admins detailed information and in-depth data about how employees are using MangoApps, helping them create effective content and helping employees achieve long term success.
Generate comprehensive user reports detailing active user summaries, user activity, hashtag usage, internal influences, and more.
Safely view, share, and store reports in a confidential access area available only to domain administrators and approved guests.
Seamlessly integrate with Microsoft Power BI to access descriptive, visual, and interactive business analytics information.
Create team specific reports and receive deeper insights into team data, content statistics, team usage trends and page view info.
View feature details >
AI Powered Features
AI Powered Features
MangoApps AI engine can convert company posts to podcasts, provide inline translations in 52 languages and generate captions for your videos
Convert company posts to podcasts
Automatic inline translations of text
Closed captions(CC)/subtitles for videos
View feature details >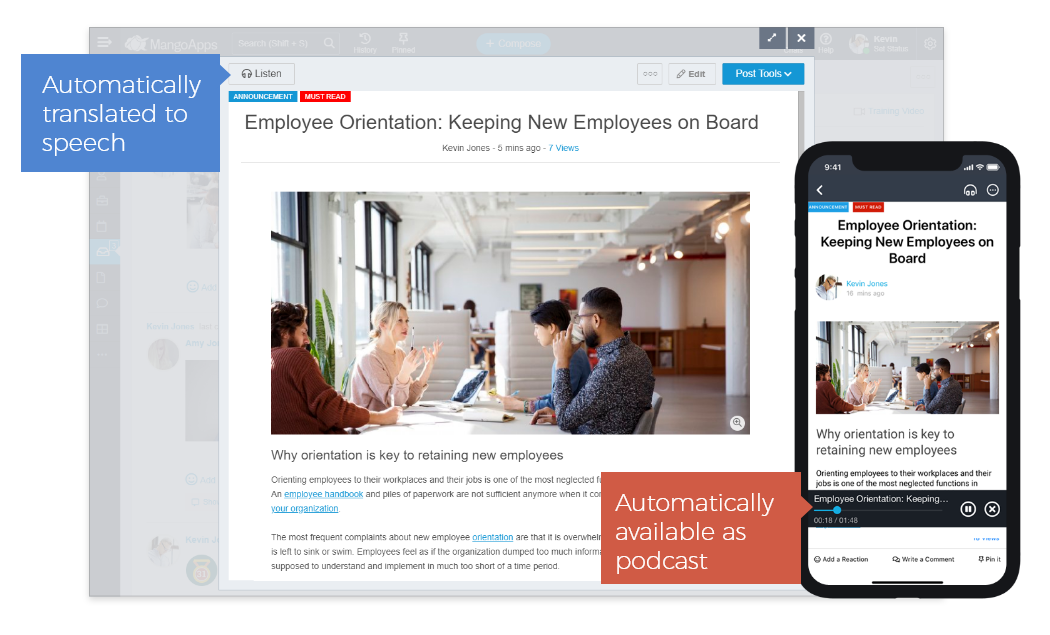 Global Search
Global Search
MangoApps Global Search enables employees to conduct detailed and comprehensive searches throughout MangoApps. Users are able to easily find important content and locate information right away.
Quickly locate key information and find matching documents with powerful predictive search
Filter inquiries in any way with user, team, date, hashtag, metadata, and other advanced search filters
Conduct recurring searches right away by saving specific search features for easy future use
Find specific words or phrases within documents, files, and more, with deep, in-depth text searches
View feature details >
Moderation
Content Moderation
Flexible content moderation makes it possible to make employee-submitted content work for any organization
Your company has full control over how you want to moderate community content submissions
Users can easily flag content for removal
Notifications & mass actions make moderation easy
Exemptions can be made for specific teams or users
View feature details >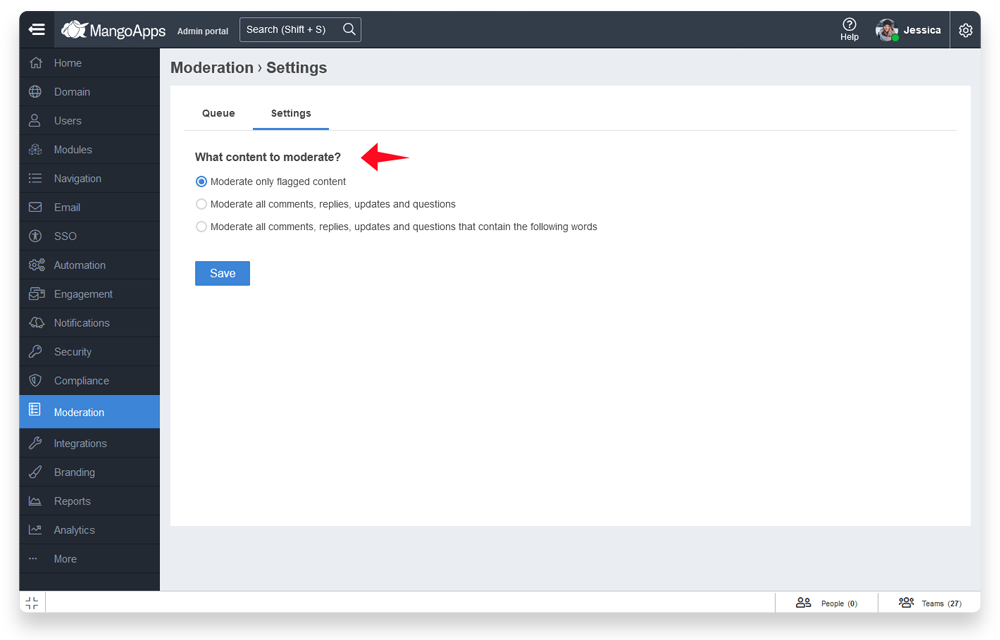 Trash Can
Trash Can
MangoApps users get their own trash can where deleted items will reside until permanently deleted
Restoring Content From The Trash
Searching and Sorting
Restore It or Lose It
View feature details >
Data Compliance & Retention*
Data Compliance & Retention
MangoApps' wide range of data compliance and retention options ensure accounts are always in compliance. From data retention terms to content flagging capabilities, admins have full control over what happens in MangoApps.
Establish auto-archival or auto-delete rules for aspects of your domain, ensuring content always meets company compliance.
Create your organization's own unique terms of service for users to abide by while working within the company domain.
Configure footers for emails generated within your domain, automatically sharing reminders and important information.
Flag potentially inappropriate content shared or created in news feeds for admins to review and respond to as needed.
Enable instant messages to self-destruct, causing messages to automatically delete anywhere from 15 minutes to 1 week after being sent.
View feature details >
Data Loss Prevention*
Data Loss Prevention
With data loss prevention (DLP) policies in MangoApps, you can identify, monitor, alert and protect sensitive information in your MangoApps community.
Pre-shipped patterns get you off the ground quickly
It's easy for compliance admins to get a domain-wide view
Compliance admins are alerted any time we detect a policy violation
Policy alerts comes with lifecycle management
View feature details >