Tools HR Department Needs To Inform, Engage, & Empower Employees
Increase Company Understanding
Share company and department information and hear back from employees with ease. Keep HR content accurate, up-to-date, and easy to find by managing it all from a centralized source.
Improve Internal Communication
Connect colleagues with a complete and personable company directory. Effortlessly browse your visual organization chart to understand hierarchy, improve collaboration, and make connections.
Encourage Employee Engagement
Strengthen company culture and improve employee engagement with an easy to use employee social network. Reactions and other built-in tools help coworkers collaborate and communicate together.
Recognize Effort and Success
Honestly encourage and acknowledge strengths, ideas, improvements, and contributions from coworkers and employees, through fun and engaging reward and recognition tools.
Keep Every Detail Up to Date
Manage employee directories, events, appointments, time-off, and more from as many offices as you need. Admins can easily set up and edit multiple richly detailed business locations all from one centralized area.
Understand Your Environment
Work with a built-in survey module to design, conduct, and analyze user-friendly HR surveys to accurately measure job satisfaction, evaluate employees, and gain critical feedback.
Get New Employees Up to Speed Faster
MangoApps connects old and new employees alike. New hires have immediate access to company policies, business processes, past decisions, documents, and training programs to ensure they reach full productivity quickly.
Find Expertise in the Company
Quickly find the perfect person to join your project or answer your question. Easily filter people by criteria you establish, such as experience, certifications, or areas of specialty. Rich, customizable employee profiles puts it all at your fingertips.
Simple, Smart & Enterprise-Ready Features
Over the last 10+ years, we have carefully added features that satisfy the needs of even the largest enterprises. A partial list is included below. The best way to see all the capabilities of is to let us walk you through them.
Pricing is based on just
three things
1. Modules You Need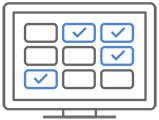 Start with pre-configured app functionality and add any additional modules you need.
2. Deployment Model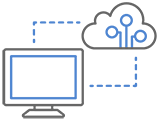 Choose from three deployment options - Shared cloud, Private cloud or On-premise.
3. Total Number of Users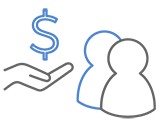 Per user subscription pricing. Volume discount based on total number of users.
Mango HR is priced based on the total number of users you have and the modules you need. Schedule an introductory call so we can go over your requirements, demonstrate how MangoApps will meet those requirements, discuss pricing and rollout process.
Here's what our customers are saying about us
Between connecting with colleagues, editing documents, and having all of your HR information in one portal, it has everything that you need to know. You don't need paper documents anymore. You can quickly access everything you need.

Brooke Laskin

CCS Executive Director

It cuts back on so much administrative time. We have all these links that are super easy to access and user friendly. So, when people forget the URL for something or they want to log in to record their time sheet, they can easily find all of that information right on their laptop. They don't need to email a friend, 'Hey, what's that link?' or ask someone in HR, it's right there and they can self-serve really easily.

JoHanna Forman

Brand Muscle Learning and Organizational Development Coordinator
Explore solutions by Industry
FAQs
Where is my data hosted?

We use Amazon AWS for all of our computing needs. Based on your location and regulatory needs, shared cloud customers can pick one of the five AWS data centers during sign-up. For private cloud customers, we can host your data at the AWS data center of your choice.
Do you offer volume or non-profit discounts?

Yes, we offer both volume and non-profit discounts. Please note that all our enterprise products require 100+ user licenses and are billed annually.

Contact sales

for more information.