Create a vibrant member community
Create Working Groups to Collaborate
With dedicated Groups or Projects, your members can interact online around specific topics based on their interest or location. Private or public groups are the perfect way for members to communicate, collaborate on documents, share files, conduct polls, ask questions and more.
Share Knowledge and Resources
All the tools you need to share information and ideas within your community are included in one easy-to-use solution. Build a knowledge base of best practices, marketing plans, approved documents, spreadsheets, images, videos and more.
Create Engagement
Built-in tools like the newsfeed, commenting, social actions, reward & recognitions, and gamification create a private social network that encourages engagement. This will bring members together to interact, share resources and engage at a deeper level.
Poll & Survey Members
Easily gather member opinions on any topic, at any time. Anyone can post a poll or a survey to a group to get feedback on a specific subject or to the broader organization to gauge popular sentiment.
Vote On and Approve Documents Online
Collaborating on documents and files has never been easier. Mango Community allows you to collect feedback from members as well as vote on and approve important documents using built-in approval and balloting features.
Be Productive & Efficient
Think of how productive you could be if you were able to eliminate meetings, conference calls, and mass emails. These old ways of working waste too much time and result in everyone being less productive. Accomplish better collaboration in less time using the many tools available in Mango Community.
Make Every Process Faster
Need to coordinate activities on a project or share important information with a group? MangoApps makes daily tasks like these easier and faster. Easy communication, instant notifications, and access from anywhere help your community work and move faster.
Events Calendar
Provide a single source of updated information for your community calendar and make it simple for users to find and learn about events that matter the most to them.
Find the Right People
Powerful networking features like rich profiles and organization directory allow members to easily find, communicate and collaborate with other members. Search for members by knowledge, skills or location.
Private & Secure
Create private, secure communities to drive interactions, knowledge sharing, and engagement among members. Members-only content drives demand to join and participate in an exclusive community.
Simple, Smart & Enterprise-Ready Features
Over the last 10+ years, we have carefully added features that satisfy the needs of even the largest enterprises. A partial list is included below. The best way to see all the capabilities of is to let us walk you through them.
Customer Videos and Case Studies
Some of the largest organizations and industry associations use MangoApps. Watch below how a couple of our customers use Mango Community. Contact us for additional customer information and references.
| | |
| --- | --- |
| Watch Team @ WildLife Trust Discuss How They Use MangoApps | Watch Team @ University Of Illinois Discuss How They Use MangoApps |
Pricing is based on just three things
1. Modules You Need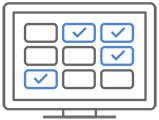 Start with pre-configured app functionality and add any additional modules you need.
2. Deployment Model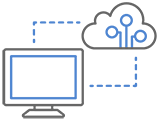 Choose from three deployment options - Shared cloud, Private cloud or On-premise.
3. Total Number of Users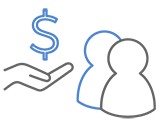 Per user subscription pricing. Volume discount based on total number of users.
Mango Community is priced based on the total number of users you have and the modules you need. Schedule an introductory call so we can go over your requirements, demonstrate how MangoApps will meet those requirements, discuss pricing and rollout process.
Here's what our customers are saying about us
We have more efficient communication and collaboration between our employees around the world. They can connect better with each other, they know who is working in each department, they can share files, and they can share information easier than before, because they have one tool everyone is working with.

Chantal Edner

Huber + Suhner Community Manager

I really think it has changed the way that we work. It's changed the way that we connect. It has pushed me to grow as a professional…. I think our work product would not be as strong if we didn't have a knowledge sharing platform in a centralized place to save our 70 years of experience and the thousands of documents that my colleagues create every day. Being able to access that in a moment's notice is absolutely amazing.

Annie Bidwell

CCS Senior Director

Employees are asking questions, answering questions, and really helping each other out. There's a lot of knowledge sharing that's going on and really a sense of community as people are able to turn to each other to help each other out.

Christine Goldsmith

Kelly-Moore Paints Director of Learning Development

[Mango Intranet] is the most important and the primary medium through which our instructors, our workshop facilitators, the tutors, and others who are offering academic programming at the prison communicate.

Rebecca Ginsburg

Education Justice Project Associate Professor & Director

My role of individual giving support officer is essentially all about sharing best practices. So in a movement of 46 different Wildlife Trusts, we really want to gather best practice examples of membership campaigns and fundraising campaigns. When a trust has done something really well or not so well, we need a platform to share it with everybody so they don't reinvent the wheel. [Mango Intranet] is perfect for that because we can share images of door drops and digital marketing campaigns and so on….Overall it just makes our job so much easier.

Sam Gee

WildLife Trusts Individual Giving Support Officer
Explore solutions by Industry
FAQs
Where is my data hosted?

We use Amazon AWS for all of our computing needs. Based on your location and regulatory needs, shared cloud customers can pick one of the five AWS data centers during sign-up. For private cloud customers, we can host your data at the AWS data center of your choice.
Do you offer volume or non-profit discounts?

Yes, we offer both volume and non-profit discounts. Please note that all our enterprise products require 100+ user licenses and are billed annually.

Contact sales

for more information.