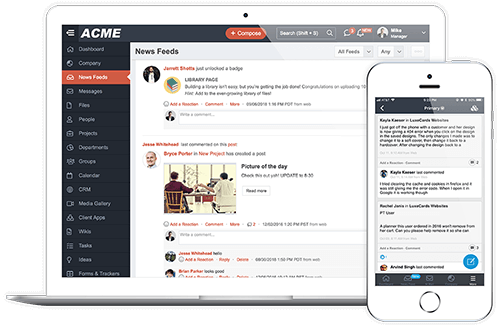 Distributing High-Level Updates
Getting information out to your employees can be a challenge. MangoApps make it easy to ensure that updates go to the right people, on a platform where they can engage in a way that fits their work style. Less clutter, less confusion, and more clarity.
Information Org
Legacy intranets have a way of turning useless over time, as clutter accumulates and resources become difficult to find. With MangoApps, a proper, modern system of file organization and sharing with a powerful search engine ensures that everything you need lives exactly where you'd expect, and is up to date.
Employee Resources
Your employees need certain forms and information. Without a clear system in place where these resources can be found, IT and HR staff can get bogged down by repetitive requests. Arm your team with access and save everyone time.
Knowledge Management
Employees accumulate knowledge on the job. If they work in silos, that knowledge doesn't transfer to colleagues and is lost when they leave the company. Setting up a strong knowledge base ensures that everyone benefits from each other's successes.
Employee Voice
Employees who feel valued do the best work. Give your team a voice, and the company will benefit from new ideas and more engaged workers.
Download Mango Intranet Use Cases
To help you understand some of the many ways a modern intranet like MangoApps can improve your company alignment and efficiency, and help you build up your culture, we've assembled this collection of use cases. This is by no means exhaustive, but should hopefully give you some ideas.