What Are Feature Requests?
Customers are the foremost experts on using your product, so it's important to listen when they ask for a solution to a problem they're having. In most organizations, these can be split into three buckets: solvable with a product the user wasn't aware of, unsolvable and not possible to solve, or currently unsolvable but worth putting in the pipeline.
This third group is key to a successful product organization, where customer feedback is used to guide updates and new additions to the product or service.
Problem: Figuring Out Feature Requests
Feature requests are an important source of information, but only if they are managed properly and evaluated carefully. They are usually received by customer support employees, and can be lost if those employees don't have a mechanism to pass that information along in an organized, actionable format.

Without a dedicated space to track these requests, find patterns, and collaborate on how to bake them into the product roadmap, it is easy for an organization to lose sight of its customers' needs, which is always bad for business.
Solution: A Centralized Request Center
MangoApps makes it easy to create a centralized workspace for this purpose, so feature requests can be instantly shared between departments and content is never lost.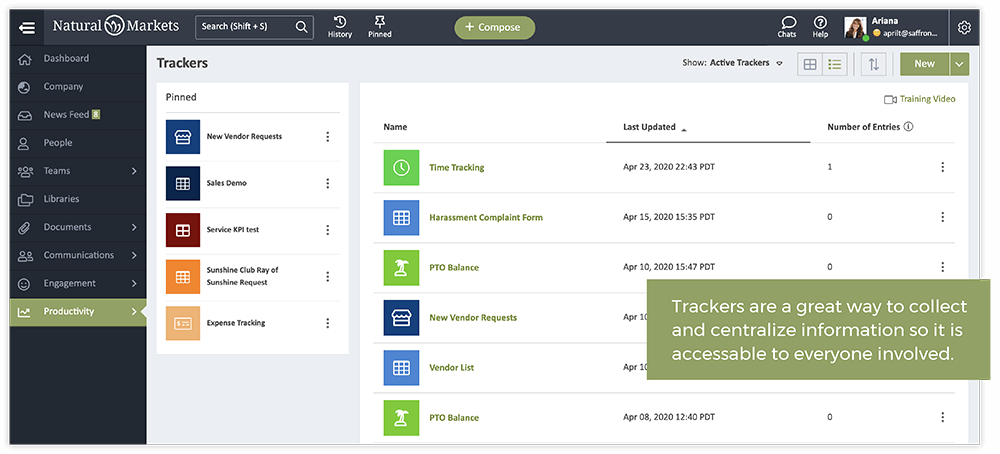 Detailed trackers allow you to report and store feature requests, analyze patterns, and track their development, so information can flow both ways. Customer support tells product what the customers want, and product keeps customer support informed on development, so they can manage customer expectations and make the customers feel both heard and in the loop.
Project spaces are also great for developing the actual features once these requests have been evaluated. You can collaborate with peers, assign tasks, track progress, and work together in a secure digital environment.
MangoApps has really created the opportunity for us to be able to listen to our clinicians and let them participate in the evolution of TeamHealth.
-Dr. Kevin Klauer, TeamHealth, Chief Medical Officer
How To Create Trackers:
1

Trackers save time, simplify data management, and improve overall organization by collecting, storing, and analyzing information. To create a new tracker, first visit the company, department, or team area where you want your tracker to be.

2

Be sure that forms and trackers are enabled in the area and then select the trackers option from the left-hand navigation bar.

3

Next, select 'New' to start a new tracker and choose from either a wide variety of available templates or start from scratch with a blank tracker.

4

Add and remove content however you need until you're ready to publish.

5

Once it's published, users can easily input or view data at any time, and submissions are collected and organized all in one place.
How To Start Projects:
1

Projects are the perfect place to enhance team collaboration, store information, and achieve goals. To create a new project, make sure the project module is enabled in your domain, then go to the project area and select the 'Create A Project' button.

2

Give your project a name and establish some of its basic details. Provide a description, establish permissions, enable or disable features, and more.

3

You're now ready to add users and get to work. Select the project tools button and then 'invite network users' to start adding project members.

4

Once a member has been added to a project, he or she can immediately begin posting, sharing, asking questions, submitting documents, be added to tasks, and participate in everything projects have to offer.
Bring your frontline and office teams together on one common platform
It has never been this easy to create the perfect employee experience for your deskless and deskbound workers. Contact us to discuss requirements, pricing, rollout and support. Get your free demo today!