What Are Feature Requests?
Feature requests are any time a customer asks for a new or enhanced way of doing something. Feature requests come almost exclusively as questions from customers and typically need to be evaluated and filtered on an individual basis. Requests are most often filtered by existing products or solutions customers were unaware of, unfulfillable requests, and possible requests to pursue.

Figuring Out Feature Requests
Feature requests give companies a greater look into what customers want and can provide new ideas to improve and enhance your products and services. But sorting and managing feature requests takes time and effort. Because requests come from clients, they're often received by customer support employees, who then need to pass the information on. Employees need a dedicated space to track feature requests, see patterns, and collaborate with peers on how to create approved features.
MangoApps has really created the opportunity for us to be able to listen to our clinicians and let them participate in the evolution of TeamHealth. - Dr. Kevin Klauer, TeamHealth, Chief Medical Officer
A Centralized Request Center
With a centralized workspace, sharing feature requests between departments happens instantly, so content is never lost along the way. Detailed trackers in MangoApps are also available in any group, project, or department space, so it's simple to report and store feature requests, analyze patterns, and track approved development.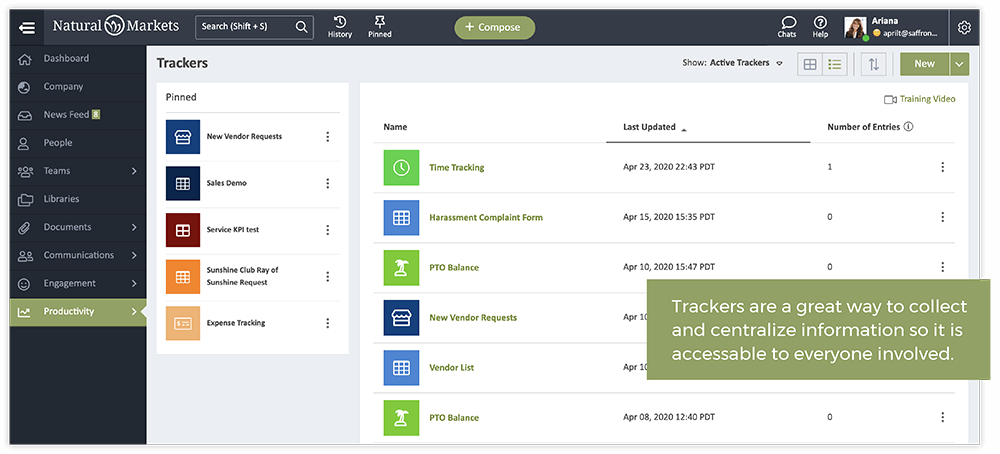 And project spaces in MangoApps are the perfect place to manage developing feature requests from start to finish. You can collaborate with peers, assign tasks, track progress, and work together in a completely safe, secure, and digital environment.
How To Create Trackers:
1

Trackers save time, simplify data management, and improve overall organization by collecting, storing, and analyzing information. To create a new tracker, first visit the company, department, or team area where you want your tracker to be.

2

Be sure that forms and trackers are enabled in the area and then select the trackers option from the left-hand navigation bar.

3

Next, select 'new' to start a new tracker and choose from either a wide variety of available templates or start from scratch with a blank tracker.

4

Add and remove content however you need until you're ready to publish.

5

Once it's published, users can easily input or view data at any time, and submissions are collected and organized all in one place.
How To Start Projects:
1

Projects are the perfect place to enhance team collaboration, store information, achieve goals. To create a new project, make sure the project module is enabled in your domain, then go to the project area and select the 'create a project' button.

2

Give your project a name and establish some of its basic details. Provide a description, establish permissions, enable or disable features, and more.

3

You're now ready to add users and get to work. Select the project tools button and then 'invite network users' to start adding project members.

4

Once a member has been added to a project, he or she can immediately begin posting, sharing, asking questions, submitting documents, be added to tasks, and participate in everything projects have to offer.