Empowering Not-For-Profit Organizations to Efficiently Execute Across the Entire Enterprise
Create a centralized digital hub for all employees
MangoApps is the central location employees go to for fast access to all the tools they need to share, communicate, collaborate, find & learn. Centralized hub ensures that critical information that would ordinarily be spread across multiple applications and systems can now be instantly accessed.
Share company news, announcements & updates
Easily share company news and updates with all staff members using Posts & Newsletters. MangoApps way of sharing news with staff is much better than email as you can track engagement, require confirmation and enable social actions like commenting and likes.
Track projects from start to finish with task manager
Full featured workspaces to discuss, communicate, share, plan, manage and track progress across multiple projects.
Create secure workspaces to share information
With MangoApps, you can enable secure collaboration between employees, partners & third parties to provide the best service.
Securely & instantly message with coworkers
Chat with co-workers in real time using our PC or smartphone apps. All messages are sent over secure, encrypted channel making compliance easy.
Make staff work schedule available on PC & Mobile
Give your staff easy access to their work schedule and other details from web or smartphone devices.
Create accountability and transparency
Open nature of MangoApps communication & collaboration, creates greater accountability and transparency across the entire organization.
Securely share and store files of any size
No need to get stuck emailing large files or worrying about where the most recent version of a document is.
Capture and manage ideas from everyone
Easily capture, refine and provide feedback to manage the life cycle of new and existing ideas from colleagues.
Locate experts across the entire organization
Make it easy for employees to find the right colleagues with searchable people directory. Rich search capabilities makes sure resources that would otherwise go unnoticed are found.
Improve staff engagement, learning & compliance
Easily create and share quizzes, polls & surveys to engage, educate, collect feedback and keep-track of important compliance requirements.
Implement change based on data
Use analytics and detailed reports to improve work-flow
Powerful Digital Workplace Hub that is Purpose-Built for Not-For-Profit Organizations
MangoApps digital hub combines Modern Intranet, Collaboration, Messaging & Learning in one seamless system for better business performance.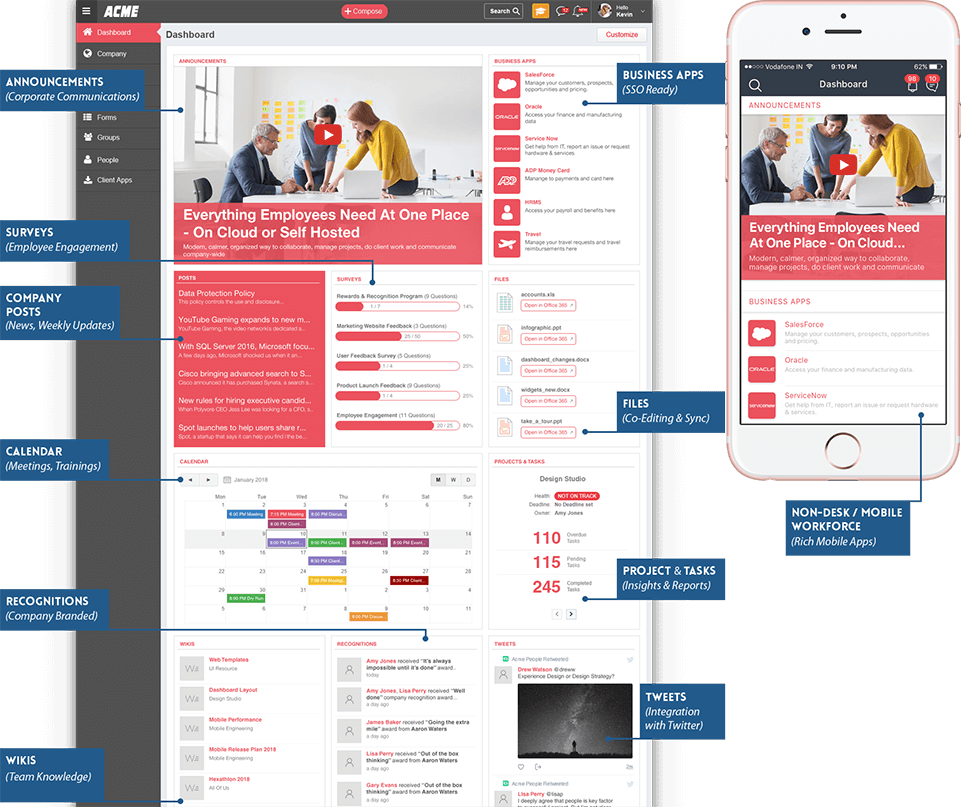 Watch CCS Fundraising Team Discuss How They Use MangoApps
Why MangoApps for Not-For-Profit?
The current set of tools used by Not-For-Profit companies are outdated, restrict information distribution, are frustrating to use and are rarely mobile friendly. When employees take things in their own hands, the situation gets even worse due to issues related to shadow IT, tool sprawl and proliferation of information tools.
MangoApps for Not-For-Profit

Seamless, Organized Experience
One place to find, connect & learn
Fully accessible from mobile
Company knowledge in one place
High Adoption & Increased Productivity
Promotes collaborative, open culture
Fast & efficient sharing in real-time
Clear tool purpose, little to no training
Inexpensive to Buy, Deploy & Maintain
Easy, point-click, administration
Secure & auditable
Easy extensibility & customization
Save more money by replacing other licenses
Existing Tools

Frustrating User Experience
No central place to go to find, connect, learn
No mobile access
Company knowledge is all over
Low Employee Engagement & Usage
Promotes non-collaborative, meeting-happy, culture
Leads to waiting-around for email & info hoarding
Many tool related confusion & chaos
Expensive to Buy, Deploy & Maintain
Nightmare to administer & manage
Spotty security & auditability
Hard & expensive to customize
License costs add-up quickly
In short, not-for-profit sector is transforming. The modern workplace is dynamic and social. What is required to run the modern workplace is a well-designed, integrated, digital platform. MangoApps for Not-For-Profit is that platform!
Ovum Research ranks MangoApps as the best for Mid-Market in the latest engagement, collaboration and productivity report
Get Full Report
Can your workplace benefit from a modern, digital workplace platform?