Bring frontline & office together on one platform
MangoApps is designed to help companies in traditional industries centralize information, processes & tools in one digital hub.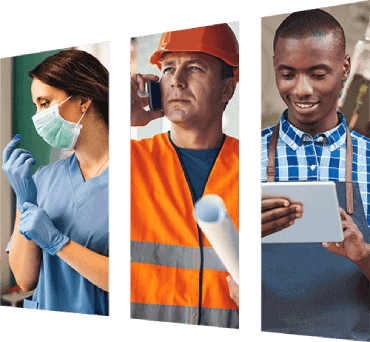 Healthcare
Healthcare organizations need a reliable product. Everything your people do, whether they're patient-facing or not, affects patients. Your hard-working employees deserve a modern work platform that is trustworthy and easy to use, and most of all, that works for them.
MangoApps has everything you need:
Robust compliance and security features
Intuitive mobile-friendly interface that will boost morale and enablement among non-tech workers
Easier access to documents and procedure, so there's no ambiguity in crucial moments
Learn more
Non-profits
Non-profits have unique needs. Your tools need to be robust and intuitive, and not require a ton of maintenance or setup. Budgets are always tight, there's never enough time in the day, and everyone from your board and CEO down to your volunteers need a platform that just works.
Most of all, you need something your users can access from wherever they are.
MangoApps has you covered:
Easy onboarding, and low-maintenance for IT
Intuitive mobile-friendly interface you won't have to teach people how to use
Prices that make sense for a dynamic, largely deskless team
Learn more
Retail
Customer experiences are the lifeblood of any business in retail. All of your employees contribute to that, whether they're on the front lines or in the back room, and it's crucial that everyone has the resources to ensure a consistent experience for your paying customers.
That means accessible, user-friendly tools for communication and training, so your people can get up to speed quickly and stay ahead of new challenges as they arise.
MangoApps is the perfect solution:
Training and employee engagement in the same app where your teams communicate ensure that your employees are excited and informed
Our task management makes it easy for managers to keep things organized and automate processes
Everything is mobile and desktop accessible and our pricing makes it feasible to enable the entire workforce
Learn more
Manufacturing
Success in manufacturing requires efficiency of process and operations, and clear safety policies that are easy to find and understand. You need to be able to reach your employees quickly, and ensure that they are informed and things are running smoothly.
MangoApps makes it easy to reach all of your employees as needed, streamline business processes, and distribute training modules to employees around the world.
Improve safety protocols with better access to documentation, fast crisis communications, and the ability to see at a glance who has or hasn't read a particular communication
Distribute information quickly with user-friendly mobile and desktop apps that have integrated training, communications, and business processes, plus language translation
Overhaul your training with our built in learning management. Multimedia courses can be created and distributed quickly, with built-in assessments and easy compliance tracking
Learn more
Financial Services
The complexity of financial regulations and practices mean that communication and training for companies in the industry can be challenging. Banks, credit unions, insurance companies, and other financial services firms need an extremely secure platform for their employees and data, with robust compliance policies and deep monitoring of user behavior and information security.
MangoApps is the perfect solution for you:
Our robust enterprise-level security features include DLP, flexible data retention policies, compliance monitoring, and much more. We're on AWS cloud, can do on-premise deployments, and have all the depth you need to ensure that your data is safe
Our built-in training modules make it easy to build your onboarding and compliance materials right into the platform where your employees do their work, and must-read posts let you distribute security information and then see at a glance who has read it
MangoApps trackers and forms make it easy to automate approvals and data flow across spreadsheets, removing downtime and giving employees the freedom to focus on more important tasks
Learn more
Professional Services
Professional services firms have to stay ahead of ever-changing industry standards and trends, so that they can serve their clients effectively. To do this, you need to have reliable information and training, and distribute it to your employees effectively on a regular basis. MangoApps' integrated training and knowledge retention features ensure that your employees are always ahead of the curve, so your clients can be too.
Learn more
Media Companies
Your employees need to be informed and engaged, and given an environment that encourages them to express their creative abilities on behalf of your brand. MangoApps removes friction from the process of onboarding and training new employees, so they can get right down to doing what they love. From there, our platform makes it easy to keep everyone up to date with company and industry trends, and gives your teams an intuitive space for meaningful collaboration.
Learn more
Transportation
The transportation industry, by its very nature, requires scale and distributed, mobile employees. This can make it challenging to keep everyone informed. With MangoApps, you'll have the tools you need to onboard people effectively and provide your employees—wherever they may be—with all the assets and information they need to do their jobs effectively. Furthermore, our communication features enable you to quickly reach the relevant people in a crisis, and get real-time updates as situations develop.
Learn more
Public Sector
The public sector is subject to frequent changes, and requires easy access to the newest information. Keep all of your employees up to date with the latest information and training, and allow your entire organization to be more efficient in reaching its goals.
Learn more
Education
Between tight budgets and slow approvals, educators are often left without the tools they need to collaborate effectively. MangoApps enables your important work, with better communication, content management, training, and engagement. It's the ideal platform to build an agile community of educators that have everything they need to set their students up for success.
Learn more
Construction
Construction companies need to have robust safety protocols and training in place, and the ability to communicate quickly in a crisis. MangoApps enables your desk workers and those on-site to communicate and collaborate in real time, and can help you deliver safety information and training modules more effectively.
Learn more
Hospitality
The seasonal nature of hospitality leads to a lot of turnover, for both customers and employees. It's crucial to have a strong training regiment in place so new workers get up to speed quickly, and stay there as needs and situations change. With MangoApps, managing a large, shifting workforce has never been easier. We are your hub for communication, training, collaboration and engagement.
Learn more
Franchises
Franchise business models rely on creating a consistent customer experience. Ensure consistency across your franchise network by training franchisees on core brand values, standardized procedures, and product knowledge. MangoApps is a scalable solution that incorporates training modules, content distribution, and communication, so whether you have a few locations or several hundred around the world, every franchisee can get the tools and training they need.
Learn more
Tailor-made to Fit Your Brand
Your company app should reflect your brand & culture. MangoApps is customizable from the ground up to ensure that every aspect of it matches your company identity.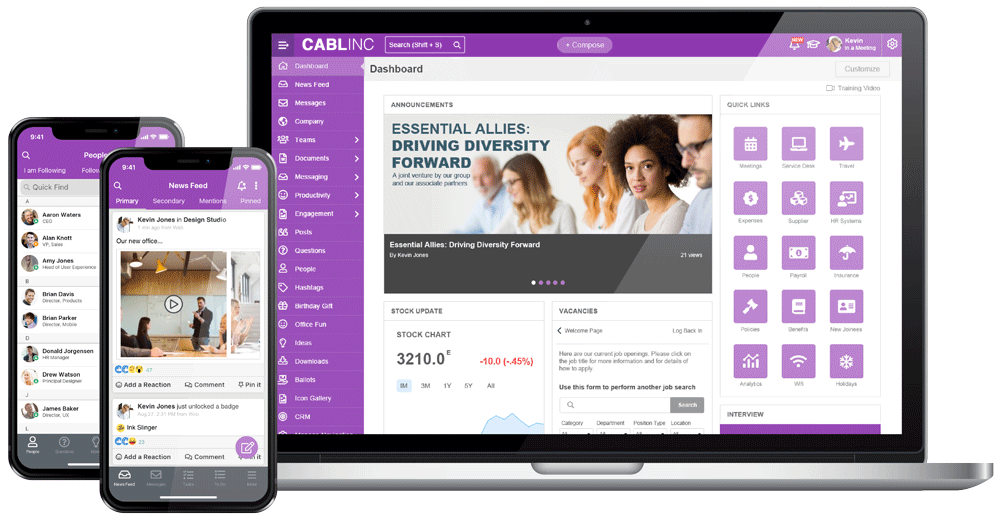 Connecting and empowering frontline workers
Frontline employees are the foundation of every successful organization. Rather than working in an office or a corporate environment, frontline employees are in the action, and on the literal front lines of their industry. Frontline workers make up 70% of the world's workforce and are the retail staff, hospitality crews, health care clinicians, machinist, and many other employees, that directly impact customer care and product success.