A Simplified Experience
Make it as easy as possible for your healthcare providers to communicate,
find policy information, and get training.
A Better Employee Experience
Better communication
No more email for internal comms. Send information to the people who need to see it, and no one else.
Better knowledge management
Instant access to an organized repository of policy information, where there is one version of every file and it's up to date.
Better engagement
Emoji reactions, comments, and posts with rich media create a comfortable social media environment and contribute to an increased sense of community.
Better mobile access
Access all the tools and resources you need when you're on the go, in a user-friendly mobile environment.
Email Doesn't Meet Your
Health System's Needs
Unlike email, MangoApps makes healthcare teams' workflows effortless, with company
policy details and real-time communication in one centralized location.
| Email | MangoApps Communication |
| --- | --- |
| Poorly organized, most messages are irrelevant | Easy segmentation ensures each user gets information relevant to them |
| Expensive for people who rarely send anything | Prices better match health system's needs |
| Spam and potential for breaches | Internal secure communication only |
| Lacks community, isolates each person's communication | Comments and emoji reactions for instant feedback |
| Email threads can get confusing, and lead to siloed work | Searchable repository of relevant discussions ensure everyone stays in the know |
Beat Burnout
Workplace burnout is a serious concern in any industry, but especially for the high-stress, emotionally demanding
healthcare environment. Tired of having worn-out employees? Provide them a place to connect with each other to
improve wellbeing and reduce turnover.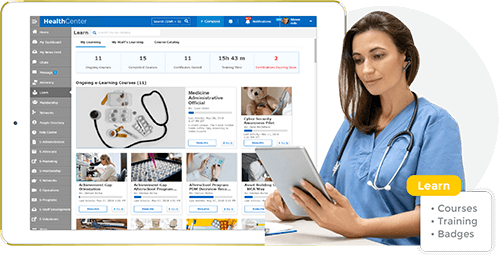 Lean on each other
Informal workspaces and group chats in MangoApps give struggling healthcare providers a space to lean on each other for emotional support.
Show your employees that you care
A recognition program is easy to implement with MangoApps and makes burned-out employees feel appreciated.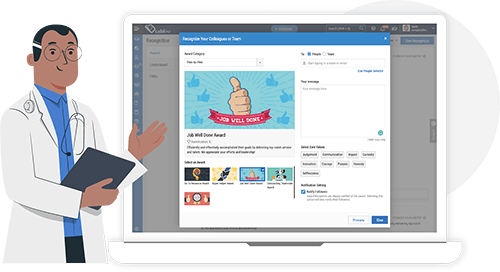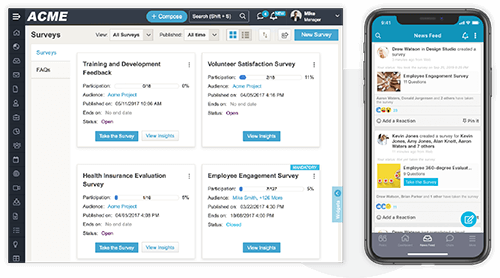 Employee sentiment surveys
Conduct regular surveys to stay ahead of potential issues. See aanalytics, identify problems, and reach out to people who need support.
Never stop learning
Take some of the burden off your busy Education team with a platform that is easy to deploy and update.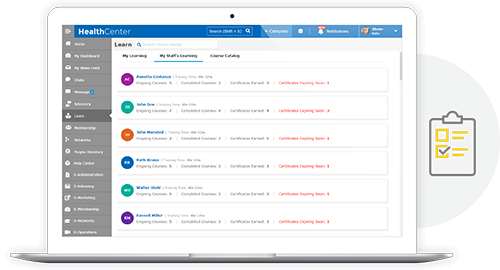 Track progress
Certificates and transcripts make it easy to see who is up to date on their compliance training. Automated and manual alerts ensure that everyone gets there.
Import courses
SCORM and xAPI compliance make it easy to bring in courses from your old LMS, so your healthcare providers can access them from the same app as their other tools.
Engaging courses
Our course builder makes it easy to combine text, images, videos, and quizzes, ensuring that your learners digest the material.
Multiple course types
Self-paced, instructor-led, and live courses allow you to cater to different styles of learning and offer a variety of options.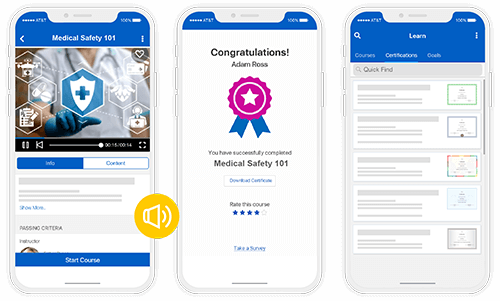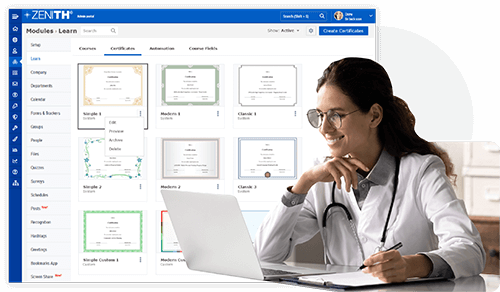 Recertification
MangoApps makes it easy to reassign courses automatically after a certain period of time. Keep your team sharp and their certifications up to date.
Auditable paths
It's easy to get a high-level or granular view of learning progress across your teams, and transcripts can be exported for licensing boards.
HEALTHCARE CUSTOMERS:
Whitepaper
How A Digital Work Hub Can Reduce Employee Burnout In Your Healthcare Organization