Modern Healthcare Intranet
Easily access clinic resources with libraries, rich text pages, and wikis, all nested in a modern, searchable intranet.
Learn More >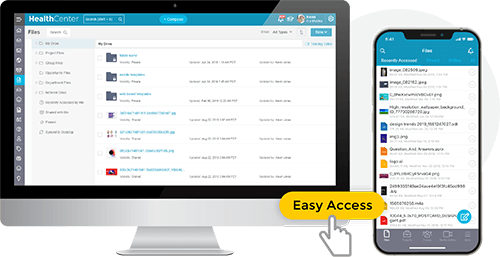 Always Up To Date
Ensure a single version of each file, so the link your workers have is always the most recent. No email updates required.
Learn More >
Centralized Dashboard
Healthcare providers can conveniently access everything they need to do their jobs effectively in a personalized dashboard, complete with customizable widgets.
Learn More >
Group Spaces
Provide employees with social media styled workspaces where they can communicate with peers using comment threads and emoji reactions.
Learn More >
Communication Tools
Equip your healthcare workers with modern communication tools like real-time chat and messaging.
Learn More >
Unified Staff Schedules
Allow staff to view real-time updates to their shift schedules within the same app as communication and intranet.
Learn More >
Crisis Alerts
Mobile device alerts let you reach health system staff quickly with time-sensitive updates in emergency situations, such as when a patient needs immediate medical attention, or a colleague needs backup.
Learn More >
Trackers & Workflows
Move information from paper to online forms where data can be put into interactive, actionable spreadsheets where tasks can be assigned and approval/inform automations ensure speed and accuracy.
Learn More >
Rewards & Recognition
Celebrate the hard work of healthcare employees and make them feel valued through a recognition system, as well as holiday cheer using virtual greeting cards.
Learn More >
Posts & Newsletters
Share company policies and update employees with real-time news to ensure all medical workers are informed and engaged.
Learn More >
Tailored Newsfeed
Access important health system updates in an organized, one-stop access area where questions can be answered and feedback can be collected.
Learn More >
Controlled Personalization
Give every employee their own individual experience with the customizable aesthetics, style, and organization they need to love their workspace and optimize efficiency.
Learn More >
Company Branding
Bring unity and culture to your medical center with a whitelabeled digital workplace experience.
Learn More >
Mobile App For Clinical Teams
Reach medical workers on-the-go with user-friendly apps for both iOS and Android devices that contain all of the most used functions, including notifications.
Learn More >
Medical-Grade Security
Ensure peace of mind with extensive security certifications (including HIPAA and HITRUST CSF), a wide range of data compliance and retention policies, data loss prevention (DLP) policies, and complete security control.
Learn More >
Break free from legacy systems and move forward faster with MangoApps.
A unified employee experience saves employees time, improves workplace efficiency and agility.
Talk to a product expert to learn more