Interacting With Others
Companies can play a large role in sustaining a healthy community. Participation in local events, such as fun runs or blood drives, is an easy way to show support for the area and demonstrate company values, as well as giving the team a fun chance to interact outside of the office.
Community events can be organized by the office, or they can just be activities going on in the area. Either way, helping employees engage in their local community encourages a happier and healthier work environment.
Problem: Missing Out On Events
Companies generally want to have happy employees that participate in their local community, but most struggle to share such information in a way that moves the needle. Email, word of mouth, and flyers are all easy to miss, and often, many employees don't hear about events until it's too late. This is especially true of external events that companies participate in rather than putting on themselves.

With no centralized location for community information, it's hard for employees to stay in the know about events that they might have liked to participate in or help coordinate.
Solution: Connecting With The Community
MangoApps has centralized location-based groups where anyone can post about a local event and it will be seen by all the relevant people, who can comment and get involved. This makes it easy for the entire office to know exactly what's going on, without becoming bothersome to other parts of the organization.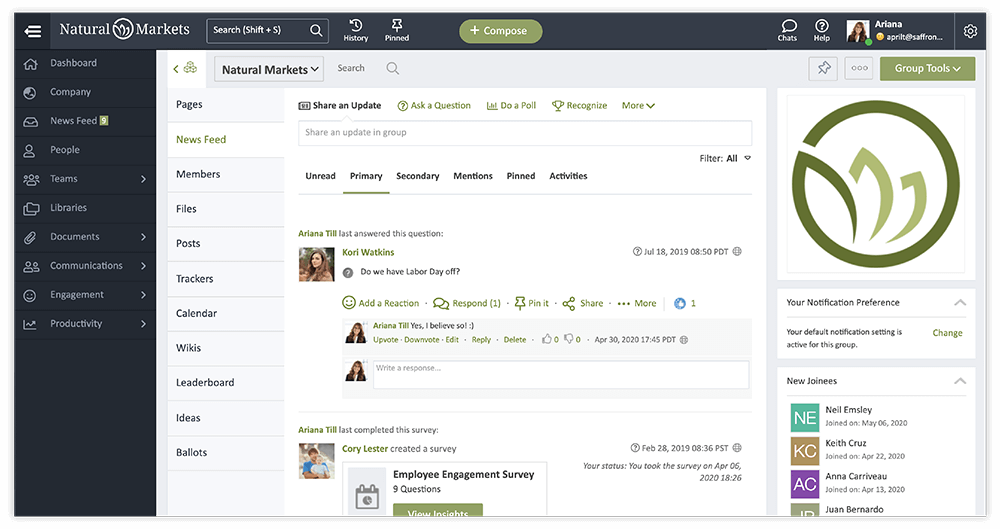 Location-based groups also come with a universal calendar, meaning that event details can be placed on everyone's calendars, and it's possible to send out reminders, let users RSVP in real time, and make updates as details change.

With these tools, it becomes far easier to coordinate with coworkers and access details on the go, ensuring that no one is left out of the loop on events that they would have wanted to attend.
MangoApps is the first place that people go to now to see news and find out about community events, which is really exciting for me to hear.
How To Create Location-Based Groups:
1

Location-based groups connect coworkers and employees together based on their geographical work area. To create location-based groups, first ensure the module is enabled in your platform.

2

Once location-based groups have been enabled, add the different areas you'd like groups created for.

3

Once you've saved your existing locations, employees will automatically be filtered into the appropriate group based on the location listed on the employee profile.

4

Your location groups are now ready to go. You and other employees can begin posting content, uploading files, creating wikis, and enjoying everything else groups have to offer.
How To Create Calendar Events:
1

Company calendars give you a master list to keep everything organized and centralized, from company events to personal reminders. To create a company calendar, first, ensure that the calendar feature is enabled on your domain.

2

Next, select the calendar icon from the navigation menu on the left.

3

You can also create an event by selecting the compose button at the top of your screen and then selecting the calendar icon from the drop-down menu.

4

Events can also be created from within a specific department or team area by going into the area and selecting the calendar option from the options menu.

5

To start adding calendar events, select the 'Calendar Tools' button and then 'Create An Event' from the drop-down menu.

6

Choose what kind of event you want to create (company, team, personal, etc.) and then start adding in the details.

7

Once you're finished, select 'Create Event' to publish it on all of the applicable calendars. Employees can now view your event, RSVP, comment, and more. And if you ever need to update your event or alter details, editing is as simple as selecting the 'Edit' button within your event.
Bring your frontline and office teams together on one common platform
It has never been this easy to create the perfect employee experience for your deskless and deskbound workers. Contact us to discuss requirements, pricing, rollout and support. Get your free demo today!