Interacting With Others
Companies play a large role in supporting and sustaining a healthy community. When businesses participate or support community events it shows local support, demonstrates company values, and gives coworkers a chance to interact together in a fun environment outside of the office. Community events can be organized by the office, or they can just be activities going on in the area. Either way, helping employees engage in their local community encourages a happier and healthier work environment.

Missing Out On Events
Companies want employees to be happy and involved in their environment, but they generally struggle to share community information. With emails, word of mouth, or flyers as their only options, most coworkers don't hear about an activity until it's too. And because community events aren't always put on by the organization, external opportunities are often missed entirely. As a result, it's hard for employees to know about activities and struggle to coordinate quality time with coworkers.
MangoApps is the first place that people go to now to see news and find out about community events, which is really exciting for me to hear.
Connecting With The Community
Centralized location-based groups in MangoApps make sharing local events easy, fast, and relevant. Interactive news feeds allow anyone to post about a local event or comment on a post with questions or additional details, letting the entire office benefit from and enjoy activities together. Location groups also ensure that events are tailored to your specific area, so employees are never bothered with unnecessary or irrelevant information.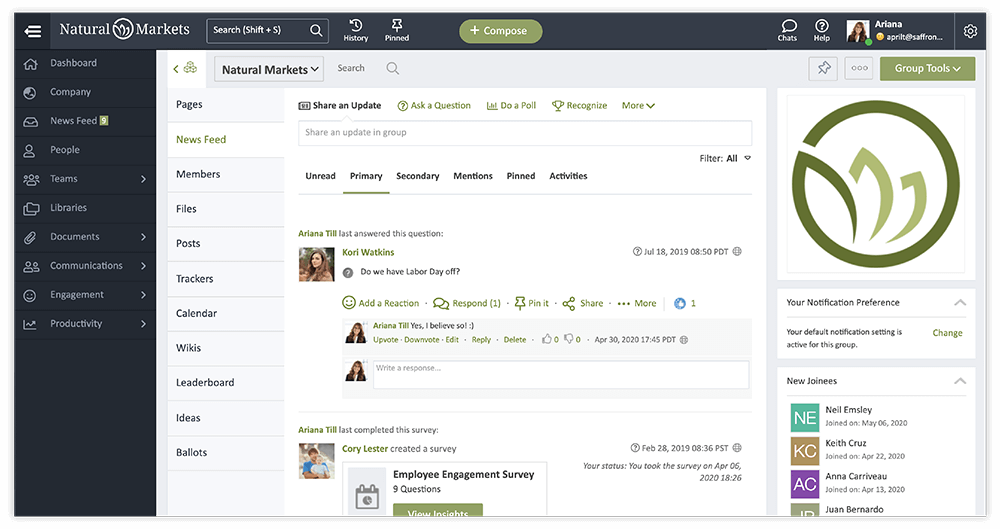 Location-based groups even give you the tools to schedule events on a universal calendar, making event dates and details accessible in advance for all local employees. Scheduled calendar events generate automatic invitations, send out reminders, provide additional information like phone numbers, addresses, and driving directions, let users RSVP to the event, simplify coordinating plans with coworkers, and even help workers access information on the go.

How To Make Location-Based Groups:
1

Location-based groups can connect together and make event and party planning easy. To create location-based groups, first, ensure the module is enabled in your platform.

2

Once location-based groups have been enabled, just add the different areas you'd like groups created for.

3

Once you've saved your existing locations, employees will automatically be filtered into the appropriate group based on the location listed on the employee profile.

4

Your location groups are now ready to go. You and other employees can begin posting content, uploading files, creating wikis, and enjoying everything else groups have to offer.
How To Create Calendar Events:
1

Company calendars give you a master list to keep everything organized and centralized, from company events to personal reminders. To create a company calendar, first, ensure that the calendar feature is enabled on your domain.

2

Next, select the calendar icon from the navigation menu on the left.

3

You can also create an event by selecting the compose button at the top of your screen and then selecting the calendar icon from the drop-down menu.

4

Events can also be created from within a specific department or team area by going into the area and selecting the calendar option from the options menu.

5

To start adding calendar events, select the 'calendar tools' button and then 'create an event' from the drop-down menu.

6

Choose what kind of event you want to create (company, team, personal, etc.) and then start adding in the details.

7

Once your finished, select 'create event' to publish it on all of the applicable calendars. Employees can now view your event, RSVP, comment, and more. And if you ever need to update your even or alter details, editing is as simple as selecting the 'edit' button within your event.