What Is A Vendor Knowledge Base?
A vendor knowledge base is any collection of useful information about commonly used company vendors. These knowledge bases can be organized at either a local, team, department, or company level, and help employees know who to rely on for additional outside support. Whether you need part-time freelance work, local building maintenance, or are fulfilling various procurement needs, a vendor knowledge base keeps work quick, consistent, and high quality.

Inconsistent Vendor Information
For most companies, vendor knowledge bases don't exist at all, forcing employees to take their best guess, ask local colleagues, or spend time trying to track down new vendors. And in the few instances where knowledge bases are in place, they're typically just the random details someone happened to collect in your local area. Rarely, if ever, do employees have access to an official vendor knowledge base where they can not only see but also share information.
I never knew where to go to find information on a vendor but knowledge bases always have all of the answers I need.
Compiling A Centralized Source
With MangoApps, data storage and collection stays centralized, searchable, and easily accessible. Whether your vendor knowledge base needs to exist on a location-specific level, within a department or team, or even company-wide, it's easy to create an up-to-date master source of information for anyone in the organization. Your detailed and easy to access vendor knowledge base ensures company quality and consistent without wasting time or causing headaches.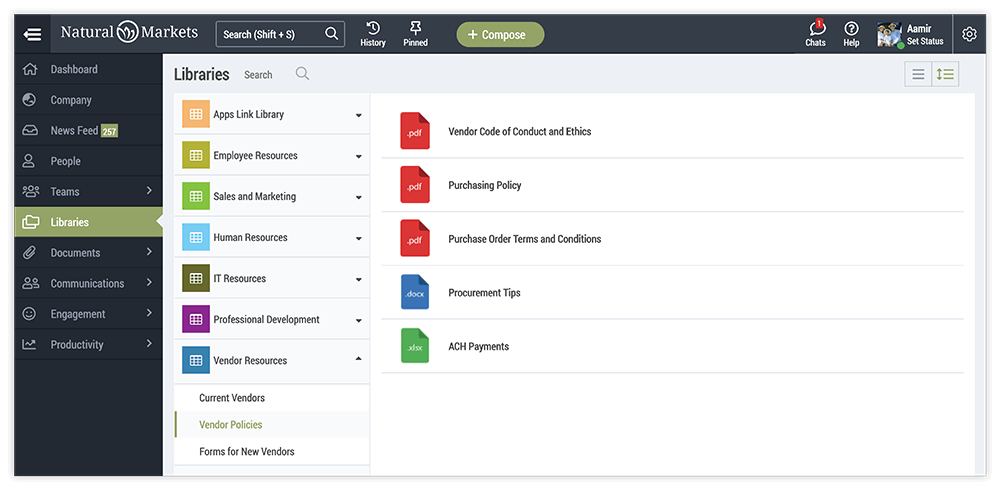 For larger vendor knowledge bases like department or company-wide information, MangoApps Libraries are especially useful. Libraries allow companies to organize documents, files, hyperlinks, and other useful resources into categorized areas, creating a digital index for your organization. Employers can build any number of different knowledge bases with all kinds of different, detailed, and fleshed out information.

How To Setup Libraries:
1

Libraries make storing, accessing, and managing documents quick and easy. To create a new library, first make sure that the libraries module is enabled, then select the libraries icon from the left navigation menu.

2

Next, choose the 'add items' button.

3

Pick the library, category, and item type where your new addition belongs and then choose your item from existing resources in the 'find and add item' area.

4

Select one of the save item options and then add any other additional library items.