What Is A Vendor Knowledge Base?
A vendor knowledge base is a collection of useful information regarding vendors that the company employs regularly, and can be organized at the local, team, department, or company level.
This saves time, empowers employees with information about who they can rely on for things like part-time freelance work, local building maintenance, or procurement needs, and ensures consistent, high quality work.
Problem: Inconsistent Vendor Information
At most companies, vendor knowledge bases don't exist at all, so any time an employee needs to use a vendor, they're left to their own devices. Even if there is a knowledge base, it's likely random details someone collected, and not anything comprehensive or organized. Either way, employees are forced to ask around with local colleagues, dig up scattered information, or devote time and energy to finding new vendors.

Rarely, if ever, do employees have access to an official vendor knowledge base where they can not only see but also share information.
Solution: Compiling A Centralized Source
MangoApps makes data storage and collection centralized and searchable. The flexibility of our system allows vendor knowledge bases to be up-to-date master sources of information, whether they're company-wide or team-specific, and our powerful search functionality means anyone who needs this information can find it easily, saving time and ensuring consistency.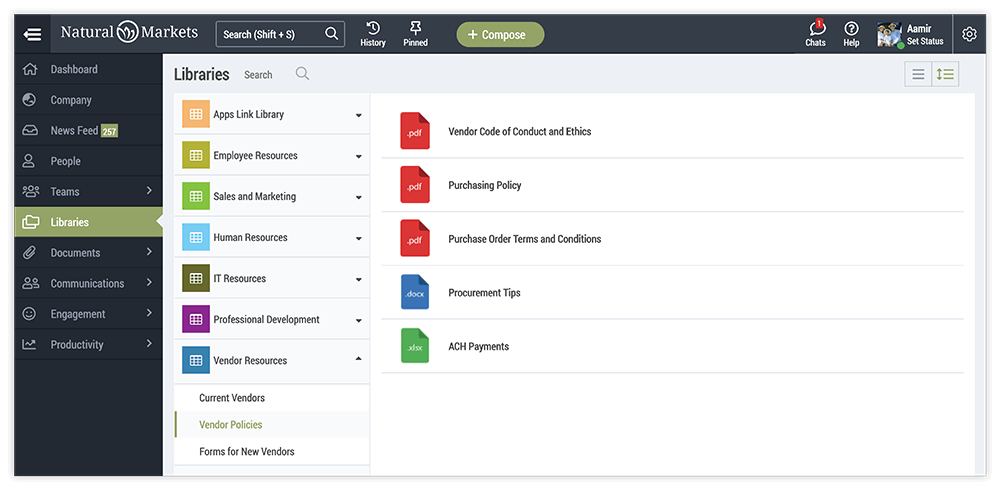 For larger vendor knowledge bases, MangoApps Libraries are especially useful. Libraries allow companies to organize files and hyperlinks, among other resources, into a categorized digital index that is easy to find and navigate.

Another useful tool for ensuring access to information within your organization is Questions. Within MangoApps, it's easy to pose a question to a department or team, or the whole company, and let the best person or people respond to it at their convenience. Questions can be managed right inside of a document, wiki, or library, and are fully public and searchable, so as questions get asked and answered, a repository of information is created organically.
I never knew where to go to find information on a vendor, but knowledge bases always have all of the answers I need.
How To Set Up Libraries:
1

Libraries make storing, accessing, and managing documents quick and easy. To create a new library, first make sure that the libraries module is enabled, then select the libraries icon from the left navigation menu.

2

Next, choose the 'Add Items' button.

3

Pick the library, category, and item type where your new addition belongs and then choose your item from existing resources in the 'Find And Add Item' area.

4

Select one of the save item options and then add any other additional library items.
How To Ask A Question:
1

If you haven't already, try putting the keywords of your question into the search bar. You may find that it has already been answered.

2

If it proves to be a new question, select 'Compose' from any page within MangoApps, then choose Question, under Share.

3

Select the team, department, group, or project that you would like to ask.

4

Type your question and attach any necessary file.

5

Your question will be sent to the appropriate group, who should hopefully be able to help you.

6

Going forward, anyone who searches for this question will see that it has already been asked and answered, and may be able to avoid wasting time by asking it again.
Bring your frontline and office teams together on one common platform
It has never been this easy to create the perfect employee experience for your deskless and deskbound workers. Contact us to discuss requirements, pricing, rollout and support. Get your free demo today!