What Are Industry Best Practices?
Industry best practices are established tips, tricks, and general guidelines for success within a particular area of business. While some best practices are well known and generally accepted, others are still discovered along the way. Best practices are also evolving regularly as industry trends, technology, consumer perceptions, new research, and other significant factors change over time. Teaching employees best practices creates healthy work habits and increases company profit, productivity, and overall engagement.
Easily access to best practices keep everyone on the same page and has made work much easier.
Always Adapting Industry Best Practices
Best practices are the most successful way to work within an organization, but they can also be a bit elusive. As practices adapt over time, employees need an easy, wide-reaching, and effective way to test out new ideas, find what works, and quickly share and collaborate with coworkers.
Best practices also tend to be specific to their unique industry, department, geographical region, and even clients at times. What works well for one team, department, or industry isn't always what another needs to be successful. When new employees come onboard or workers transition within the organization, they need a way to learn new practices quickly, incorporate good habits, and avoid inconsistencies.

Easy Sharing With MangoApps
MangoApps connects employees across the entire organization, so best practices are always easy to see and share. With designated department, group, and project work areas, employees in specific areas can quickly communicate and collaborate to test new ideas, perfect existing methods, and share changes with anyone who needs to know.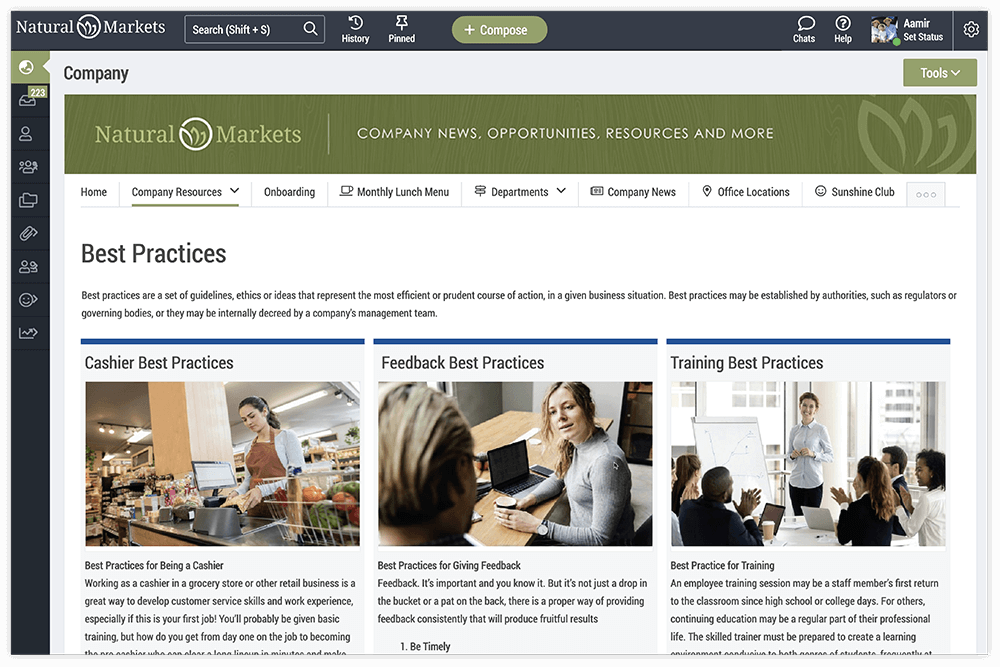 Group areas are strategically organized and highly searchable as well, helping onboarding and transferring employees form good habits right way and ensuring a unified work process between coworkers and across work areas. You can even designate best practice posts as must-read messages, helping leadership track, and manage who has seen the new message.
Employers can even create wide-reaching, company posts to share specific best practices to the entire organization. Company posts reach every employee instantly, delaying lag time or word of mouth issues, and increasing company communication and culture. Established best practices and any associated documents can even be stored in the comprehensive library area where all kinds of company information is sorted, stored, organized and categorized.
How To Create Groups:
1

Groups give teams a specific space to meet together, collaboration effectively, and work on topics without a specific end date or goal in mind. To create a new group, make sure the groups module is enabled in your domain, then go to the groups area and select the 'create a group' button.

2

Give your group a name and establish some of its basic details. Provide a description, establish permissions, enable or disable features, and more.

3

You're now ready to add users and get to work. Select the group tools button and then 'invite network users' to start adding group members.

4

Once a member has been added to a group, he or she can immediately begin posting, sharing, asking questions, submitting documents, and participating in everything groups have to offer.
How To Make Company Posts:
1

Company posts quickly distribute wide-reaching information out to the entire organization. To create a new company post, you first must be a network administrator or have received permission from an administrator.

2

Once you have permission to post, select the 'compose' button from the top of your dashboard and then the 'post' button from the drop-down menu.

3

Next, choose the option to share your post with everyone, ensuring it becomes a wide-reaching company post.

4

Give your post a title and choose from over a dozen different template options. Or start a post entirely from scratch.

5

You can edit the post and add or remove content until it's exactly what you need. Once your post is finished, just adjust the settings and select 'publish post'.