What Is Company Administration?
Company administration is the general set of policies, rules, and practices followed by a business. Some of these rules are put into place by the company itself, and others are determined by industry or government regulations. But regardless of how or why different policies exist, employees need an easy to access method of reading and referencing company administration.

Working Around Obstacles
All organizations have their own company administration, but for the average employee, knowing what those policies are and where to find them can feel almost impossible. Instead of a detailed written document, workers typically receive rules and regulations by word of mouth, inevitably leading to rumors, misunderstandings, and misinformation. The traditional word of mouth method also makes it difficult for employees to learn everything effectively and impossible to reference rules in times of need.
I've found that easily accessible company rules help me work better and encourage others to do the same.
Creating A Complete Knowledge Base
In MangoApps, storing, updating, and searching for documents is fast, efficient, and easy. With a centralized source of information available at your desk and on the go, employees can reference company administration at any time, helping them navigate the unknown and keeping methods consistent across the company.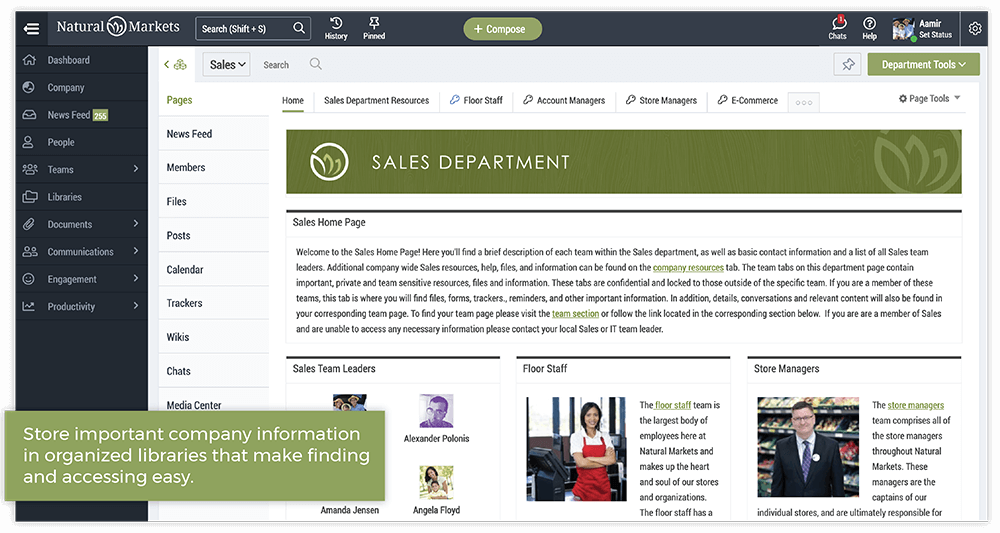 Centralized company communication centers also let employees ask questions and learn from each other how to handle challenging or less known areas of company administration. And if administrative details do ever change, it only takes a moment to update everyone.

When it comes to specifics, Mango Libraries are an excellent resource for storing company administrative information. Mango Libraries let companies organize documents, files, hyperlinks, and other useful resources into categorized areas, creating a digital index for your organization. Leaders can establish any number of administrative areas and can even organize sections for certain jobs, specific locations, different teams or departments, and company-wide rules and regulations.
How To Setup Libraries:
1

Libraries make storing, accessing, and managing documents quick and easy. To create a new library, first make sure that the libraries module is enabled, then select the libraries icon from the left navigation menu.

2

Next, choose the 'add items' button.

3

Pick the library, category, and item type where your new addition belongs and then choose your item from existing resources in the 'find and add item' area.

4

Select one of the save item options and then add any other additional library items.