What Is Company Administration?
Company administration consists of the policies, rules, and practices of a business, and are usually a combination of self-imposed guidelines with industry or government regulations.
It is important for employees to have an easy way to access and reference this information.
Problem: Working Around Obstacles
In most organizations, it feels impossible for the average employee to know what these policies are and where they can be found. Workers often rely on word of mouth to learn them, inevitably leading to rumors and misunderstandings.

Without a detailed written document, it is difficult for employees to learn everything they need to know, and impossible to reference the rules in time of need.
Solution: Creating A Complete Knowledge Base
In MangoApps, storing, updating, and searching for documents is easy, both at your desk and on mobile. This means that company administration can be accessed and referenced at any time, eliminating confusion and helping people navigate the unknown.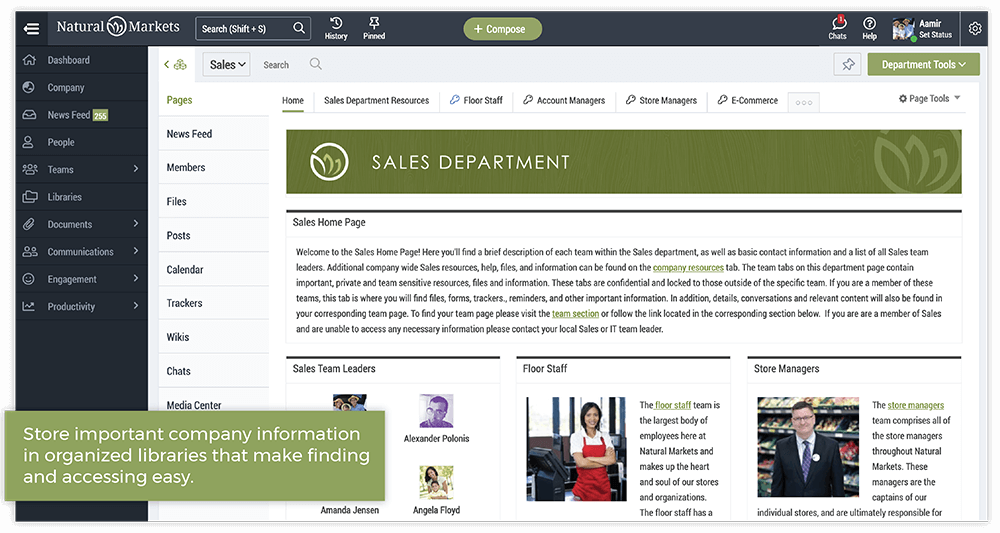 Centralized company administration keeps things consistent across departments, and allows employees to ask questions and learn from each other on how to handle challenging or lesser-known problems as they arise. Also, as things change, it's easy to update everyone.

Mango Libraries work well for this. Libraries let companies organize documents, files, hyperlinks, and other useful resources into categorized areas, creating a digital index for your organization. Leaders can establish any number of administrative areas and can even organize sections for certain jobs, specific locations, different teams or departments, and company-wide rules and regulations.
Between connecting with colleagues, editing documents, and having all your HR information in one portal, MangoApps has everything that you need to know. You don't need paper documents anymore. You can quickly access everything you need.
-Brook Laskin, Executive Director, CCS
Questions are also useful for company administration. Within MangoApps, it's easy to pose a question when a new situation arises, and let the best person or people respond to it at their convenience. Questions can be managed right inside of a document, wiki, or library, and are fully public and searchable, so as questions get asked and answered, a repository of information is created organically.
How To Set Up Libraries:
1

Libraries make storing, accessing, and managing documents quick and easy. To create a new library, first make sure that the libraries module is enabled, then select the libraries icon from the left navigation menu.

2

Next, choose the 'Add Items' button.

3

Pick the library, category, and item type where your new addition belongs and then choose your item from existing resources in the 'Find And Add Item' area.

4

Select one of the save item options and then add any other additional library items.
How To Ask A Question:
1

If you haven't already, try putting the keywords of your question into the search bar. You may find that it has already been answered.

2

If it proves to be a new question, select 'Compose' from any page within MangoApps, then choose Question, under Share.

3

Select the team, department, group, or project that you would like to ask.

4

Type your question and attach any necessary file.

5

Your question will be sent to the appropriate group, who should hopefully be able to help you.

6

Going forward, anyone who searches for this question will see that it has already been asked and answered, and may be able to avoid wasting time by asking it again.
Bring your frontline and office teams together on one common platform
It has never been this easy to create the perfect employee experience for your deskless and deskbound workers. Contact us to discuss requirements, pricing, rollout and support. Get your free demo today!