What Is Event Planning and Management?
Event planning and management is the organization, prep work, and overall management of company events. Company events can happen internally, like office parties, or they can focus externally on customers, like hosting an open house. Whatever the event, a successful planning and management team needs an easy way to coordinate details, share documents, delegate tasks, and keep things running smoothly.
Planning events in MangoApps isn't like working with email at all. It's more engaging and much easier to see details, plans, and conversations.
Common Coordination Concerns
For most employees, event planning comes in addition to already existing responsibilities. Trying to coordinate and plan details around everyone's work schedule is a challenge, and often forces team members to miss out on planning or try to coordinate over messy mass email. Unreliable communication also makes it difficult to keep invitees informed about event plans or last-minute changes.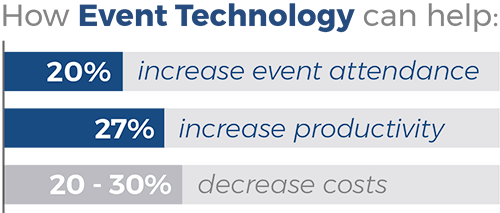 A Centralized Work Space
Planning parties and events are centralized and simple with MangoApps project areas. You can invite anyone in the platform to participate, and everything exists in a completely digital environment, letting workers freely participate regardless of schedules, locations, or other obligations. Project spaces are visually engaging and intuitive as well, making it simple to post updates, assign tasks, and share documents, files, images, and more.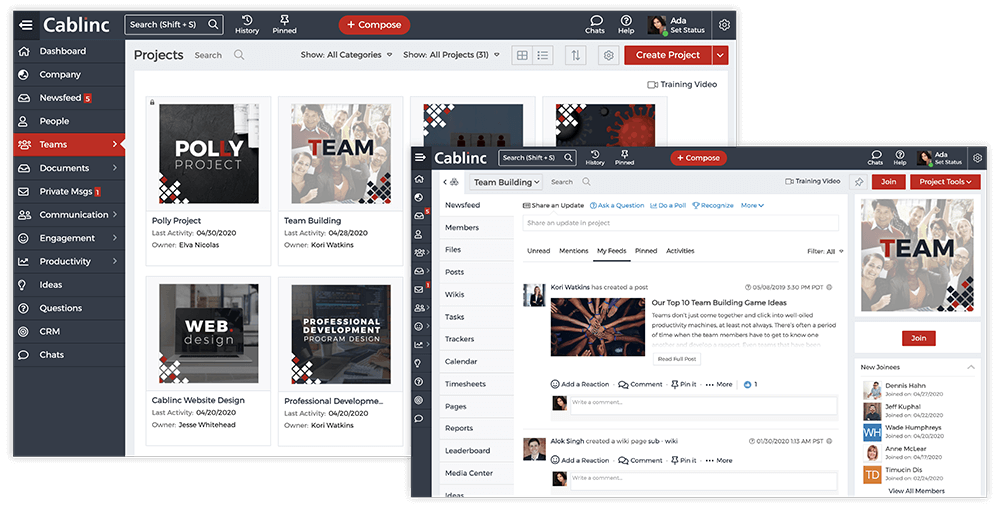 MangoApps, even lets employees send out invitations right from the platform and add the event to a universal calendar, making sure everyone invited knows about it well in advance. Event invitation spaces also give guests the opportunity to RSVP, ask questions, plan travel details, and see specific information. And if event details ever change, editing invitations only takes a moment.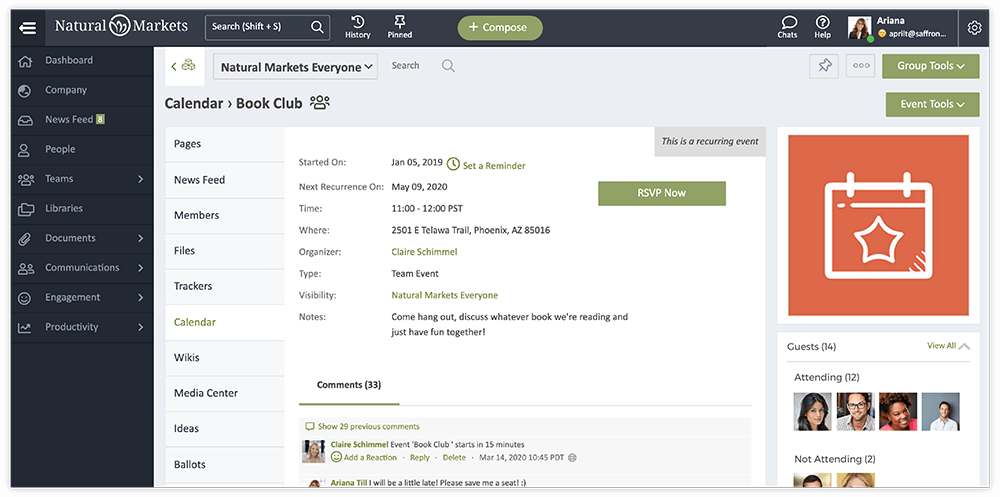 How To Make Company Calendars Happen:
1

Company calendars give you a master area to create events and personal reminders. To create a company calendar, first, ensure that the calendar feature is enabled on your domain.

2

Next, select the calendar icon from the navigation menu on the left.

3

You can also create an event by selecting the compose button at the top of your screen and then selecting the calendar icon from the drop-down menu.

4

Events can also be created from within a specific department or team area by going into the area and selecting the calendar option from the options menu.

5

To start adding calendar events, select the 'calendar tools' button and then 'create an event' from the drop-down menu.

6

Choose what kind of event you want to create (company, team, personal, etc.) and then start adding in the details.

7

Once you're finished, select 'create event' to publish it on all of the applicable calendars. Employees can now view your event, RSVP, comment, and more. And if you ever need to update your even or alter details, editing is as simple as selecting the 'edit' button within your event.
How To Create Projects:
1

Projects are the perfect place to plan events and manage activities. To create a new project, make sure the project module is enabled in your domain, then go to the project area and select the 'create a project' button.

2

Give your project a name and establish some of its basic details. Provide a description, establish permissions, enable or disable features, and more.

3

You're now ready to add users and get to work. Select the project tools button and then 'invite network users' to start adding project members.

4

Once a member has been added to a project, he or she can immediately begin posting, sharing, asking questions, submitting documents, adding tasks, and participate in everything projects have to offer.