Why Digitize Paper Forms?
Paper forms are lost easily, can only exist in one area at a time, and are much more susceptible to damage and security risks than their digital counterparts. They are also difficult to edit when changes occur and harder to share with others. In fact, most sharing methods involve digitizing the form anyway through scanning, faxing, or some other similar process.
The folders on MangoApps are really great for storing documents, especially since you can put access privileges on them. You don't need paper documents anymore. You can quickly access everything you need.
-Brook Laskin, Executive Director, CCS
Problem: Trying To Convert Forms
Digitizing paper forms seems obvious in most organizations, but knowing how to convert content and where to store data can be a bit of an issue. Manually recreating every company form takes time, skill, and effort, and even then, organizations still need a space to house and share all of that information. Digital files need to be accessible to anyone in need and easy to create, submit, and process while still keeping them safe.

Solution: Simple Forms With MangoApps
MangoApps makes the process of creating, accessing, and analyzing forms much easier. Our forms and trackers are housed right in the platform, removing the need for third-party platforms and keeping everything secure and searchable.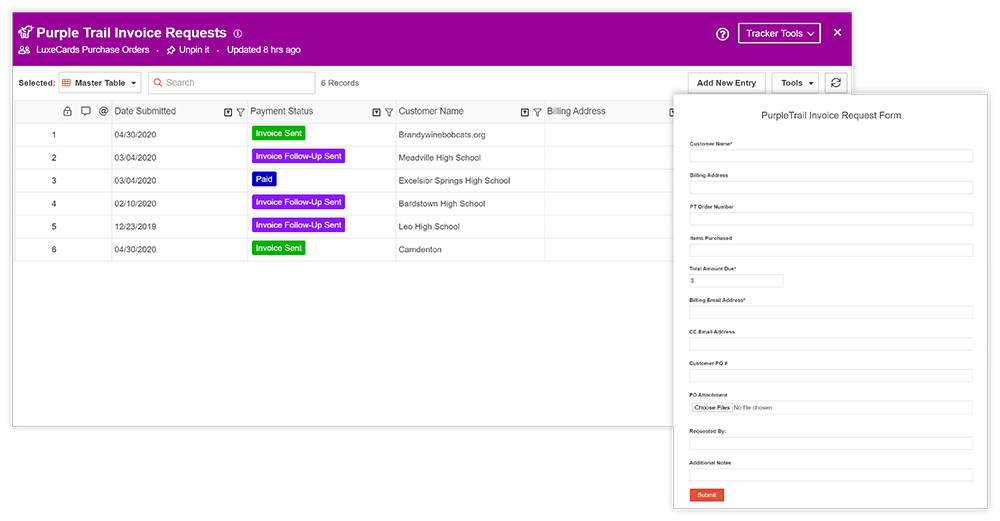 We have a wide variety of form templates, promoting ease of use without sacrificing flexibility. Once forms are filled out, the information is stored in organized, searchable trackers, so everyone can find and update the information they need.
How to Create Trackers and Forms:
1

Trackers and forms save time, simplify data management, and improve overall organization by collecting, storing, and analyzing information. To create a new tracker, first visit the department, group or team area where you want your tracker to be.

2

Be sure that forms and trackers are enabled in the area and then select the trackers option from the left-hand navigation bar.

3

Next, select 'New' to start a new tracker and choose from either a wide variety of available templates or start from scratch with a blank tracker.

4

Add and remove content however you need until you're ready to publish.

5

Once a tracker is published, users can easily input or view data at any time, and submissions are collected and organized all in one place.

6

To create a new form for your tracker, select the associated tracker and then choose the 'Tracker Tools' button.

7

Choose the 'Create New Form' button from the drop-down menu. From here you can name your associated form, change details, work from detailed templates, or create something completely new.

8

Whenever your form is filled out and submitted,the results will automatically be sent directly to the associated tracker.
Bring your frontline and office teams together on one common platform
It has never been this easy to create the perfect employee experience for your deskless and deskbound workers. Contact us to discuss requirements, pricing, rollout and support. Get your free demo today!