What Are Online Leads?
Online leads are any kind of potential customer information from an online source. Online leads can come from a wide variety of sources, from answered emails to downloadable content to completed contact forms. But however they originate, leads give your sales team new opportunities and find customers and establish positive interactions with others.
Leads are a lot faster to work with and a lot more successful now that MangoApps helps us keep everything organized.
Managing Online Efforts
While online leads provide a lot of opportunities, they're only successful when well organized. Because leads can come from so many different sources, managing and sorting information can get confusing, especially when leads originate from outside the sales department. It's easy in the hustle for content to be accidentally duplicated, misfiled, or even lost.
Without a centralized space to work with leads, leaders also struggle to assess and analyze them effectively. When information is spread out all over, it's difficult to know which lead generation methods work best and concentrate on those areas.

Establishing Online Success
In MangoApps, an effective online lead area is built right into the platform. Designated groups, communication spaces, instant notifications, and detailed trackers make sharing, storing, uploading, and editing leads super simple and keep content centralized and organized no matter its source.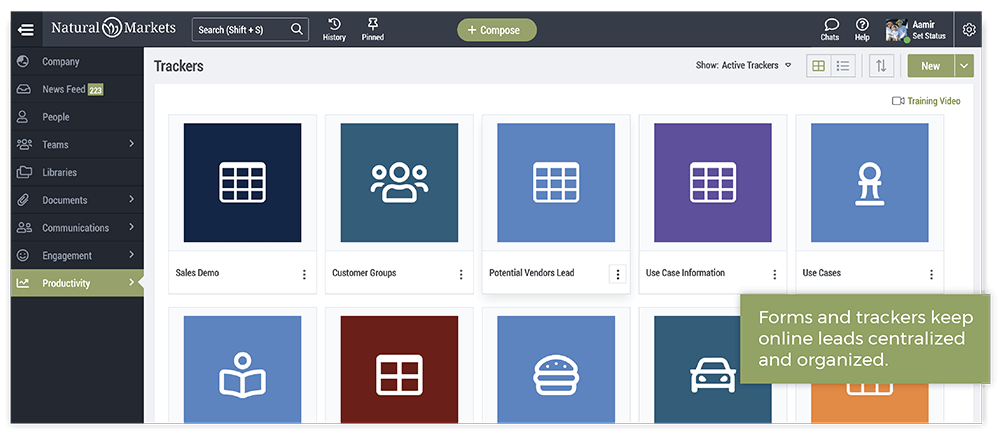 Centralized data also makes analyzing lead methods much easier. Employers have access to lead data all in the same spot, enabling them to see progress, determine successful strategies, and focus company efforts in the right areas.

Group spaces even give online leads the advantages of a collaborative team experience. When questions, problems, or unexpected issues arise, a group space makes finding answers from your team fast and efficient, providing potential clients with all of the help and information that they need.
How to Create Trackers and Forms:
1

Trackers and forms save time, simplify data management, and improve overall organization by collecting, storing, and analyzing information. To create a new tracker, first visit the department, group or team area where you want your tracker to be.

2

Be sure that forms and trackers are enabled in the area and then select the trackers option from the left-hand navigation bar.

3

Next, select 'new' to start a new tracker and choose from either a wide variety of available templates or start from scratch with a blank tracker.

4

Add and remove content however you need until you're ready to publish.

5

Once a tracker is published, users can easily input or view data at any time, and submissions are collected and organized all in one place.

6

Easily create online forms that help share and collect detailed submissions that enter directly into the tracker.