What Are Online Leads?
An online lead is a potential customer whose information comes from an online source, such as a person who answered an email you sent out or filled out a contact form on your website, perhaps in exchange for downloadable content.
However they originate, leads represent opportunities for your sales team to connect with people that have the potential to become customers.
Problem: Managing Various Sources Of Leads
Online leads can come from many different sources, which makes it challenging to track and sort them all, particularly when they originate from outside the sales department. It's easy for content to be duplicated, misfiled, or lost.

Without a centralized space where incoming leads are systematically evaluated and followed up with, leaders struggle to assess and analyze them effectively, making it hard to plan for the future or fully understand the sales funnel.
Leads are a lot faster to work with and a lot more successful now that MangoApps helps us keep everything organized.
Solution: Tracking Online Leads In One Place
An effective workflow for online leads is one of the most important features of MangoApps, and was a prime consideration in our platform's development. Designated groups, communication spaces, instant notifications, and detailed trackers make the whole process simple and centralized. We even use it internally; every day, we have new customer leads from various places funnel into our sales group, where the sales team is able to quickly communicate and act on each one.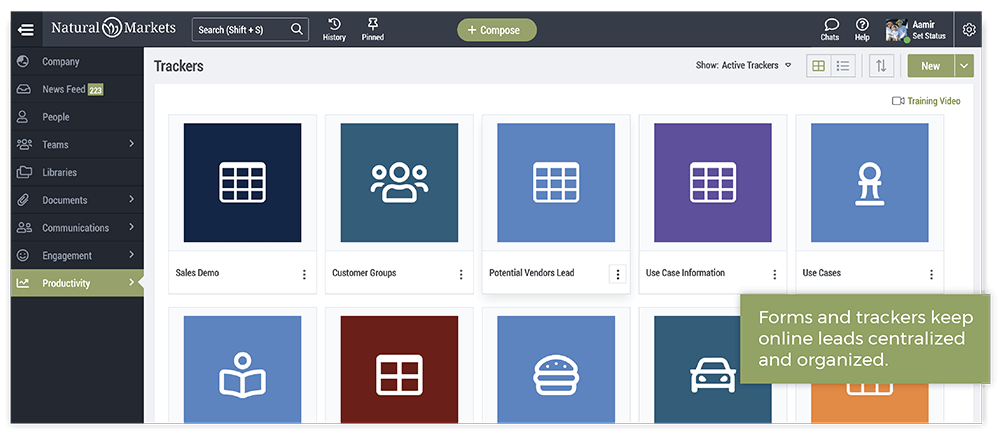 Centralized data also makes analyzing lead methods much easier. Leaders have access to detailed lead data, enabling them to see progress, determine successful strategies, and focus company efforts in the right areas.

When online leads are funneled into a group space, they benefit from a collaborative team experience. Unexpected questions or problems can be handled quickly by searching through previous records or asking colleagues for help, which means that potential clients have a smoother, faster experience and are more likely to convert.
Group spaces even give online leads the advantages of a collaborative team experience. When questions, problems, or unexpected issues arise, a group space makes finding answers from your team fast and efficient, providing potential clients with all of the help and information that they need.
How to Create Trackers and Forms:
1

Trackers and forms save time, simplify data management, and improve overall organization by collecting, storing, and analyzing information. To create a new tracker, first visit the department, group or team area where you want your tracker to be.

2

Be sure that forms and trackers are enabled in the area and then select the trackers option from the left-hand navigation bar.

3

Next, select 'New' to start a new tracker and choose from either a wide variety of available templates or start from scratch with a blank tracker.

4

Add and remove content however you need until you're ready to publish.

5

Once a tracker is published, users can easily input or view data at any time, and submissions are collected and organized all in one place.

6

Easily create online forms that help share and collect detailed submissions that enter directly into the tracker.
Bring your frontline and office teams together on one common platform
It has never been this easy to create the perfect employee experience for your deskless and deskbound workers. Contact us to discuss requirements, pricing, rollout and support. Get your free demo today!