What Is An Employee Social Center?
Traditionally, an employee social center would be something like a break room or water cooler, where employees can relax and socialize. In a modern distributed organization, it's important to build a digital equivalent to this as well, giving employees from different parts of the company a way to interact and build relationships outside of their work functions.
Problem: Limited Employee Interaction
Without a digital social center, employees can only socialize with the other people in their physical location, barring work travel or infrequent events. This means that colleagues from different offices, or even different shifts in the same office or different areas of the same building, might only ever interact for purely business purposes.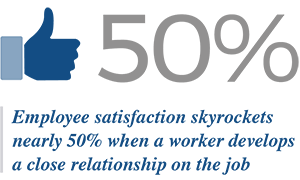 This is a problem because people who build connections outside of their work will collaborate better and are more likely to trust and support each other. According to NBRII, job satisfaction goes up by nearly 50% when employees form a close friendship at work, which is unlikely to happen among distributed colleagues without a digital social center.
We've used MangoApps to set up social groups like a gardening club and a book club and it's been really handy for that, setting up meetings, sharing photos and stuff like that.
-Sam Gee, Individual Giving Support Officer, Wildlife Trusts
Solution: Centers For Every Interest
With a centralized workspace reaching across the entire company, MangoApps makes it easy for businesses to create as many social centers as employees need. Many of our customers establish one company-wide area for all employees to socialize, in addition to a wide variety of employee social centers based on hobbies and interests throughout the organization, which can be created on the fly by any employee, as needed.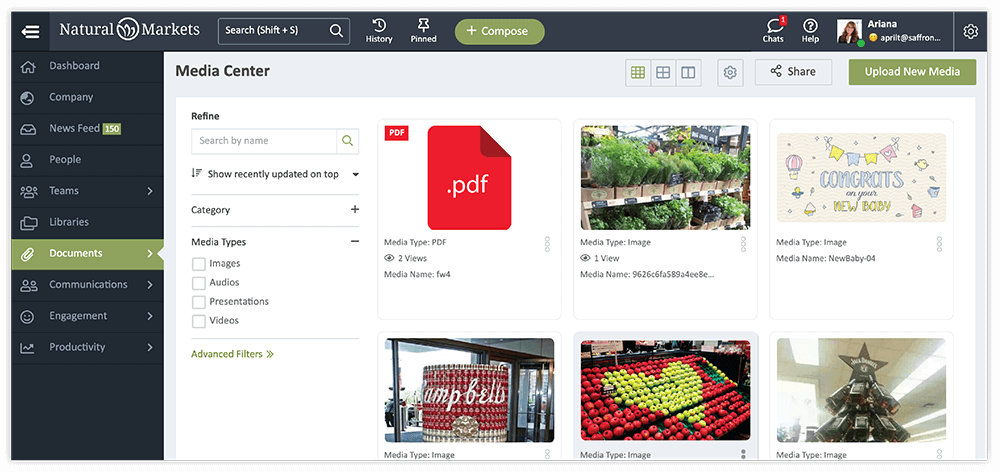 MangoApps groups provide a wide range of interactive abilities for every kind of interest. Whether workers want to start an online book club, organize regional camping trips, share workout ideas, or discuss leadership styles and opportunities, groups are the perfect place. It's easy to do things like share files, post updates and pictures, create quizzes, create calendar events, and even chat.

MangoApps groups are available to everyone in the company, and will do wonders to strengthen company culture and engagement, by giving far-flung employees an easy way to bond with each other.
How To Create Groups:
1

Groups give teams a specific space to discuss a topic. To create a new group, make sure the groups module is enabled in your domain, then go to the groups area and select the 'Create A Group' button.

2

Give your group a name and establish some of its basic details. Provide a description, establish permissions, enable or disable features, and more.

3

You're now ready to add users and get to work. Select the group tools button and then 'Invite Network Users' to start adding group members.

4

Once a member has been added to a group, he or she can immediately begin contributing.
Bring your frontline and office teams together on one common platform
It has never been this easy to create the perfect employee experience for your deskless and deskbound workers. Contact us to discuss requirements, pricing, rollout and support. Get your free demo today!