What Is Crisis Management?
Crisis management is the regulation and response to any kind of company crisis or emergency situation. Crisis management could be directed at something business-related like product recalls, competitor announcements, and client concerns, or it might mean managing a situation outside of the company that negatively affects safety or working conditions like dangerous weather, local construction, or a hostile situation. Depending on the location and kind of crisis, management strategies might influence the entire organization, a specific department or team within the company, or only employees in a particular geographical area. But no matter how a crisis occurs or who it affects, the main goals of crisis management are always to alert impacted individuals, keep everyone safe, develop an action plan, and monitor to resolution.
Safety has always been our greatest concern, for both customers and employees. MangoApps tools give us a way to ensure safety never comes second.
Communicating in a Crisis
During any kind of crisis situation, leaders need a fast, dependable, wide-reaching way to immediately inform everyone involved. Quick crisis management creates efficient action, keeps everyone up to speed, and in some cases, even reduces danger. Employers need a successful communication method in place before a crisis occurs, but too often emergency communication just isn't efficient enough. Phone trees and emails take time,
are easy to miss, and don't allow employees to communicate and collaborate together. Employers also aren't always able to predict exactly who will be impacted by a situation, making preplanned communication trees limited at best. Limited and exclusive communication systems are also particularly difficult for remote teams struggling to quickly overcome a crisis.

Crisis Management With MangoApps
With MangoApps' detailed company communication, leaders can quickly reach out in an emergency to employees affected by the event, automatically informing everyone involved without distracting or worrying other employees. Leaders can share updates in the 'Everyone' group for large company concerns, post in location based groups for geographical issues, or even address individual teams about specific setbacks. News feed notifications instantly reach team members on both their desktop and mobile device, ensuring prompt communication with everyone and saving precious time often spent sending emails or finishing phone trees.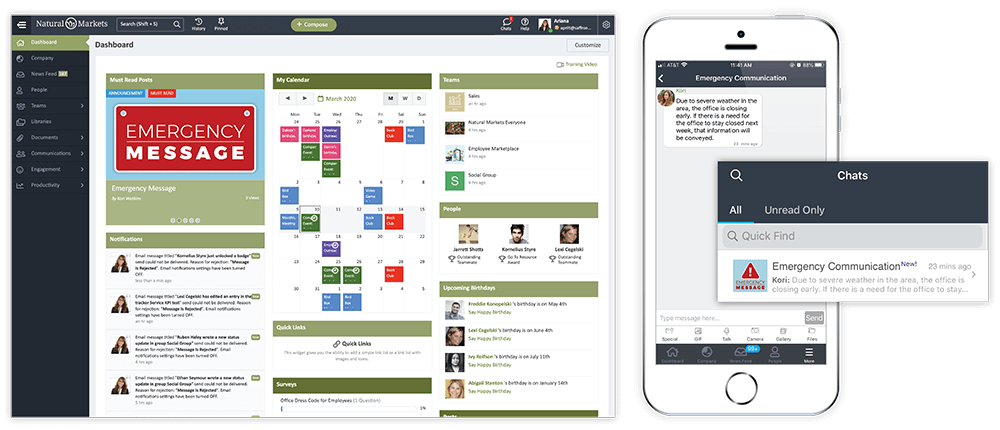 Visually engaging and inclusive group posts let employers mark crisis related updates as must read messages, indicating to employees that the update is important and requires immediate attention. Must read posts also show leaders read receipts, letting them know at a glance who has and has not yet seen the message. For additional safety concerns or employee confirmation, leaders can even mark posts as acknowledgement required, helping them gain understanding and insight from every employee.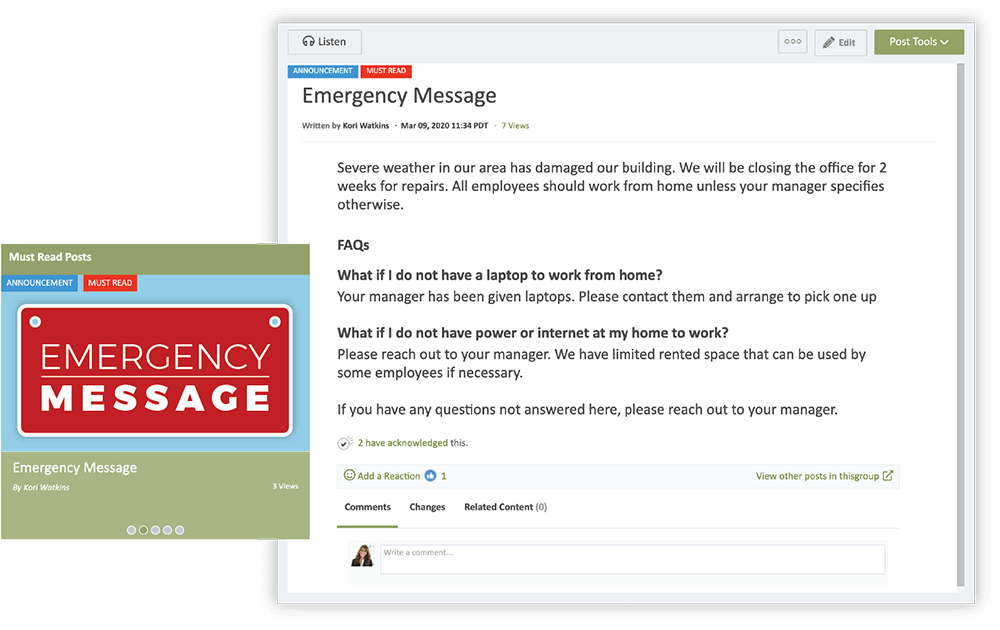 Alternatively, companies can also communicate and connect in a virtual town hall meeting using a live video stream. Video conferencing capabilities are built right into MangoApps, allowing everyone to stay connected and benefit from each other without having to travel or incorporate extra third-party tools. Live video streams also let employees ask questions in the moment and participate in the moment. Depending on each company and their individual needs, businesses often incorporate a combination of company-wide posts and live streams into their successful town hall process.
How To Create Groups:
1

Groups give teams a specific space to meet together, collaboration effectively, and work on topics without a specific end date or goal in mind. To create a new group, make sure the groups module is enabled in your domain, then go to the groups area and select the 'create a group' button.

2

Give your group a name and establish some of its basic details. Provide a description, establish permissions, enable or disable features, and more.

3

You're now ready to add users and get to work. Select the group tools button and then 'invite network users' to start adding group members.

4

Once a member has been added to a group, he or she can immediately begin posting, sharing, asking questions, submitting documents, and participating in everything groups have to offer.
How To Create Must Read Posts:
1

MangoApps must read posts quickly distribute important and emergency information to all affected employees.

2

To create a new must read post, make sure that posts are enabled in your platform, and then select the posts icon from the left navigation menu.

3

Alternatively, you can select the 'compose' button from the top of your dashboard and then the 'post' button from the drop-down menu.

4

Next, decide who to share your post with, give it a title, and choose from over a dozen different template options. Or start a post entirely from scratch.

5

You can edit the post and add or remove content until it's exactly what you need. Once your post is finished, be sure to select the 'must read' setting to ensure it becomes a must read post.

6

Once your post and settings are all in place select 'publish post' button to finish.