File Sharing & Versioning
Build for secure sharing and comprehensive control
MangoApps acts as your online content management solution. Use it to store, organize, share and collaborate on any kind of document or media file. Securely drag and drop large files into my drive, network drive or a team folder quickly and easily.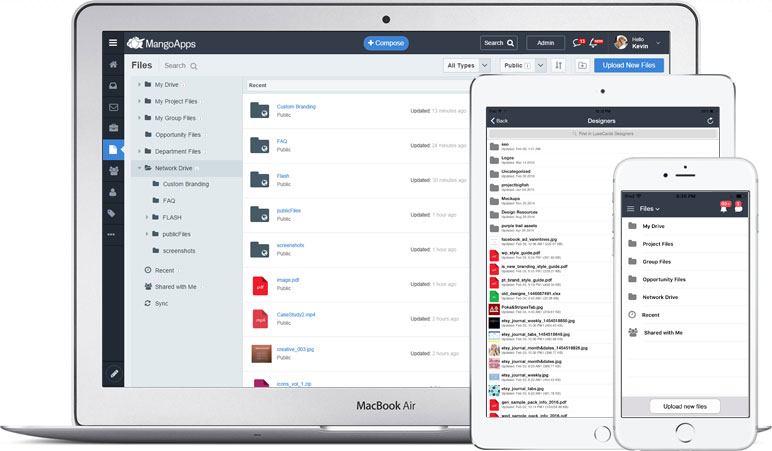 Share files quickly and easily
Stop sending insecure, large attachments via email. Instantly create sub folders in projects of any size, and control what each person has access to. Manage owners, editors and view-only collaborators in a few clicks. Securely share even outside the company by adjusting permissions on a per file or a folder level.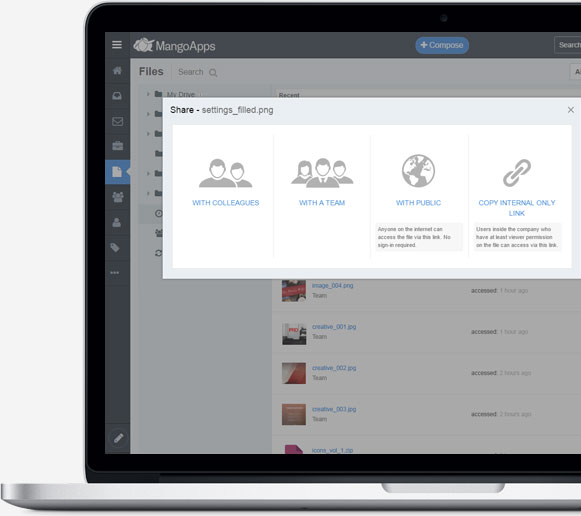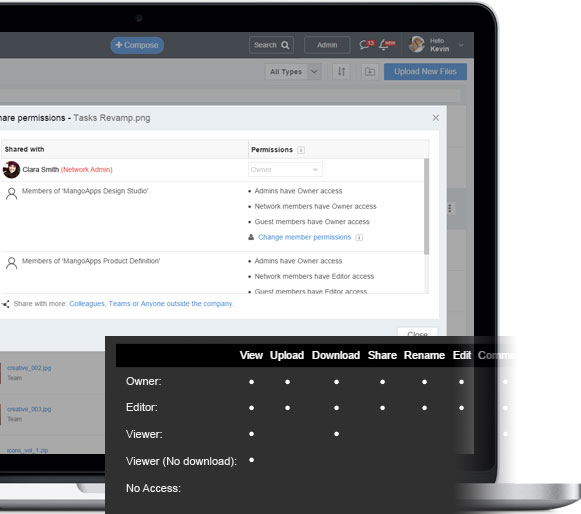 Don't loose control of your content with granular file permissions
Do you need to share highly confidential documents? Use the rich permissions and tracking capabilities of MangoApps to get comprehensive control over every document in your business. Choose from 5 different permission level to control exactly who has access to which files and folders.
In-built file version control to make it easy to manage changing content
File versions allows you to upload new adaptations on files. So you can easily make changes and update your work. MangoApps will manage the versions for you with ability to download or restore an older version when required.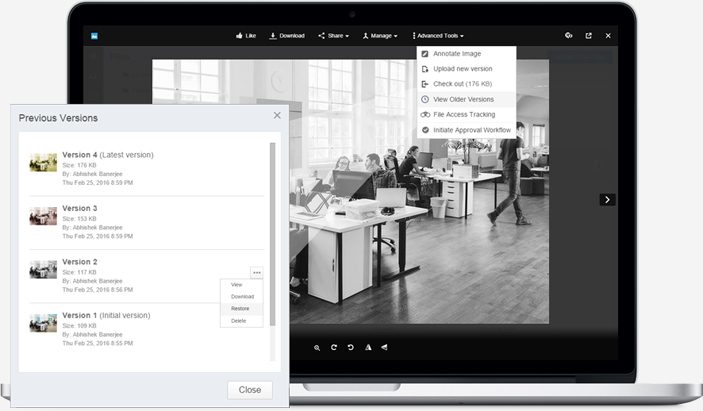 View files instantly and
effortlessly
MangoApps file viewer powers viewing of file content on any browser by converting documents into a format that display beautifully in web and mobile apps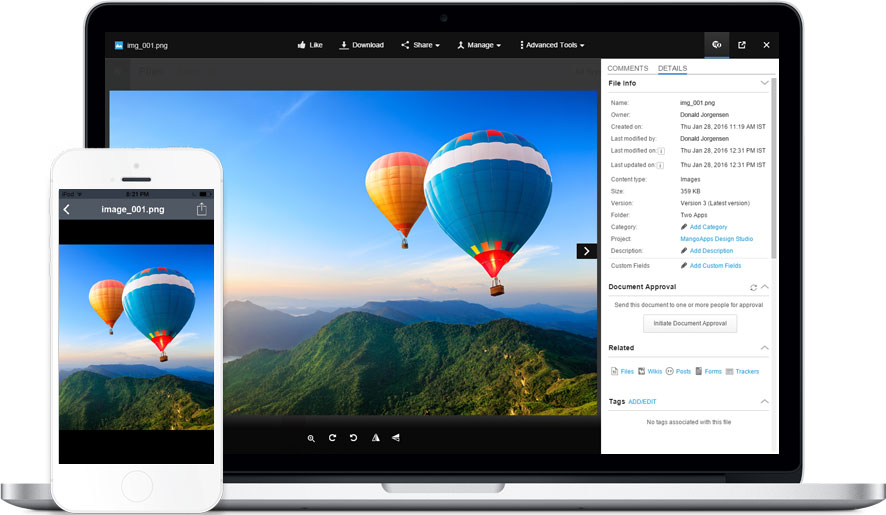 Document editing integrated
with MS Office
Open, edit and save files in MangoApps directly from Microsoft Office on your Windows PC using MangoApps for Office. Share files with others from Office and Outlook using shared links to avoid insecure attachments, save network bandwidth and reduce storage costs. MangoApps document versioning ensures everyone is working on the latest file.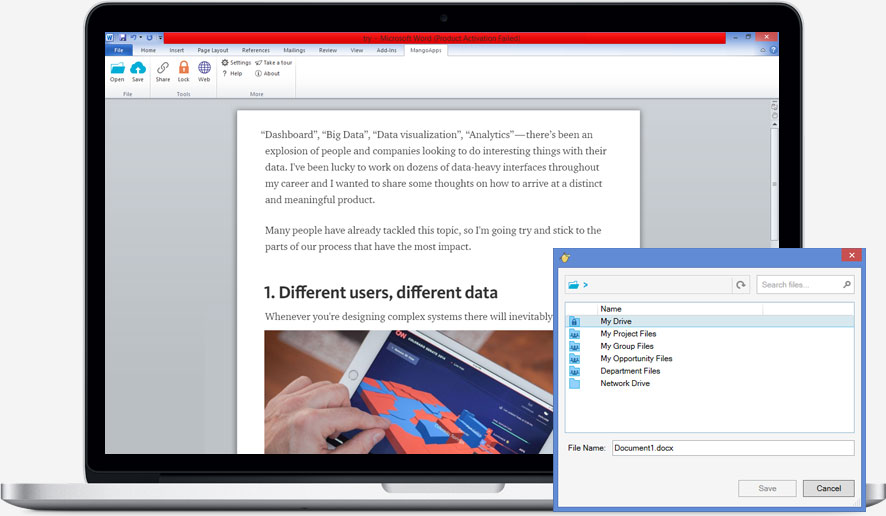 Approval workflow automation
Shorten document review cycle with the in-built simple automated approval work-flow on any document. All approvers are automatically notified when someone approves or rejects and when a new version of the document is uploaded.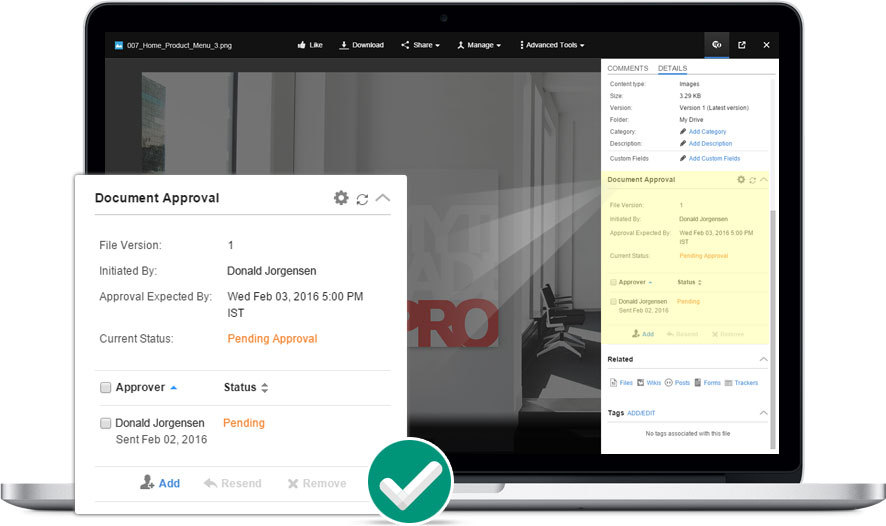 You always know when anyone downloads, uploads, adds comments or views a document. With file & folder tracking you get detailed activity report to help verify that everyone's sharing safely.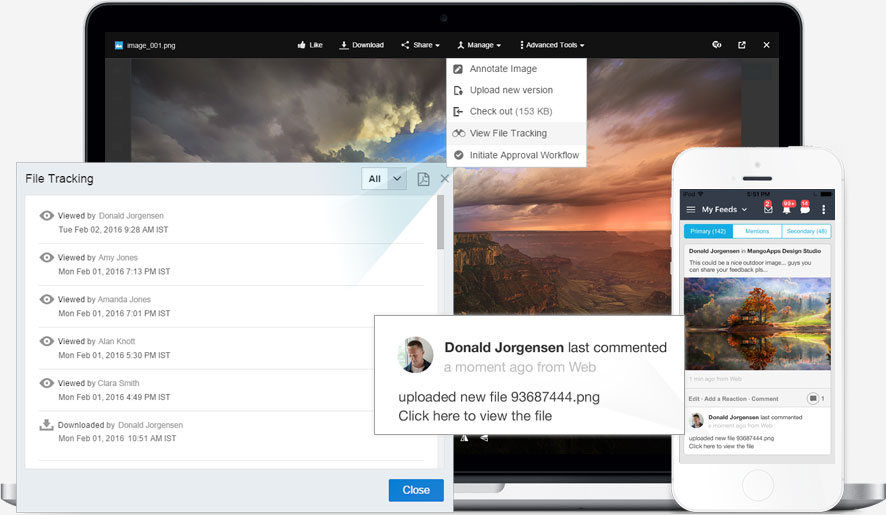 Build for enterprises
of any size
Track file activity, file access, sharing activity, virus scan of uploaded documents and security logs which log un-authorized access to any file. Audit logs provide events for nearly everything that occurs in MangoApps. Trash-can provides ability to recover accidently deleted files and folders. Admin control for file retention settings and public sharing of files help business meet their IT compliance requirements.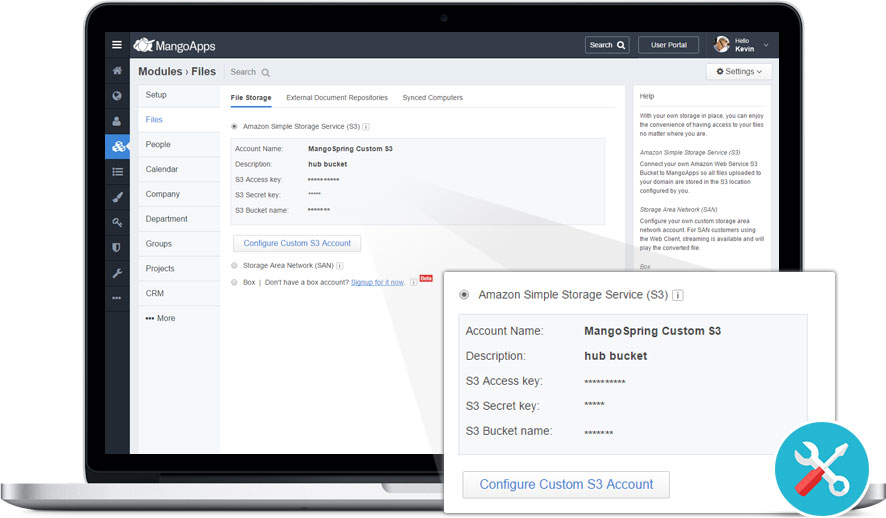 MangoApps takes precaution to make sure your confidential information stays that way by including safeguards like file transfer over HTTPS from any device, encryption at rest, HIPAA compliance and certification for EU and swiss safe harbor frameworks as provided by AWS.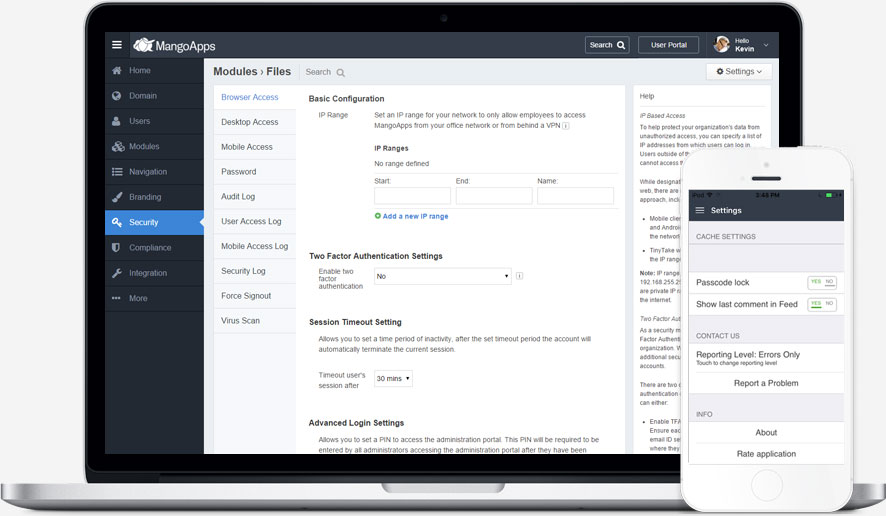 Deep integration with Box to keep
your existing files & investment intact
Add or change a document in a Box folder, and see the changes reflected instantly in MangoApps. Add or change a document in MangoApps, and it get's synced in Box. You can work in MangoApps, sharing and collaborating on files stored in Box. Or you can work directly in Box.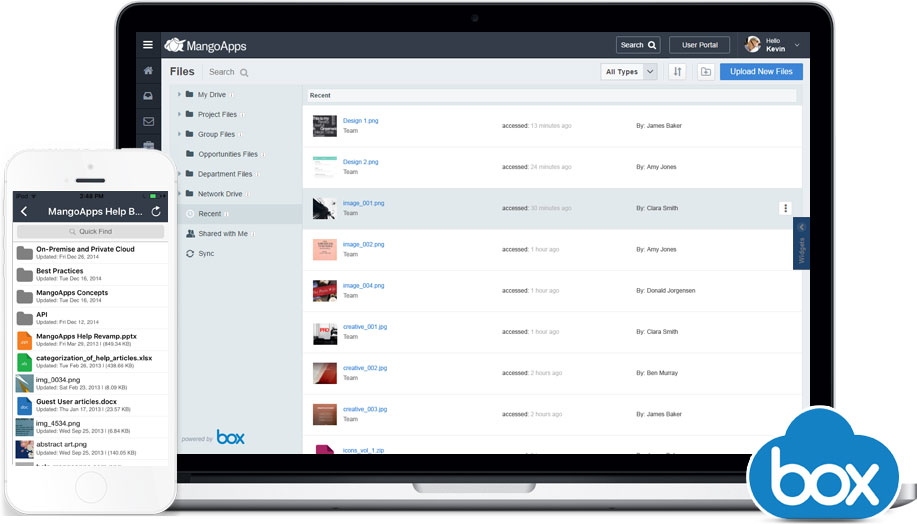 Share files from multiple file
repositories quickly and easily
MangoApps comes with full in-built document management and storage option but it also enables integration with whatever your favorite file-sharing service is. Seamlessly access and share content from any of these services, anywhere in MangoApps.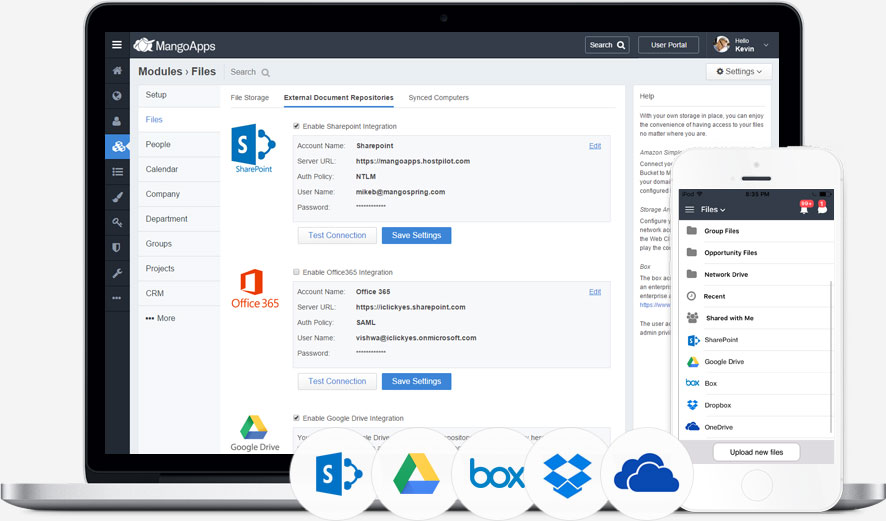 Search inside files to find
anything you are looking for
MangoApps supports searching of content inside of office documents, pdfs, html/xml files, rtf, text file and more. MangoApps will also search for filenames inside of a .zip file.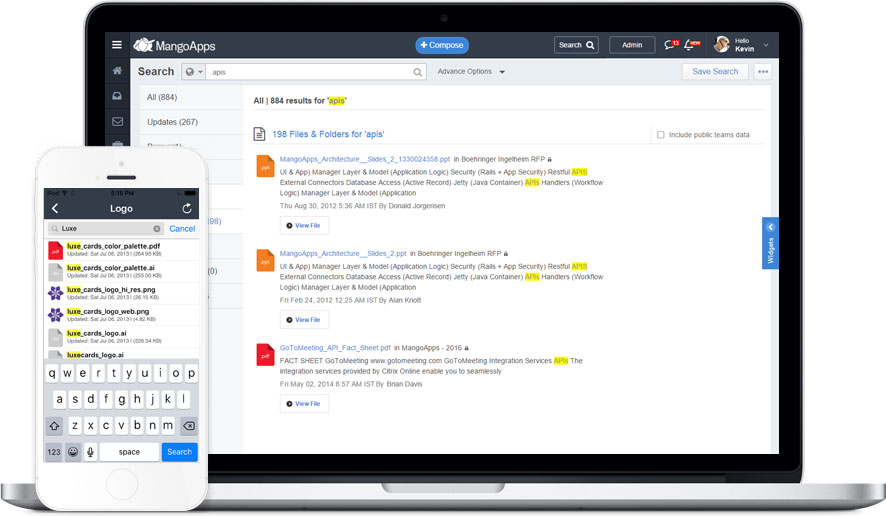 Share folders with
customer and partners
Drag and drop files into a MangoApps folder and quickly share a link with external customers, suppliers, vendors and partners. Manage file and folder public access permissions and control view only or view with download permissions on the public link.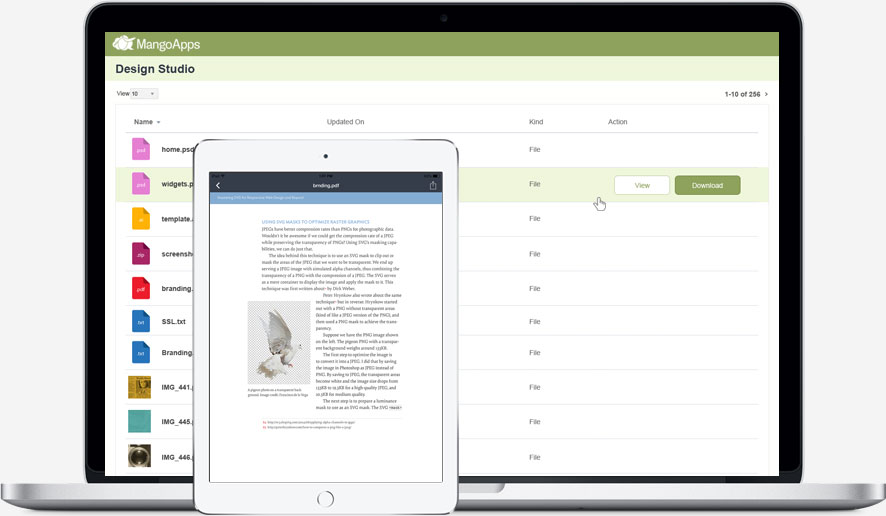 Save files for
offline access on mobile
Files can be downloaded on your MangoApps for mobile apps and accessed on the go at any-time.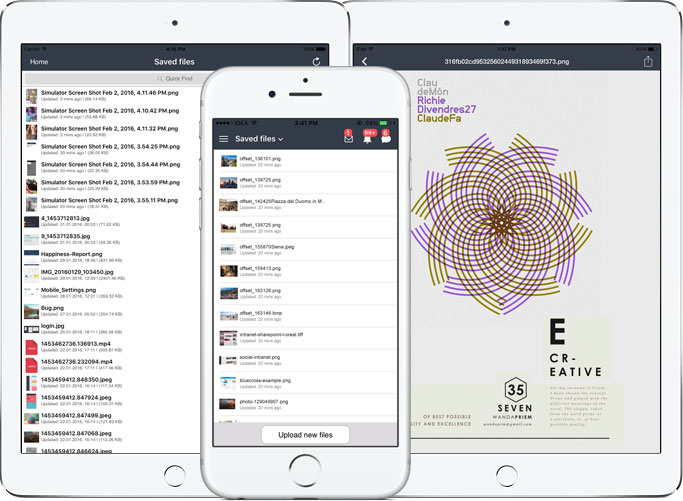 Files storage, retention
and backup
Choice of multiple storage options from Amazon S3, SAN and Box. As an admin you can choose to specify a auto-archival and auto-delete rules in the retention settings as per your IT compliance requirements for all your files & folders.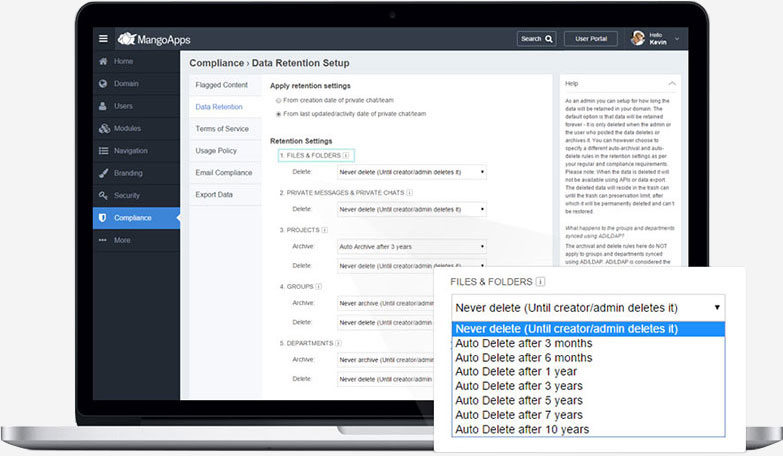 Built in virus scanning of files uploaded to MangoApps
MangoApps Detects over 1M+ virus, malware, trojans & other malicious threats. Scans within archives, compressed files & obfuscated files as well. Infected files get quarantined and aren't available for download or sync to avoid spread of virus. Virus infection is logged in the security log for admin and file uploader notified via a private message.