Promote Visibility With Shared To-Do Lists
Each user gets a to-do list that collates all of their tasks across projects and teams,
and can be made visible to supervisors and colleagues.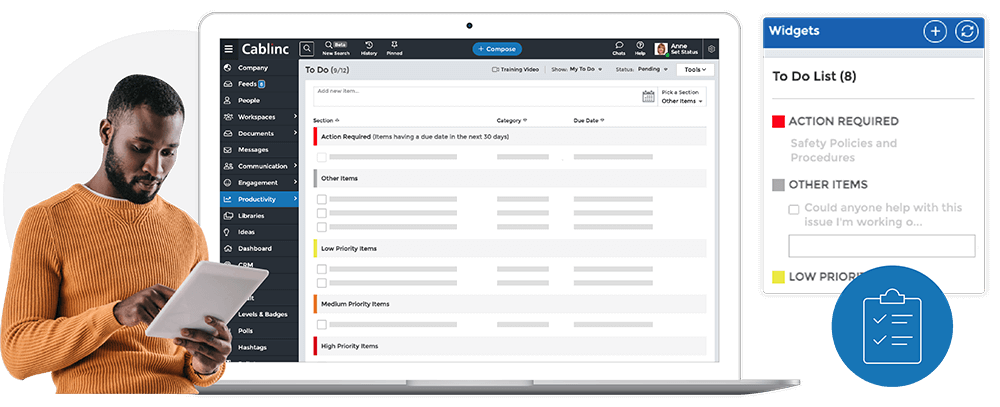 Capture To-Dos
Users can create to-do lists to manage their work or keep a constant eye on work that is assigned to them.
Create Lists With Ease
Add an item to the list by simply adding a description, picking a due date, and selecting a priority level. To-dos can then be checked-off, edited, or removed as needed.
Organized Lists
Items can be grouped based on their priority (as indicated), or sorted by due date.
Prioritize List Items
Don't waste time re-prioritizing items. Priorities can be updated by easily dragging them from one priority section to another.
Shared To-Do Sections
Admins can set certain to-do groupings that can be shared and made visible to others. This allows managers and colleagues to have visibility into action items that are being worked on.
Remove Items
From To-Do Lists
Mark an item as complete to remove it from a to-do list. Users can also just delete the item completely.
How Our Customers
Use To-Do List
Capture Ideas
Create to-do lists for important ideas, tasks or projects
Stay On Track
Organize and keep items on track sorting by importance or due dates
Monitor Tasks
Share and monitor the action items of employees using shared to-do sections
Take Action
Turn news feed posts into actionable to-do lists