No Hidden Costs
MangoApps is a more affordable 'out-of-box' modern intranet solution with no hidden costs, add-on fees, or 'specialist' consultants required.
Unlike SharePoint, MangoApps is not a custom software development project. Simply turn on/off the features you would like, and get started!
With MangoApps, you receive your own CSM and TAM, along with our support team. You don't need a team of IT & Engineering professionals dedicating their time to managing the complexities of SharePoint.
MangoApps' straightforward prices are carefully designed to keep our programs innovative while remaining affordable for businesses of every size.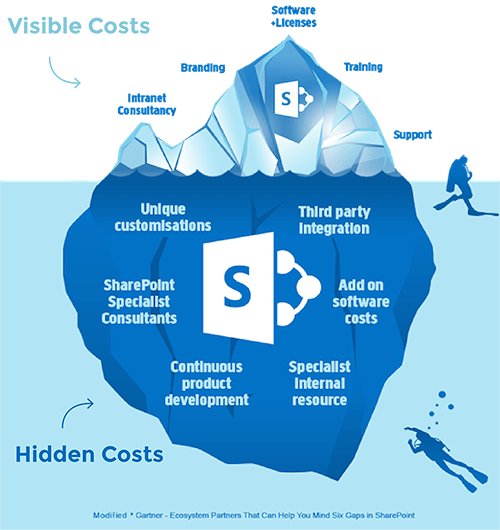 Think about the cost of supporting SharePoint infrastructure, servers, and developers. I don't have to have developers for MangoApps. When we want something, we let the support team know. And it's pretty quick, the turnaround that we get. It's much faster than if we were doing our own development. So time and money.
- Marcel Tabor, Director of IT, Integral Group
Unlimited Reach
Our goal is to make sure that your frontline workers and deskless employees aren't left out of the equation.
MangoApps helps connect your entire workforce, bridging the gap between your corporate and frontline teams.
Our intranet platform is designed to accommodate employees wherever they are, whether that is mobile, on the web, or on a desktop application.
Our social media-style interface ensures seamless employee adoption of the intranet, regardless of their age, background, and technical abilities.
When we introduce our employees to MangoApps, they quickly understand it because they already have experience with a social media platform.
- Guillaume Sourd, IT ERP Specialist, Ekspert
Seamless User Experience
We provide an intranet platform that is easy to use and includes a wide breadth of
features that can be turned on & off accordingly.
Our modular features don't require custom development, or a huge buy-in from top brass. Provide a clean user experience by only turning on the features you want your employees to use.
MangoApps is constantly improving. We listen to our customers and implement management and access features that users rave about.
With such an easy-to-use platform, adoption of our intranet platform is much higher than SharePoint. This results in improved engagement, increased productivity, and a better workplace environment.
Improved Communications
Transform your internal comms with MangoApps by allowing users to only receive content that pertains to them.
With MangoApps, you have complete control over which content is prioritized to your users. Send out high priority items & require acknowledge receipts to make sure a user has seen a message.
Control which notifications make it through to your users, allowing them to see only the most important news feed items. Push notifications are sent directly to the mobile app.
Cut through the clutter by allowing users to 'follow' the channels they are interested in, so they receive updates that are relevant to them
Exceptional Support
Unlike SharePoint, with MangoApps you don't receive a half-finished intranet.
We are all about our customers and are dedicated to make sure your custom intranet exceeds your expectations.
With MangoApps, there are no third party contractors, custom IT development, or complex configuration needed.
Every customer receives a CSM in their time zone that works hand in hand with you to ensure the deployment of your intranet meets all of your needs.
As an intranet platform, Sharepoint is not as robust a tool as MangoApps. I think MangoApps has a much richer user experience. SharePoint is a more static one-way communication tool. There's no way for employees to have a voice, which I think is important.
- Marcel Tabor, Director of IT, Integral Group