What Is Task Management?
Task management is the process of planning, testing, tracking, and reporting any kind of important work task. With proper task management, employees and leadership can see assignments, track progress, and follow a task from conception to completion. Task management can cover everything from a quick one-time assignment to a detailed part of a larger project to smaller reoccurring errands.

Inconsistent Management Methods
All companies have tasks to be completed and all leaders have some kind of tracking and management style, but methods differ from leader to leader and few companies have a consistent process to see results across the company. Management methods are also almost exclusively external as well, meaning employers and employees have to send emails, attend meetings, file reports, or find some other outside way of reporting and assessing assignments.
Before MangoApps, I took a picture of assignments and posted it in WhatsApp or sent tasks over email. But sometimes people lost it or deleted it by mistake. Now they can just open the app and automatically see all of their assigned tasks.
Modified Tasks With MangoApps
In MangoApps, task management tools are naturally built right into project areas, so you can see, create, and assign tasks all within your regular workspace. Utilizing tasks in MangoApps' centralized space not only makes working with tasks a whole lot easier, but it also improves engagement and employee productivity as workers are able to tackle tasks head-on, instead of wasting time sorting out details or finding information.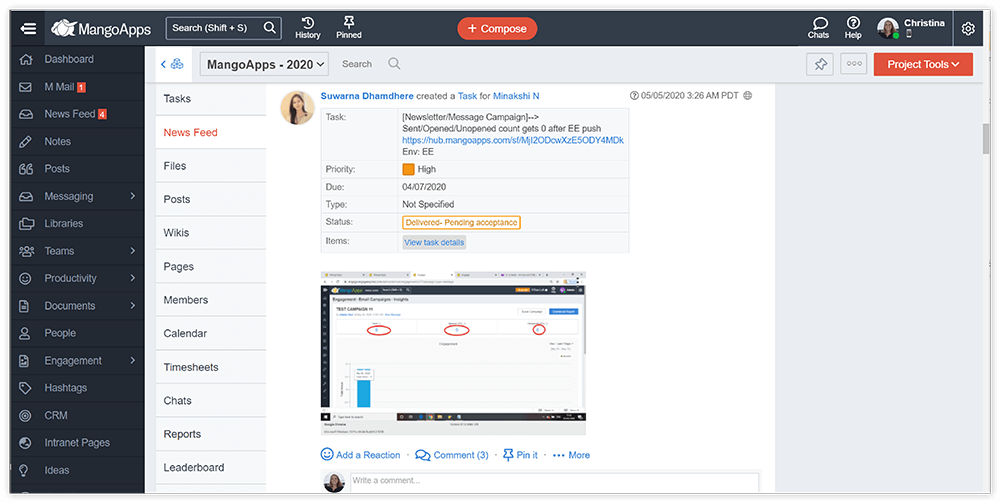 MagnoApps' task management tools also allow assignments and overall progress to be seen and searched for by anyone with assigned permissions, so content is never lost, inaccessible, or unknown. And creating new tasks or updating details only takes a moment, so assignments are sure to stay organized and effective.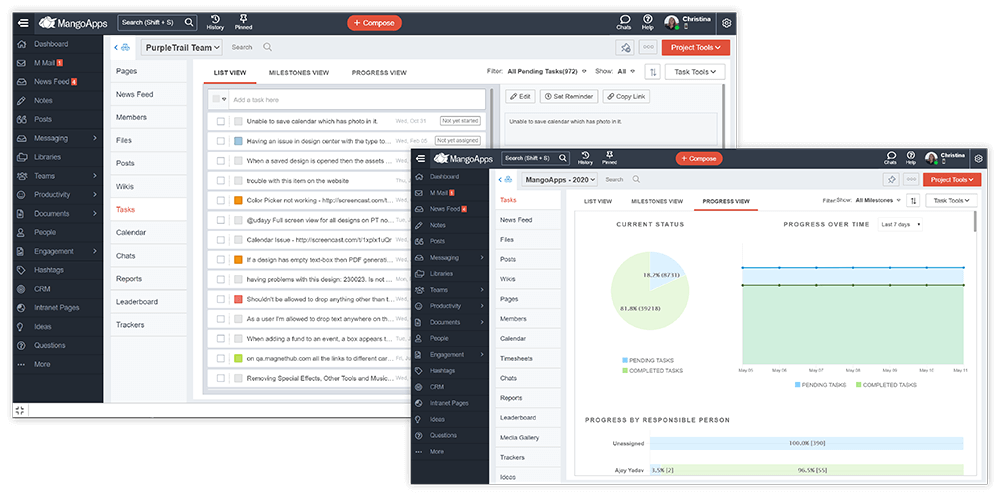 Best of all, task management tools give assignments a logical flow as they progress through the work process. By marking a task as started, the responsible employees indicate that the assignment is being actively worked on. Tasks then move through the process step by step until they reach the completion and approval stage.
How To Create Tasks:
1

Tasks help break down complicated projects into achievable steps and goals. You can assign a task to yourself or another user. To create a new task, first, go to the project where you want your task to take place. Make sure tasks are enabled in your project area and then select the 'tasks' button from the left sidebar.

2

To start a new task or milestone, select the 'task tools' button and then choose to 'add a new task' or 'add a new milestone.'

3

Outline your task or milestone, assign it to a project, and then designate any specific details like due dates, task approvers, checklists, and more.

4

Once published, tasks will detail your specific instructions and let you submit updates, set reminders, and turn over a completed task for approval.