What Is Task Management?
Think of task management as a whiteboard, individual and group to-do lists, and project timeline and calendar all rolled up into one digital package, with many more features. When this is done properly, employees and leadership can see both the details and the big picture in one place, and collaborate to ensure that a task moves seamlessly from conception to completion.
This can be done for everything from quick one-off assignments to big, complicated projects or recurring tasks.
Problem: Inconsistent Management Methods
Every company has work to be done, and every leader has some kind of tracking or management style. However, few companies have a consistent yet flexible process in place that can accommodate every leader and team's needs while also seeing results across all departments.

Management methods at most companies are almost exclusively external, meaning employees have to send emails, attend meetings, file reports, or find some other way to report and assess assignments. It can be confusing and waste a ton of time.
The most popular use cases are the projects with members from different countries, because the benefit is the biggest. You have members who aren't in the same room. They have to send emails and use the phone, and if you use email and send information to one person, but someone else needs it too, you have lots of emails with the same information. With MangoApps, you have one place with all the information.
-Chantal Elder, Community Manager, HUBER+SUHNER
Solution: Modified Tasks With MangoApps
Task management in MangoApps happens inside of project areas, so you can see and create tasks right in your regular workspace, as well as on the platform where you communicate. This makes tracking tasks a whole lot easier, and is huge for engagement and productivity, since workers no longer have to search through multiple platforms to find information.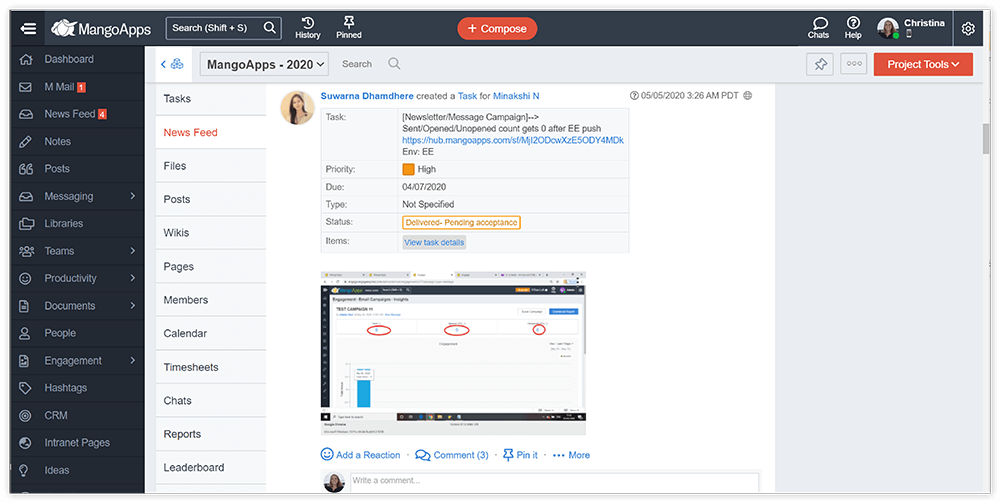 Assignments and overall progress can be seen and searched for by anyone with assigned permissions, so content is never lost, inaccessible, or unknown. This kind of transparency can be a game-changer for cross-department understanding.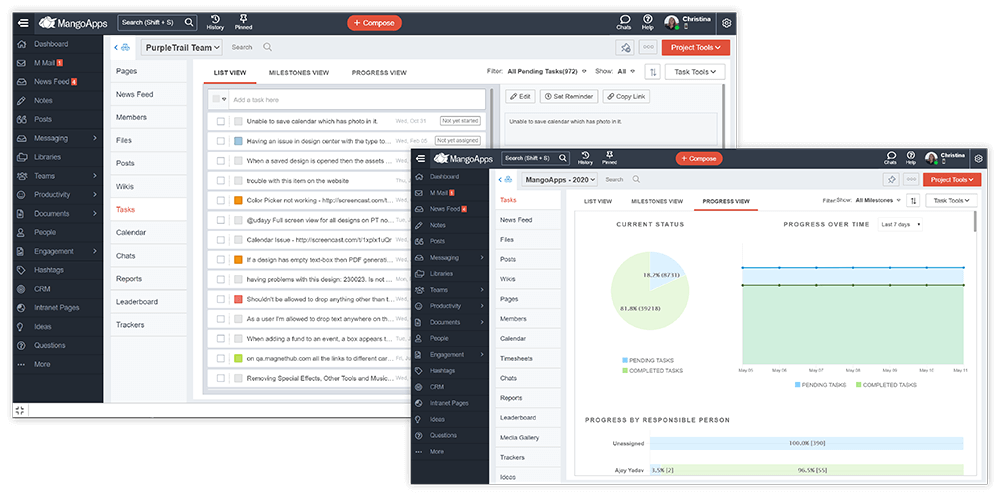 Best of all, our task management tools give assignments a logical flow as they progress through the work process. By marking a task as started, the responsible employees indicate that the assignment is being actively worked on. Tasks then move through the process step by step until they reach the completion and approval stage. At any given time, it is easy for leaders to know exactly where things stand.
| No Centralized Task Management | MangoApps |
| --- | --- |
| Leaders have to figure out their own management methods, which are not standardized across teams | Our flexible collaboration tools can accommodate different leadership and work styles, but give a company-wide framework |
| Hard to tell how things are going across departments or hold teams accountable to themselves and their peers | Easy to draw insights in the big picture, and a consistent culture of accountability makes teams more effective on a daily basis |
| External methods mean everything has to be done over emails or by filing reports | Everything happens inside the workspace and communication platform where everyone is doing their work anyway |
| Hard to track progress through individual tasks and manage overall workload | Assignments are given a logical flow and it is easy to tell at a glance where your colleagues are at with any given project |
How To Create Tasks:
1

Tasks help break down complicated projects into achievable steps and goals. You can assign a task to yourself or another user. To create a new task, first, go to the project where you want your task to take place. Make sure tasks are enabled in your project area and then select the 'Tasks' button from the left sidebar.

2

To start a new task or milestone, select the 'Task Tools' button and then choose to 'Add A New Task' or 'Add A New Milestone.'

3

Outline your task or milestone, assign it to a project, and then designate any specific details like due dates, task approvers, checklists, and more.

4

Once published, tasks will detail your specific instructions and let you submit updates, set reminders, and turn over a completed task for approval.
Bring your frontline and office teams together on one common platform
It has never been this easy to create the perfect employee experience for your deskless and deskbound workers. Contact us to discuss requirements, pricing, rollout and support. Get your free demo today!