Transform Engaged Employees
Into Brand Advocates
Empower your employees with a social sharing feature that allows anyone within your company
to become a brand advocate.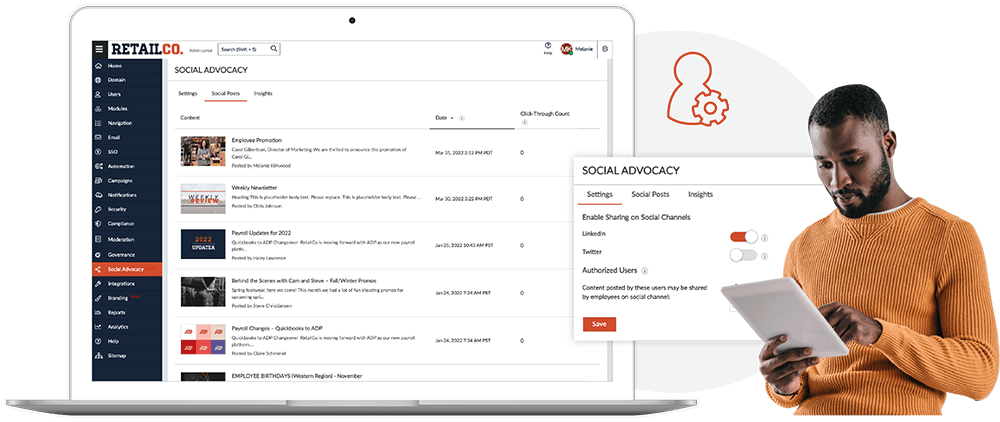 Complete Admin Control
Admins can manually determine the user accounts whose posted content is available for social sharing, allowing for complete control over distributed company content.
Public Post Page
Users can access a social post's public page directly from LinkedIn & Twitter. Determine who your best brand advocates are by seeing where the most traffic to view a post is originating from.
Empower Your Employees
Social advocacy is available to all MangoApps users via desktop and mobile and is not restricted to a license count. This means that anyone in your company can become a brand advocate.
Promote Social Engagement
Display your top social ambassadors and posts in your domain, encouraging users to participate.
How Our Customers Use Social Advocacy
Empower Dispersed Employees
Enable remote & frontline employees to share content and become advocates for your brand
Build Though Leadership
Create a pipeline of thought leadership content for your employees to share, improving their reputation in your industry
Communicate Company News
Share internal job opportunities or important company announcements
Improve Engagement
Make sure that your employees are viewing important company content
Create Brand Advocates
Create more brand advocates by allowing your employees to share company-approved content with their networks