Mango Teams Overview
MangoApps Team & Vendor Collaboration solution helps your employees, vendors, customers and partners work together in significant better ways. Companies use MangoApps to drive employee productivity and achieve better results.
Transform Group Collaboration
Harness the power of teams on a secure collaboration platform by sharing knowledge, files, wikis and connect with experts from across your organization regardless of their role or location.
Accelerate Project Collaboration
Keep projects on track and drive them to completion by turning all discussions into action items, significantly reducing need for meetings and email.
Simple & Secure Collaboration of Files
Confidently share files with customers & partners using file collaboration software, with need to know file permissions for confidential documents and ensure your team always has the right version of files.
Drive Employee Engagement & Productivity
Move work forward using MangoApps Team Collaboration solution. In-built recognition and gamification tools boosts employee satisfaction, personal growth and happiness significantly boosting employee engagement.
Accelerate Innovation
A group collaboration software for anyone to share insights and propose new ideas around focused campaigns. MangoApps reduces the time it takes for company ideas to go from a new idea to call to action to execution and in the process accelerates innovation.
Build an Agile Community
Create discussion groups on an integrated, secure collaboration platform with agencies, suppliers, vendors, students, alumni, job applicants, office locations or any other member of your business ecosystem critical to your business success.
Help Customers Faster
Build deeper customer relationship with direct customer interaction by bringing them onto your company's secure collaboration platform.
Work While Mobile
Access your project from anywhere on any device. Built for mobile, with MangoApps you can access all the project wherever you are, so you always get what you need.
Get New Employees Up to Speed Faster
MangoApps connects old and new employees alike. New hires have immediate access to projects, older decisions, documents to ensure they can reach full productivity quickly.
Make Informed Decisions at All Levels
Reduce bureaucracy, empower individual employees at all levels and provide a direct communication path to decision-makers and executive management
Simple, Smart & Enterprise-Ready Features

Over the last 10+ years, we have carefully added features that satisfy the needs of even the largest enterprises. A partial list is included below. The best way to see all the capabilities of Mango Teams is to let us walk you through them.
Core MangoTeams Features
Built-In Integrations & Platform Services
Easy to Setup, Use and Administer
MangoApps is designed to be mobile friendly and super-simple to use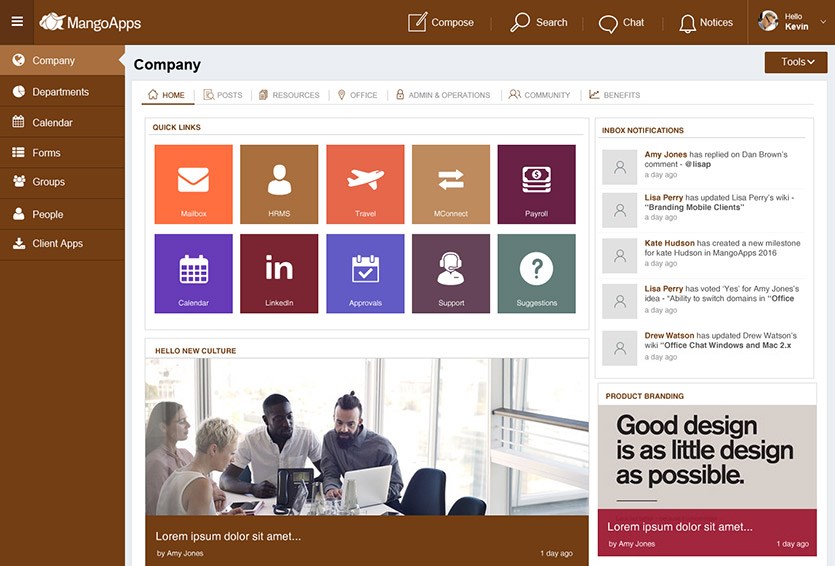 You're in good company
Thousands of companies around the world have made MangoApps the leader in cloud-based intranet, engagement, collaboration and HR software.
Simple Subscription Pricing
For a limited time, lock-in Mango Teams at just
100+ users

$5USD

per user, per month. Available in cloud or on-premise. Annual billing. 100 user minimum.
Up to 100 users

For businesses with less than 100 employees, we recommend Mango 360 (our complete suite for small businesses). Starting at a flat monthly fee of just $99, Mango 360 is normally a much better fit for growing companies. Click here to see Mango 360 pricing details and get started in minutes.
Enterprise plan includes:
All Mango Teams features
Choose from one of 5 amazon data center around the world or host on your own servers
Dedicated customer success manager
SLA and priority support
Free iOS and Android mobile apps
Automatic software upgrades
We are proud of the product we have developed and are excited to show you around. Please schedule a demo so we can better understand your needs and provide an accurate quote with the applicable volume discount.
FAQs
Where is my data hosted?

We use Amazon AWS for all of our computing needs. Based on your location and regulatory needs, shared cloud customers can pick one of the five AWS data centers during sign-up. For private cloud customers, we can host your data at the AWS data center of your choice.
Do you offer volume or non-profit discounts?

Yes, we offer both volume and non-profit discounts. Please note that all our enterprise products require 100+ user license and are billed annually.

Contact sales

for more information.