Mango Teams Overview
MangoApps Team & Vendor Collaboration solution helps your employees, vendors, customers and partners work together in significant better ways. Companies use MangoApps to drive employee productivity and achieve better results.
Transform Group Collaboration
Harness the power of teams on a secure collaboration platform by sharing knowledge, files, wikis and connect with experts from across your organization regardless of their role or location.
Accelerate Project Collaboration
Keep projects on track and drive them to completion by turning all discussions into action items, significantly reducing need for meetings and email.
Simple & Secure Collaboration of Files
Confidently share files with customers & partners using file collaboration software, with need to know file permissions for confidential documents and ensure your team always has the right version of files.
Drive Employee Engagement & Productivity
Move work forward using MangoApps Team Collaboration solution. In-built recognition and gamification tools boosts employee satisfaction, personal growth and happiness significantly boosting employee engagement.
Accelerate Innovation
A group collaboration software for anyone to share insights and propose new ideas around focused campaigns. MangoApps reduces the time it takes for company ideas to go from a new idea to call to action to execution and in the process accelerates innovation.
Build an Agile Community
Create discussion groups on an integrated, secure collaboration platform with agencies, suppliers, vendors, students, alumni, job applicants, office locations or any other member of your business ecosystem critical to your business success.
Help Customers Faster
Build deeper customer relationship with direct customer interaction by bringing them onto your company's secure collaboration platform.
Work While Mobile
Access your project from anywhere on any device. Built for mobile, with MangoApps you can access all the project wherever you are, so you always get what you need.
Get New Employees Up to Speed Faster
MangoApps connects old and new employees alike. New hires have immediate access to projects, older decisions, documents to ensure they can reach full productivity quickly.
Make Informed Decisions at All Levels
Reduce bureaucracy, empower individual employees at all levels and provide a direct communication path to decision-makers and executive management
Simple, Smart & Enterprise-Ready Features
Over the last 10+ years, we have carefully added features that satisfy the needs of even the largest enterprises. A partial list is included below. The best way to see all the capabilities of is to let us walk you through them.
Pricing is based on just three things
1. Modules You Need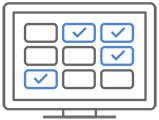 Start with pre-configured app functionality and add any additional modules you need.
2. Deployment Model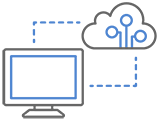 Choose from three deployment options - Shared cloud, Private cloud or On-premise.
3. Total Number of Users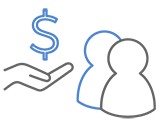 Per user subscription pricing. Volume discount based on total number of users.
Mango Teams is priced based on the total number of users you have and the modules you need. Schedule an introductory call so we can go over your requirements, demonstrate how MangoApps will meet those requirements, discuss pricing and rollout process.
Here's what our customers are saying about us
This is our hub. It's where everyone goes. Not only to collaborate with each other and talk to each other online, but also to get all of the documents they need, share information about their own projects, and share their own resources with each other in a true peer-to-peer interaction.

Arshia Sultan

CCS Director of Knowledge & Learning

It's a one stop shop for everything I need to work on a project. I can load files, ask questions, collaborate, everything remains in one location.

Ryan Arakaki

Kelly-Moore Paints Director of Marketing

[I love] being able to reach out to my team. Whether it's on my mobile device or on my desktop, it's instant communication. [I'm] able to get quick updates and make sure we're on the same page as we're moving forward. We keep all of our files and communications around projects and pieces of work all centralized through [Mango Teams] too, so it allows for a central point of communication and collaboration that extends outside the walls of a corporate office to wherever we are. And that's just been a tremendously helpful.

Mike Gager

TeamHealth IT Vice President

I really like that we can have different groups because we have so many members that are spread so far apart. Not even just in Champaign-Urbana or on campus, but even in neighboring states. That we're able to compartmentalize that way and I can send specific messages to specific groups. I really love that.

Jamie Hines

Education Justice Project Operations Manager
Explore solutions by Industry
FAQs
Where is my data hosted?

We use Amazon AWS for all of our computing needs. Based on your location and regulatory needs, shared cloud customers can pick one of the five AWS data centers during sign-up. For private cloud customers, we can host your data at the AWS data center of your choice.
Do you offer volume or non-profit discounts?

Yes, we offer both volume and non-profit discounts. Please note that all our enterprise products require 100+ user licenses and are billed annually.

Contact sales

for more information.