What Are Onboarding Resources?
Onboarding content and training resources are whatever tools companies use to teach employees how to work effectively, integrate into the organization, and perform specific tasks. While onboarding usually refers to teaching new employees, training within an organization can happen at any time. Whether you're working with brand new employees, helping someone transition after a promotion, or just implementing new policies and procedures, onboarding and training tools help workers establish the knowledge and tools they need for long term success.
Onboarding is the foundation of future success. We've loved the outstanding onboarding and teaching opportunities MagnoApps has given us.
Common Onboarding Difficulties
Onboarding and training tools are designed to help employees learn information, practice skills, and access resources, but in order to be effective, these tools must be straightforward and easily accessible. Many organizations struggle to share training and onboarding resources in a centralized workspace, where employees can find and utilize information at any time. Emailing documents, finding saved files, completing worksheets, or even shadowing coworkers, creates training inconsistencies among new employees and makes it difficult to determine how much training has actually been completed.

Onboarding, in particular, is an especially important time for an employee. A complicated or lengthy onboarding process creates a poor first impression and can negatively influence long term employee engagement. Companies onboarding employees need a way to create a unified sense of community where new workers can make friends, feel welcome, and learn together.
Training Employees Effectively
With MangoApps, companies can easily establish a centralized onboarding space where employees throughout the organization can access resources right from the company page or library area. With centralized resources at the ready, businesses naturally develop improved employee engagement as they're empowered to access important information at any time.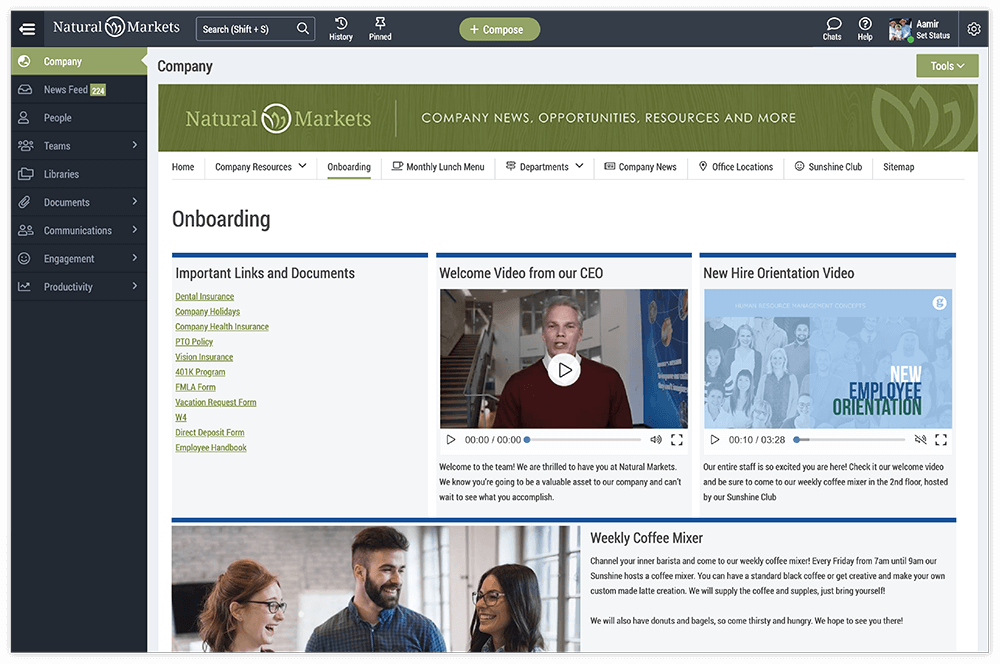 MangoApps groups also allow leadership to easily add new employees into a designated onboarding area, specially designed for new workers and their needs. In an onboarding group, employees are free to ask questions, find answers, and generally feel at home as they interact with other coworkers and explore their new environment. Groups also help employees easily transition during promotions and lateral moves within the organization as they can talk with new coworkers and access past information, documents, and work history.
How To Create Groups:
1

Groups give teams a specific space to meet together, collaboration effectively, and work on topics without a specific end date or goal in mind. To create a new group, make sure the groups module is enabled in your domain, then go to the groups area and select the 'create a group' button.

2

Give your group a name and establish some of its basic details. Provide a description, establish permissions, enable or disable features, and more.

3

You're now ready to add users and get to work. Select the group tools button and then 'invite network users' to start adding group members.

4

Once a member has been added to a group, he or she can immediately begin posting, sharing, asking questions, submitting documents, and participating in everything groups have to offer.