What Are Onboarding Resources?
When a new employee starts at your company, onboarding resources are the materials provided to get them up to speed, make them feel welcome, and ensure that they have access to all the tools and information they need for success.
This type of content can also come into play after a promotion, or when new policies need to be implemented—anything you can do to make training and onboarding easier will go a long way towards keeping employees happy and informed, and will contribute to their long-term success.
Problem: Common Onboarding Difficulties
Any person who has held a few jobs has likely had a firsthand experience of poor onboarding. Many organizations simply don't make this a priority, or try to do so but fail because they lack proper tools.
Without a centralized workspace where employees can find and utilize information at any time, it can be difficult to determine what training has been completed, or who should receive which training and where to find it. The end result of this is an inconsistent experience which may leave new employees wondering if they made the right choice in joining the organization.
Onboarding is one of the most important interactions a company has with each employee, as it sets the tone for the relationship in the long term. New employees should come in feeling welcome, engaged, and unified, like they're joining a community where they will forge friendships, learn, and contribute a great deal. Without strong onboarding materials, they are unlikely to feel this way.
Solution: Training Employees Effectively
MangoApps makes it easy to assemble onboarding information in a centralized space where new employees have a clear understanding of what they have done and still need to do. Being presented with organized information on your first day is a breath of fresh air for a new employee, and seeing clear expectations laid out in a branded, easy-to-use platform is just about the best possible scenario. This will do wonders for employee engagement.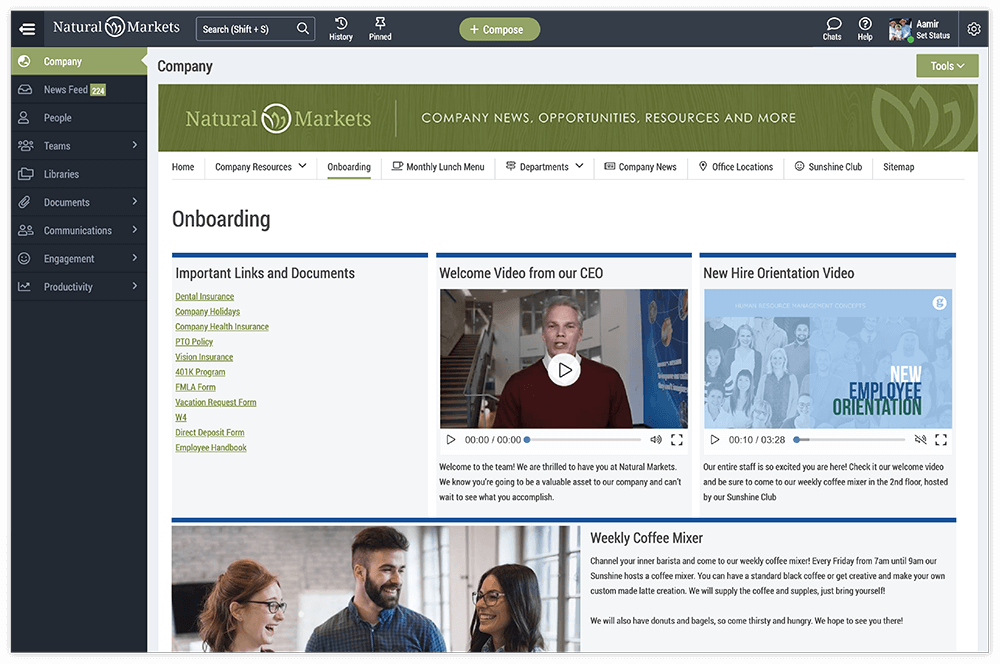 With MangoApps groups, leadership can add new employees to a designated onboarding area designed to meet their needs. New employees can ask questions, find information, and generally feel at home as they interact with new coworkers and explore the new environment. This is equally useful for transfers and promotions, as employees will be able to explore past documents and work history, and easily interact with new colleagues.
Your employees are the most important resource you have, and onboarding and training them efficiently is one of the best investments a company can make.
I no longer have an excuse not to take a training class or use a resource, because it's all so easily accessible.
-Annie Bidwell, Senior Director, CCS
How To Create Groups:
1

Groups give teams a specific space to meet together, collaboration effectively, and work on topics without a specific end date or goal in mind. To create a new group, make sure the groups module is enabled in your domain, then go to the groups area and select the 'Create A Group' button.

2

Give your group a name and establish some of its basic details. Provide a description, establish permissions, enable or disable features, and more.

3

You're now ready to add users and get to work. Select the group tools button and then 'Invite Network Users' to start adding group members.

4

Once a member has been added to a group, he or she can immediately begin posting, sharing, asking questions, submitting documents, and participating in everything groups have to offer.
Bring your frontline and office teams together on one common platform
It has never been this easy to create the perfect employee experience for your deskless and deskbound workers. Contact us to discuss requirements, pricing, rollout and support. Get your free demo today!