Sharing Local News and Crisis Management
The goal of any organization's local news and crisis management is to ensure that the company can quickly share or respond to any crisis or news that needs to be addressed. When some kind of local crisis or issue within the company arises, employees need to be informed and kept updated on any changes or management measures.
Problem: Struggling To See Important Updates
During any kind of crisis, leaders need a dependable way to immediately inform everyone involved. Quick crisis management creates efficient action, keeps everyone up to speed, and in some cases, even reduces danger.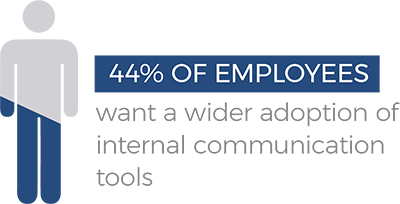 How does your company handle such situations? Many organizations rely on phone trees or emails, but these take time, can be easy to miss, and don't allow employees to react together and collaborate. Furthermore, it can be hard to predict exactly who will be impacted by a situation and target them effectively. All of these issues can be particularly challenging for remote teams.
In a lot of cases, companies have made little to no effort to prepare for common emergency situations, so when the worst happens, they're left scrambling to react. Quarterly fire drills in the office and a phone tree don't do a whole lot when unexpected weather or internet outage requires the company to quickly inform everyone to either stay home or plan for issues and disruption.
Solution: Centralizing Crisis Communication
MangoApps empowers leaders with a clear workflow for crisis communications. Our group and post features make it easy to reach directly to everyone affected by the event without distracting or worrying other employees, and our Alert templates are prebuilt for quick response to a variety of emergencies.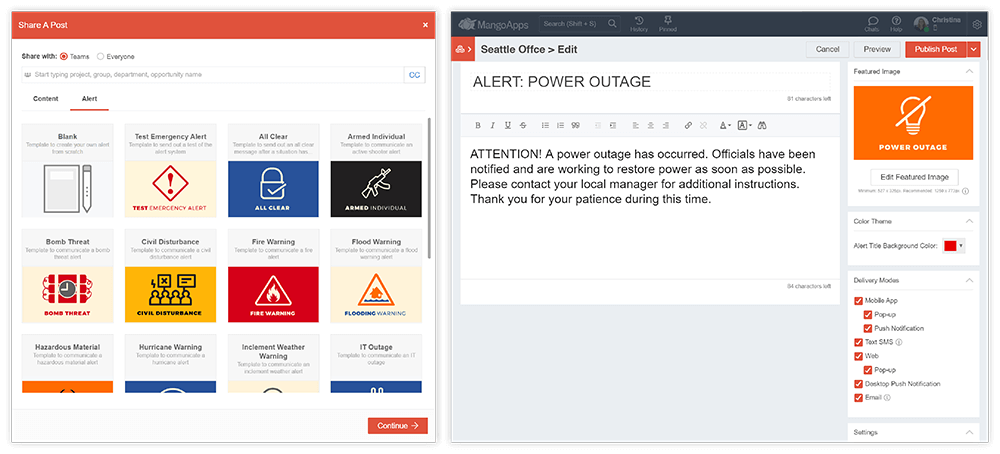 For example, if there's a weather event that impacts a particular office, the leader can share updates in that area's location-based group. If there's an issue with a major client that requires certain teams to mobilize quickly, updates can be shared to those specific teams. News feed notifications within MangoApps reach team members on their desktop and mobile devices, ensuring prompt communication with everyone, and in the most urgent situations, SMS text messages can be sent as well.

Crisis-related updates and alerts in MangoApps are visually engaging and can be marked as must-read, indicating that there is an issue that requires immediate attention. Must-read posts also show read receipts to leaders, letting them know at a glance who has and has not yet seen the message.
For us, it's not just a matter of convenience. Sometimes we have to convey very time-sensitive and urgent information. Maybe there's a lockdown. Maybe a class or an event has been canceled…you'd be surprised to know that hosting a program in a prison, there are many, many things that could go wrong. Often, these things are time-sensitive, and we need to know sooner rather than later if there's anything that we need to be aware of.
-Rebecca Ginsburg, Associate Professor & Director, University of Illinois
How To Make Location-Based Groups:
1

Location-based groups can connect together and make event and party planning easy. To create location-based groups, first, ensure the module is enabled in your platform.

2

Once location-based groups have been enabled, just add the different areas you'd like groups created for.

3

Once you've saved your existing locations, employees will automatically be filtered into the appropriate group based on the location listed on the employee profile.

4

Your location groups are now ready to go. You and other employees can begin posting content, uploading files, creating wikis, and enjoying everything else groups have to offer.
How To Create An Alert:
1

Alerts are a kind of post, and you must have admin privileges to send them. To create a new post, select the Tools button from within your department, group, or project area, then choose 'New Post' from the drop-down menu.

2

You can also start a post by selecting the Compose button and then choosing 'Post' from the drop-down menu, under 'Share.'

3

Next, select the team or teams you want your alert to go to, and then underneath that, select 'Alert.' You can choose one of our situation-specific templates, or start from scratch.

4

Now, edit the alert—you can change the text and featured image, and if needed, embed images into the post.

5

Once your Alert is finished, just adjust the settings and select 'Publish Post.'
How To Create Must-Read Posts:
1

Must-read posts quickly distribute important emergency information to all affected employees.

2

To create a new must-read post, make sure that posts are enabled in your platform, and then select the Posts icon from the left navigation menu.

3

Alternatively, you can select the 'Compose' button from the top of your dashboard and then the 'Post' button from the drop-down menu, under 'Share.'

4

Next, decide who to share your post with and give it a title. There are over a dozen post templates to choose from, or you can start from scratch.

5

You can now create and edit your post. Once it's finished, be sure to select the 'Must-Read' setting.

6

Once your post and settings are all in place, select 'Publish Post' button to finish.

7

After the post goes out, leaders can check in real time to see who has or has not read it.
Bring your frontline and office teams together on one common platform
It has never been this easy to create the perfect employee experience for your deskless and deskbound workers. Contact us to discuss requirements, pricing, rollout and support. Get your free demo today!