Why Is A Cafeteria Menu Important?
Believe it or not, if your company has a cafeteria or any sort of catering, the daily menu is one of your best pieces of content for employee engagement. Think about it: your employees may not be enthusiastic about the latest HR information that you need them to read, but everyone wants to know what's being served for lunch.
You can reliably expect that whatever platform you choose for your cafeteria menu is something that just about everyone will look at daily. This is one of the most requested intranet features, and is an easy win for boosting employee morale, but it's also something that can be used strategically.
Problem: Missed Opportunity For Engagement
Many company cafeterias distribute menus weeks or even months in advance. This might sound great from a planning perspective, but it often results in lost menus, inability to update when circumstances change, and general confusion. Menus distributed by mass email or physically posted on a bulletin board can be easy to overlook and contribute to clutter.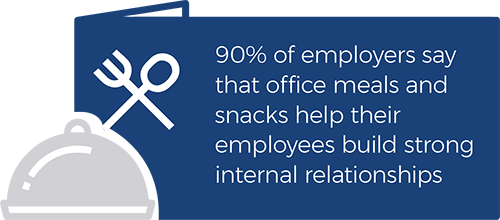 Solution: Managing Menus With MangoApps
MangoApps makes it easy to share and find local information like cafeteria menus, and having the menu appear inside of your intranet every day offers a number of advantages.

First and foremost, people want this information on a daily basis, and keeping it up to date and visible makes their lives easier. MangoApps makes it easy to add quick updates as the menu changes, and employees can comment if they have questions or feedback. You can even run polls to find out if a new meal or caterer was well-liked, or ask about dietary preferences and gather ideas.
On a deeper level, this is a great way to get everyone into a platform like MangoApps when it's first adopted. If this is the only place to find the cafeteria menu, it's likely that people will quickly get used to checking in every day.
Once this behavior takes hold, you can begin strategically dripping out other important pieces of content near the menu, which is a surprisingly effective way to ensure that that content is seen. This adoption strategy will ensure that employees begin to learn the ins and outs of the platform, and will ultimately lead to a connected workforce that makes use of all the great collaboration and communication tools that MangoApps offers.
How To Make Location-Based Groups:
1

Location-based groups can connect employees together and make it easy to share relevant information like the cafeteria menu. To create location-based groups, first, ensure the module is enabled in your platform.

2

Once location-based groups have been enabled, just add the different areas you'd like groups created for.

3

Once you've saved your existing locations, employees will automatically be filtered into the appropriate group based on the location listed on the employee profile.

4

Your location groups are now ready to go. You and other employees can begin posting content, uploading files, creating wikis, and enjoying everything else groups have to offer.
Bring your frontline and office teams together on one common platform
It has never been this easy to create the perfect employee experience for your deskless and deskbound workers. Contact us to discuss requirements, pricing, rollout and support. Get your free demo today!