What Is A Cafeteria Menu?
While creating an easily accessible and up-to-date company cafeteria menu probably isn't something you consider very often, it's actually pretty important to employees. In fact, having a reliable cafeteria menu is regularly one of employee's most requested intranet features. Company cafeteria menus are much more than just an outline of available meals. An organized and dependable cafeteria menu boosts company community, employee engagement, and company intranet adoption. Menus help employees plan their day, make the most of their lunch break, and have something fun to look forward to with coworkers and friends, all of which are essential for a happy, engaging, and productive work experience.
It's just fun, being able to eat together and take a little break from everything with friends.
Modernizing Cafeteria Menus
Established company cafeterias typically distribute menus weeks or even months in advance. While this might sound great from a planning perspective, it usually results in lost menus, incorrect meals, and just general confusion. Menus distributed by mass email or physically posted on bulletin boards are easy to misplace, often overlooked, and usually inaccurate over time. Instead of helping employees plan ahead and stay informed, menu messages just become another form of excessive and outdated and clutter.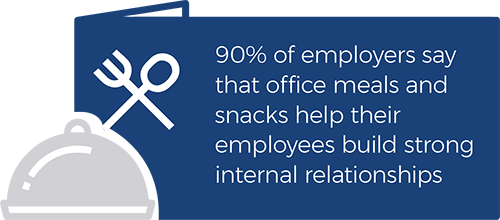 Managing Menus With MangoApps
MangoApps makes searching for and sharing local information incredibly simple. With designated location-based groups, leaders can post cafeteria menus well in advance without taking up space or creating clutter. Menus are available right on the company intranet, making them not only unique to each local area but also easy to find and available to employees anywhere they have internet access. Workers can even access menus on their smart device if they need to see it while on the go. With company menus in MangoApps, unexpected meal changes are no longer an issue either. Leaders can easily replace exiting menus in advance and send a message out to employees, or for last-minute changes, create a quick update in the branch's local news feed. Every post in MangoApps also includes a visually engaging comments area, enabling employees to ask important health or nutrition questions about upcoming cafeteria items like potential food allergies, possible substitutions, or any other concerns.

How To Make Location-Based Groups:
1

Location-based groups can connect together and make event and party planning easy. To create location-based groups, first, ensure the module is enabled in your platform.

2

Once location-based groups have been enabled, just add the different areas you'd like groups created for.

3

Once you've saved your existing locations, employees will automatically be filtered into the appropriate group based on the location listed on the employee profile.

4

Your location groups are now ready to go. You and other employees can begin posting content, uploading files, creating wikis, and enjoying everything else groups have to offer.