What Are Employee Rewards and Recognition?
Employee rewards and recognitions are any kind of public praise given by leadership to either a team or individual employees. Rewards and recognitions help employees know that leaders are aware of their good work and appreciate their dedication and success. They also naturally build trust and engagement in a company, showcase positive examples for others, and encourage coworkers to excel.
Struggling To Share Success
Most leaders know employees thrive on positive feedback and are excited to highlight success, but they lack a simple and consistent way to make it happen. Without an easy process in place, leaders forget about or miss out on opportunities to recognize employees, preventing workers from celebrating together, feeling supported, and increasing engagement.

Highlighting Employee Achievement
Reward and recognition capabilities are built right into MangoApps, with a wide variety of pre-programmed templates available for instant use. Or, businesses can even create their own templates for company-specific highlights and occasions. Rewards and recognitions are also easy to make and mobile-friendly, so opportunities to show appreciation are never overlooked.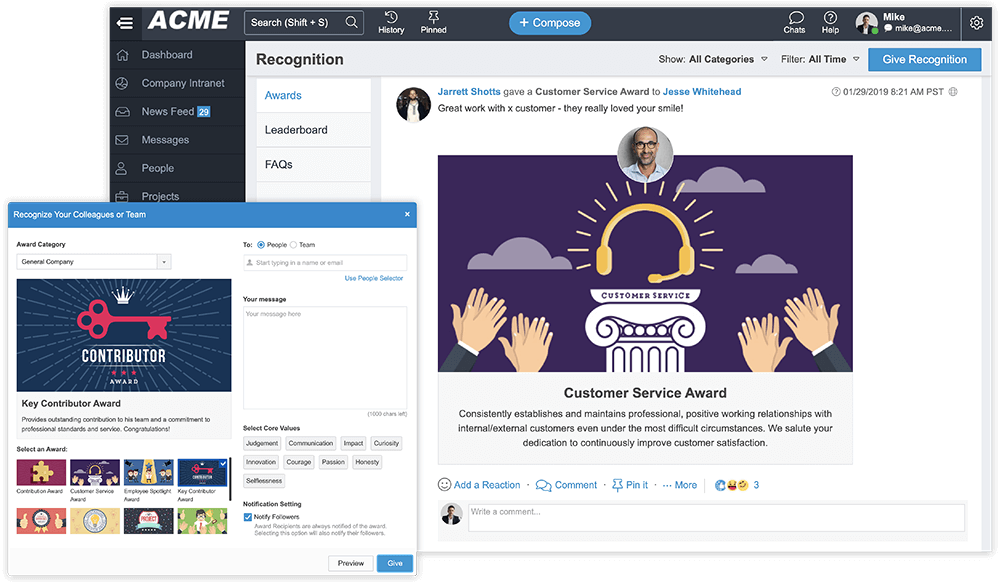 Once created, rewards and recognitions are shared to either a team page or an individual's profile page, where coworkers can not only see the shout out, but also comment, react, and be a part of the celebration. And best of all, showing support and encouragement through rewards and recognitions increases happiness and trust among employees as they see their work recognized and appreciated.
A lot of the programs had interesting characteristics, but none of them had an integrated suite of tools and advanced features like rewards and recognitions, which is what we loved about MangoApps.
How To Make Rewards and Recognitions Happen:
1

Rewards and recognitions are a great way to show appreciation and highlight employee success. To send an employee recognition, make sure they're enabled in your platform, select the recognitions icon on the left side navigation, and then choose the 'give recognition' button.

2

You can also select the compose button from the top navigation bar and then select the recognize icon or select the recognize icon from within a group or project area.

3

Choose the category and specific recognition you want to share, designate who the recognition is for, and include any additional message. Once you're finished, you can preview the recognition and then select the 'give' button.

4

Your shared recognition will appear on the team or recipient's news feed, where everyone will be able to see and react to their success.