What Are Employee Rewards and Recognition?
Any time leadership publicly praises a team or individual employee, that can be considered employee rewards and/or recognition. These efforts help employees feel valued by the company and can go a long way towards building trust and engagement.
Problem: Missed Opportunities For Recognition
Most leaders know that employees thrive on positive feedback, but they lack a simple and consistent way to highlight their teams' successes. Without an easy process in place, occasions for team member recognition can pass leaders by, resulting in missed opportunities for increased engagement and feelings of support among employees.

Solution: Highlighting Employee Achievement
Even something as simple as a small shoutout to a job well done can go a long way for recognizing employees' work, especially when there's a tangible way to see its reach. In a modern organization, there aren't always ways to do this in person regularly, but with MangoApps, it's easy to create posts that highlight team or individual wins, and for other colleagues to comment or react with emojis.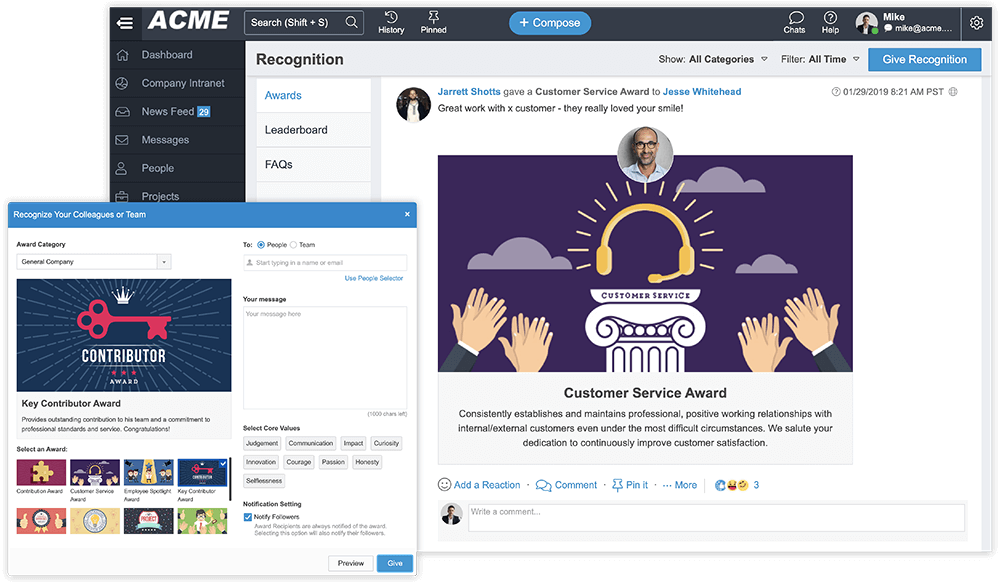 These capabilities are built right into MangoApps, with a wide variety of pre-programmed templates available for instant use. It's also easy to create your own templates for company-specific highlights and occasions. Rewards and recognitions are mobile-friendly and can be created on the go in minutes, so opportunities to show appreciation are never overlooked.
Recognition posts can be shared to a team page or an individual's profile page, where coworkers can see, react, and get involved in the celebration. This type of encouragement takes little effort on the part of leadership and can increase happiness and trust among employees.
We're not just bosses pointing fingers but actually here to support and share ideas and to elevate success. We can celebrate successes when someone's done particularly well. We can make the company aware of that particular person so that everyone knows about it and not just the 10 people that may be working in the store that day.
-Daniel Bannister, Store Manager, Superdrug
How To Create An Employee Recognition:
1

Rewards and recognitions are a great way to show appreciation and highlight employee success. To send an employee recognition, make sure they're enabled in your platform, select the Recognitions icon on the left side navigation, and then choose the 'Give Recognition' button.

2

You can also select the Compose button from the top navigation bar and then select the Recognize icon from underneath Engage. You can also select the Recognize icon from within a group or project area.

3

Choose the category and specific recognition you want to share, designate who the recognition is for, and include any additional message. Once you're finished, you can preview the recognition and then select the 'Give' button.

4

Your shared recognition will appear on the team or recipient's news feed, where everyone will be able to see and react to their success.
Bring your frontline and office teams together on one common platform
It has never been this easy to create the perfect employee experience for your deskless and deskbound workers. Contact us to discuss requirements, pricing, rollout and support. Get your free demo today!