What Are Company Announcements?
A company announcement is any piece of news intended for the entire organization, like a monthly newsletter or policy change. Whether it's something fun and engaging like a birthday or employee award, or something more important like a funding announcement or leadership change, every company announcement needs to be quickly accessible to all employees.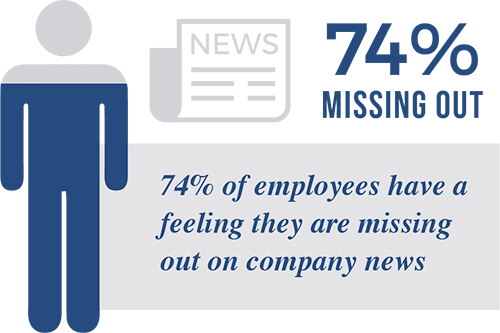 Problem: Inconsistent and Missed Messages
Many businesses, especially in environments where workers are away from computers or don't have company email, struggle to ensure that everyone can access company-wide announcements. Reaching the entire organization isn't easy, and short of personally following up with every employee, there's often no way to know if a sent message has been received and read.
It can often feel like you're emailing your newsletter out into the void, where it will get buried in inboxes, or opened, skimmed, and otherwise ignored. It can be challenging to decide what content to include, which items to prioritize to the top, and how often to send. Without any insights into how the content is being received, it's more or less a guessing game.
Beyond that, email newsletters often require some coding and time investment before they look nice, and can vary wildly by email client, which is often problematic. Including images can be challenging, there's no way to include video, and you have to finagle with HTML and CSS, or an unwieldy visual editor, to ensure that it looks good on mobile.
After all that work, your message is still likely to be lost in the shuffle, and you have no way of knowing whether or not it's well-received, aside from tracking the occasional reply.
We set out great programs, thoughts, and ideas as an organization, but the penetration through normal email was limited at best. With MangoApps, wide-reaching company news and announcements can actually happen.
- Dr. Kevin Klauer, Chief Medical Officer, TeamHealth
Solution: Distributing News Naturally
MangoApps makes sharing company news an intuitive and inclusive experience—company-wide posts are built into the platform and can include text, video, images and documents. When a post is published, all employees are able to quickly read (and respond if needed) from a computer or the mobile app, and our templates ensure readability from any device.
Leaders can even mark particularly important updates as "must-read," requiring employees to acknowledge that they have read and understood the message. This feature takes away the headache and uncertainty inherent to more traditional distribution channels like email.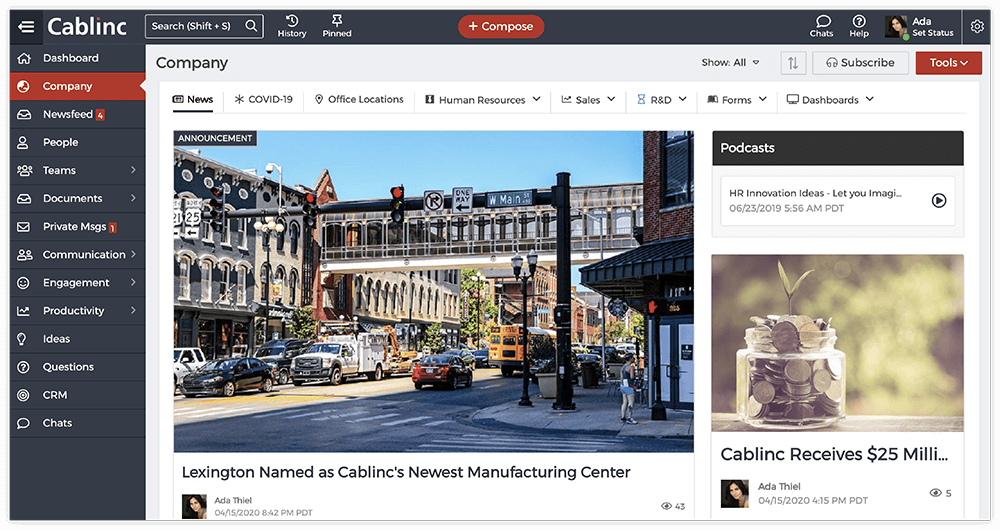 Once a post is out to the company, the View Count and Insights features allow leaders to trace consumption of the content, and if needed, boost the post to reach a wider audience. Company posts can also be pinned for follow-up based on urgency.
| Email | MangoApps |
| --- | --- |
| May not reach all employees | Reaches every person, prominent in their news feed and accessible from all devices |
| Hard to make it look nice or include images | Easy to format, can use pre-built templates, and everything is engineered to look good in the platform |
| No way to embed video | Video can be embedded |
| No reactions except reply or reply-all | Emoji reactions allow quick feedback, and everyone can contribute to comments without the confusion and frustration of a multi-threaded reply-all email chain |
| Impossible to know if it's been opened/read | Leaders can see view count and other insights, and even set posts to must-read, requiring an acknowledgement |
| No analysis or metrics | Sender can see insights on how the content performed, and boost to a larger audience if needed |
| Easily lost in crowded inbox | Much harder to miss in news feed |
How To Make Company Posts:
1

To create a new company post, you first must be a network administrator or have received permission from an administrator.

2

Once you have permission to post, select the 'Compose' button from the top of your dashboard and then the 'Post' button from the drop-down menu, under 'Share.'

3

Next, choose the option to share your post with everyone, ensuring it becomes a wide-reaching company post.

4

Give your post a title and choose from over a dozen different template options, or start from scratch.

5

You can edit the post and add or remove content until it's exactly what you need. Once your post is finished, just adjust the settings and select 'Publish Post.'
Bring your frontline and office teams together on one common platform
It has never been this easy to create the perfect employee experience for your deskless and deskbound workers. Contact us to discuss requirements, pricing, rollout and support. Get your free demo today!