Private, public and unlisted groups
Based on the purpose of the group decide whether you want to keep it public for everyone in the company to view it's content or only have the content visible to its members. In private groups, the content is visible to members (& domain admins) only but they are shown in the group listing so users can send it their join request. Unlisted groups are not listed and are known to members only.
Replace Email With Private Messages
With Private Messages, MangoApps has removed the drawbacks of using email for internal communications while improving the user experience. Without the external distractions of SPAM or having to overcome the fear of phishing emails, users can focus solely on communicating. All messages are sent safely and securely and provide instant dialogue with any number of coworkers, all in the MangoApps environment.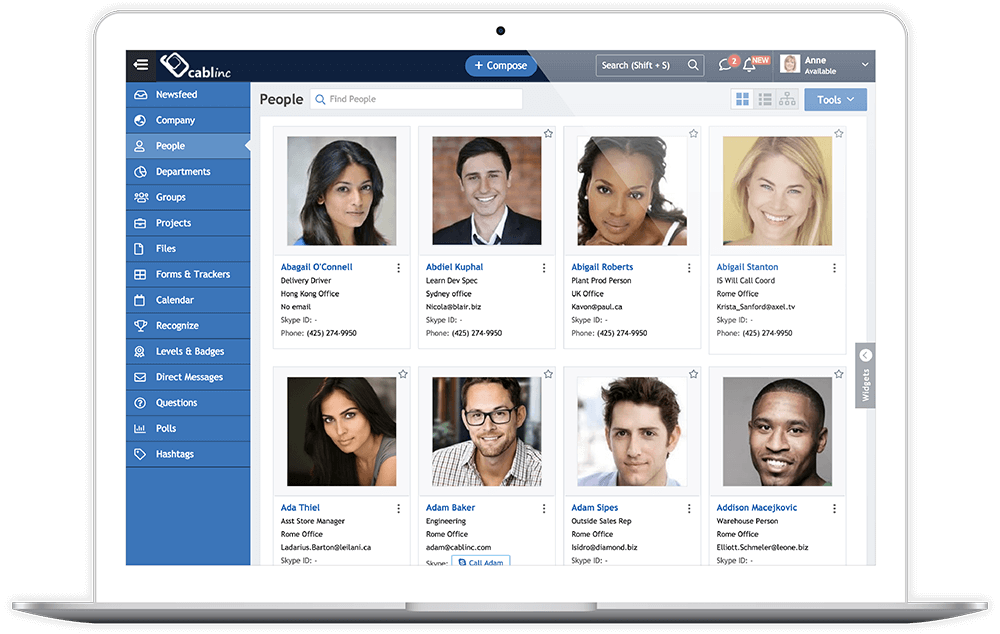 Simple Directory Views
MangoApps company directories can be browsed by either department or location. This multiple view approach allows employees to stay organized, know who they need, and find who they're looking for faster. It also helps employees learn more about their company's organizational structure, improving overall understanding and communication.
Trusted Security
MangoApps takes all the necessary precautions to ensure confidential information and files stay safe. Files are kept secure by including safeguards such as file transfer over HTTPS from any device, 256-bit encryption at rest, HIPAA compliance and certification for EU, and Swiss safe harbor frameworks as provided by AWS.
Active Directory Integration
MangoApps also has the capability of automatically building the company org chart based on an existing LDAP/Active Directory database. Org charts controlled by this integration will refer to user mapping outside of MangoApps, meaning changes must be made in the LDAP/Active Directory server.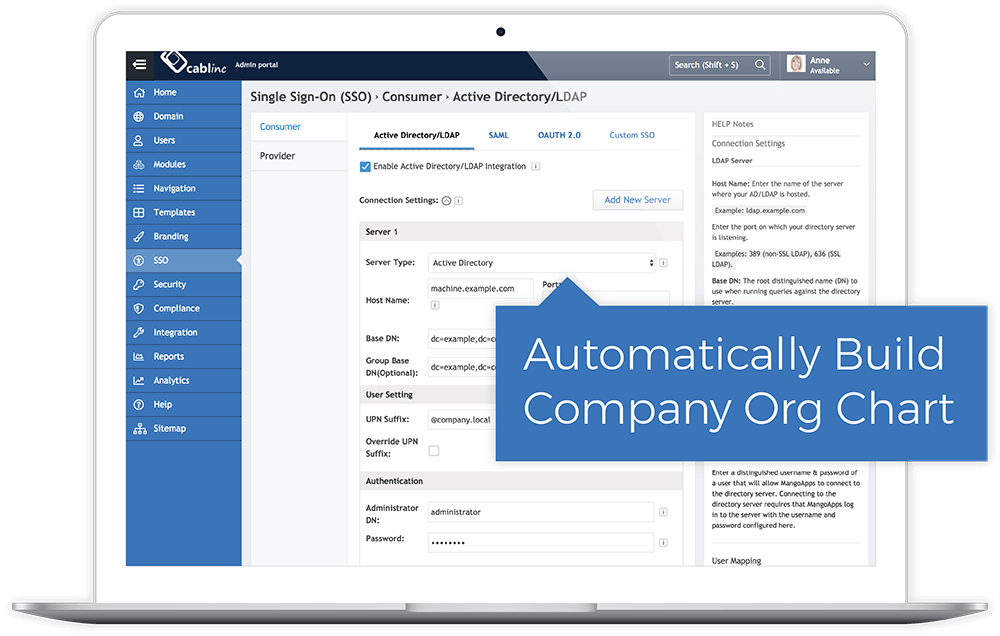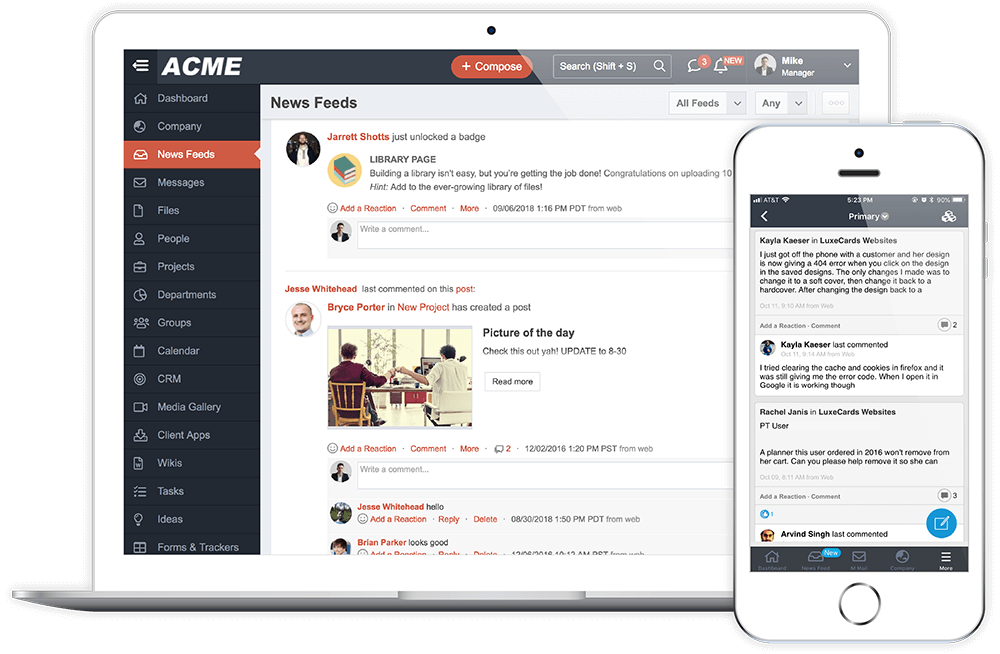 Share what you are working on
Extend the reach of your internal knowledge sharing and encourage breakthrough thinking and innovation through bottom-up communication with enterprise microblogging. Providing an effective way of information sharing, employee microblogging also ensures that knowledge remains within the organization should some employee leave.
Simple, Smart & Enterprise-Ready Features
Over the last 10+ years, we have carefully added features that satisfy the needs of even the largest enterprises. A partial list is included below. The best way to see all the capabilities of is to let us walk you through them.
Simple Subscription Pricing
Contact us for volume and non-profit discounts
Business

$2USD

Per user, per month, if billed annually
$3 per user, per month, if billed monthly
10 user minimum billing

Business plan includes:

All Mango ESN features
Choice of 5 AWS data centers
Free iOS and Android mobile apps
Automatic software upgrades
Ideal for small companies and teams
Enterprise

$3USD

Per user, per month, billed annually
Available in public/private cloud or on-premise
100 user minimum billing

Enterprise plan includes:

All Business plan features
Dedicated customer success manager
SLA and priority support
Ideal for medium and large enterprises
Here's what our customers are saying about us
Mango [ESN] is the place our members go to meet one another because you're not going to run into anybody in the staff room or the coffee shop. You can go to Mango [ESN] to see who the members are, to read their profiles, to see their photographs, and to understand better the people with whom you're forming this community that is EJP.

Rebecca Ginsburg

Education Justice Project Associate Professor & Director

It's not just a tool, it's a changing way of communication. It's a culture change, a culture shift. It's not just top-down communication, but communication everywhere. People had to adjust to that but they took to it like wildfire, they loved it.

Jan Kees Fokkens

ASW Benelux Social Intranet Project Manager

We love it and we couldn't do our daily work without it. It's something that I haven't seen before. It combines the social network piece with content curation and makes having projects and group discussions really easy. Overall I think that it's an awesome mixture of hey we need to get work done but we also want to have fun while we're doing it.

JoHanna Forman

Brand Muscle Learning and Organizational Development Coordinator

I'll just go in there and ask a question in one of our community boards. I no longer have to rely on emailing a few people and hoping that they have what I'm looking for. Instead [I can] post a question that 300 plus of my colleagues see and I get answered almost immediately.

Annie Bidwell

CCS Senior Director

It balanced really well social and business. A lot of providers that we looked at did social really well but didn't do business really well or did business really well and didn't do social really well. MangoApps seems to have found this kind of perfect middle zone where it's incredibly social, but you can also get real key business benefits of being able to do some actual core business functionality alongside it.

Vikki Nye

SuperDrug Internal Communications Manager
Explore solutions by Industry
FAQs
Where is my data hosted?

We use Amazon AWS for all of our computing needs. Based on your location and regulatory needs, shared cloud customers can pick one of the five AWS data centers during sign-up. For private cloud customers, we can host your data at the AWS data center of your choice.
Do you offer volume or non-profit discounts?

Yes, we offer both volume and non-profit discounts. Please note that all our enterprise products require 100+ user licenses and are billed annually.

Contact sales

for more information.