Mango Intranet Overview
Mango Intranet is the modern way to strengthen the internal communications in your company, keep the company's content hub fresh and build a lively digital workplace with built-in two-way engagement tools.
Strengthen Internal Communications
Make it easy to share company and department information and hear back from employees. Create a centralized source for information that is accurate and up-to-date.
Content Hub That Is Always Up-to-date
Give employees useful authoring and blogging tools to make it easy to create new content. Pages, posts, news, announcements, files, and forms are organized, searchable, and accessible from anywhere on any device
Find Information You Need Faster
Significantly reduce time employees spend looking for internal information. Custom menu navigation and speedy search makes pages, posts, forms, expertise and documents easy to find.
Drive Employee Engagement
MangoApps is sophisticated enough to satisfy the demands of the millennials yet simple enough to be adopted by employees of all ages. Easy authoring and built-in tools like reactions and recognitions ensure quick adoption.
Find Expertise in the Company
Quickly find the perfect person to join your project or answer your question. Easily filter people by criteria you establish, such as experience, certifications or areas of specialty. Rich, customizable employee profiles put it all at your fingertips.
Build a Community of Everything
Create groups that reflect your organizational structure and make it easy for office locations to interact and stay current. Let employees manage and self-organize special interest groups.
Plan Events, Important Dates
Shine a spotlight on company events, trainings, holidays and important dates. Company calendar brings your company together on important dates and events. You can also organize private meetings with focused teams also.
Make Intranet Available to Mobile Workforce
Access your Intranet from anywhere on any device. Built for mobile, with MangoApps you can access all the great Intranet capabilities and functions wherever you are, so you always get what you need.
Get New Employees Up to Speed Faster
MangoApps connects old and new employees alike. New hires have immediate access to company policies, business processes, older decisions, documents, and training programs to ensure they can reach full productivity quickly.
Make Informed Decisions at All Levels
Reduce bureaucracy, empower individual employees at all levels and provide a direct communication path to decision-makers and executive management
10+ Years of Carefully Crafted Functionality
Below is a list of modules & features included in Mango Intranet. MangoApps modules can be customized to align with your business needs without any programming knowledge. Just turn-on a switch to add a module and just check a few checkboxes to customize & configure MangoApps functionality in minutes.
All company news & information, all in one place
Engagement tools to build a thriving culture
Create discussion groups for any topic
Access your intranet from your phone
Enterprise security & other platform features
*Please note that some of the advanced features in these modules may only be available in our Mango Suite solution.
Easy to Use, Easy to Administer & Easy to Brand
MangoApps is designed to be mobile friendly and super-simple to use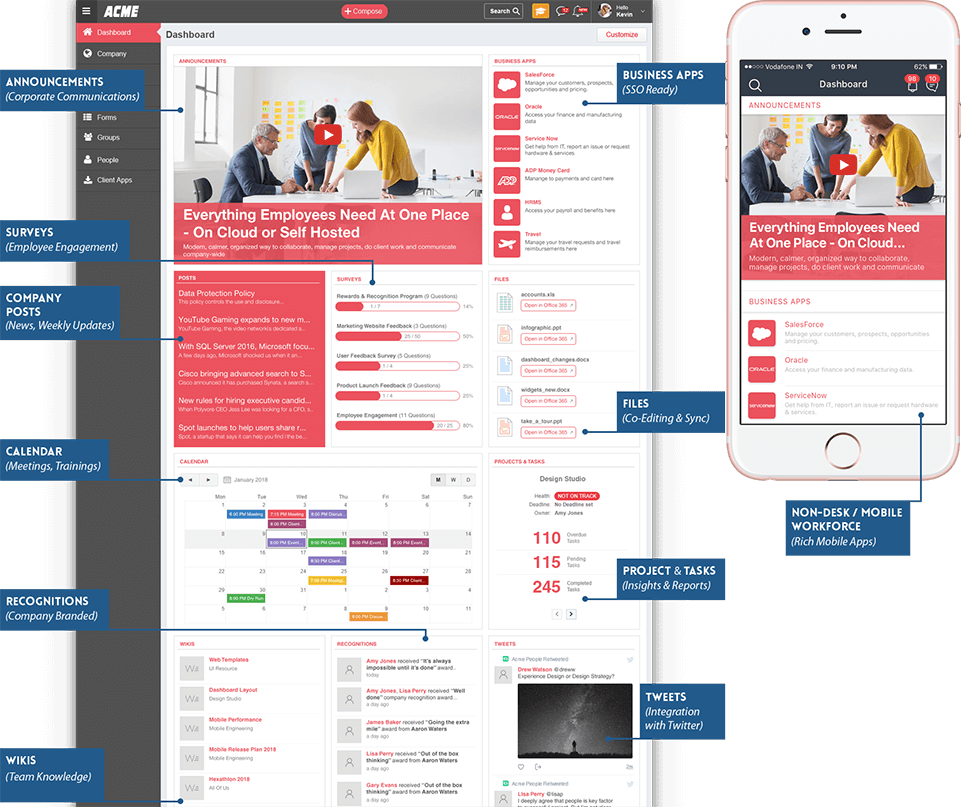 Watch Kelly-Moore Paints CIO Discuss How They Use MangoApps in their Offices & Stores
Can your workplace benefit from a Modern Intranet solution?