MangoApps Modern Intranet Overview
MangoApps social Intranet solution is the modern way to strengthen the internal communications in your company, keep the company's content hub fresh by giving employees simple authoring and blogging tools and build a lively digital workplace with built-in two-way engagement tools.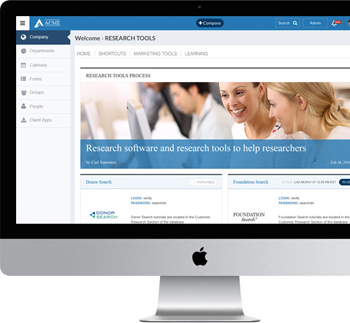 Strengthen Internal Communications

Make it easy to share company and department information and hear back from employees. Create a centralized source for information that is accurate and up-to-date.

Content Hub That Is Up-to-date

Give employees useful authoring and blogging tools to make it easy to create new content. Pages, posts, news, announcements, files, forms are organized, searchable, and accessible from anywhere on any device.

Find Information You Need Faster

Significantly reduce time employees spend looking for internal information. Custom menu navigation and speedy search makes pages, posts, forms, expertise and documents easy to find.

Drive Employee Connectedness & Engagement

This is the Intranet you make part of your daily life which is sophisticated enough to satisfy the demands of the millennials yet simple enough to be adopted by employees of all ages. Doesn't leave people wondering if anyone even reads their content. Reactions is an instant way for employees to give positive feedback and for authors to feel good about their work.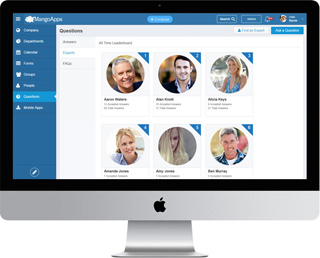 Find Expertise In the Company

Find the perfect person fast to join your project or answer your question. Filter people by criteria you establish, such as experience, certifications, languages spoken or areas of specialty. Rich, customizable employee profiles put skills descriptions at your fingertips. Sync with your existing Active Directory.

Build a Community of Everything

Create groups that reflect your organizational structure and office locations can interact and stay current. Let employees manage and self-organize special interest groups.

Plan Events, Important Dates

Shine a spotlight on company events, trainings, holidays and important dates. Company calendar brings your company together on important dates and events. You can also organize private meetings with focussed teams also.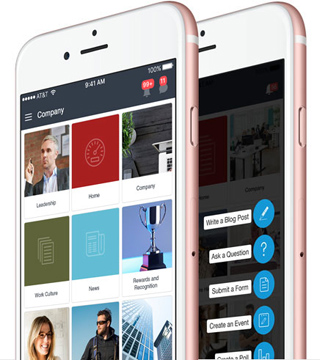 Make Intranet Available to Mobile Workforce

Access your Intranet from anywhere on any device. Built for mobile, with MangoApps you can access all the great Intranet capabilities and functions wherever you are, so you always get what you need.

Scale New Employee On-Boarding

New hires have immediate access to company policies, business processes, department conversations, older decisions, documents, orientation schedules, and training programs; no more forwarding of hundreds of old emails to new joinees. Organization chart and profiles make it easy to connect and engage with anyone from any location.

Make Insightful Decisions

Reduce bureaucracy, empower individual employees at all levels and provide a direct communication path to decision-makers and executive management
Modules & Features Included in MangoApps Modern Intranet Solution
MangoApps offers modules & features that can be customized to align with your business needs without any programming knowledge required. Just turn-on a switch to add a module and just check a few checkboxes to customize & configure MangoApps functionality in minutes.
*Please note that some of the advanced features in these modules may only be available in our full MangoApps Suite solution.