See how MangoApps benefits employees at every level
Leadership
Take control of your bank's communications and operations and increase overall engagement and efficiency.
Establish effective top-down communication
Easily create and distribute posts and newsletters to communicate company-wide updates, or segment your audience for more focused content.
Reinforce company culture
Amplify your company culture and values by reaching people directly with consistent messaging and branding.
Increase engagement at all levels
Engage employees with likes and comments on company posts. Celebrate hard work with public rewards & recognitions.
Gain insights from your platform
Ensure that you are reaching your ROI with our comprehensive insights and analytics page. Make informed changes to increase productivity and engagement.
Ensure security & compliance
Have certainty that your data is safe and secure. Enterprise-grade security and data protection implements multiple layers of security to protect all of your information.
Management
Keep back-office operations productive with audit-ready process management tools that maximize efficiency and ROI.
Centralize daily operations
Corporate departments can perform their administrative and operational services efficiently with all the needed tools within a consolidated MangoApps platform.
Hands-off onboarding
Streamlined onboarding of team members saves time and sets new employees up for success.
Consolidate company information
Establish a secure database where modern search engine protocols make it easy to locate information quickly.
Improve information distribution
With direct communication to branch workers, MangoApps enables quick and consistent messaging.
Modern forms and trackers
Modernize your spreadsheets to quickly consolidate data and make visualizations. Stay on top of client needs and KPIs.
Real-time data
Gain real-time feedback on team performance and bring this actionable data to leadership for informed decision-making.
Reliable task management
Manage high-level operations with tasks and to-do lists that keep your team on track and ensure goals are met.
Branch Workers
Empower your branch workers to quickly resolve any issues that arise with a unified dashboard for all their company tools.
Better communication flows
Allow managers to clearly communicate and track assignments to ensure branch workers understand expectations and work requirements.
Questions & feedback
Establish secure channels where branch workers can get answers quickly from management so their work is focused on customer service.
Employee shout-outs
Highlight employee stories and successes to enrich your workplace culture and reinforce core values.
Eliminate repetition
Implement effective business process management tools to reduce fatigue from performing repetitive tasks.
Our CEO is a great communicator and keeps fresh content out on the MangoApps hub on a weekly basis that is very strategic, ties messages together, and that's helping us engrain our new culture. And if it's coming from him, it's getting read and keeps people coming back.
- Cheryl Olson, Head of People & Culture, Great Western Bank
FINANCIAL CUSTOMERS:
Break free from legacy systems and move forward faster with MangoApps.
A unified employee experience saves employees time, improves workplace efficiency and agility.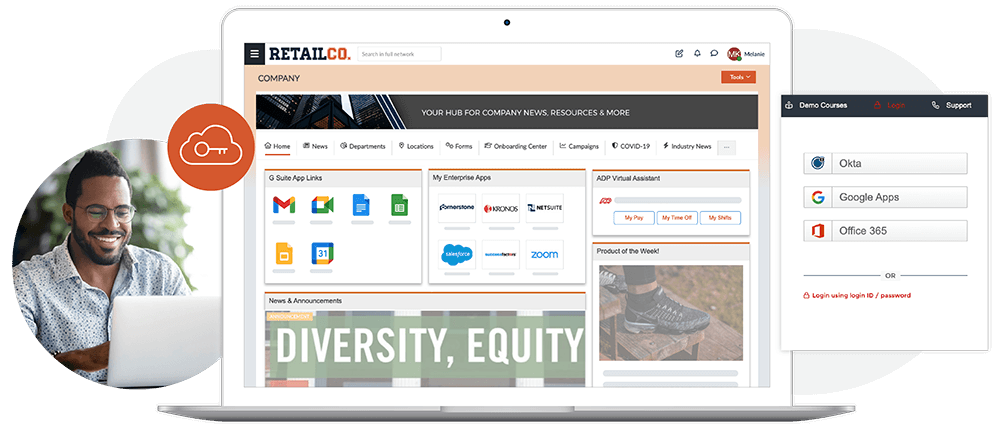 Talk to a product expert to learn more