Benefits of Employee Rewards & Recognition
Maintain culture, boost morale and promote core values by creating a space for employees to recognize each other's
work and personal milestones.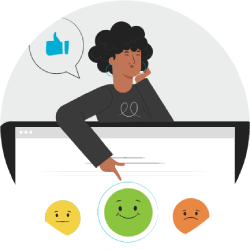 Cultivate Employee Happiness
Four out of five employees say they're motivated to work harder when their boss shows appreciation for their work.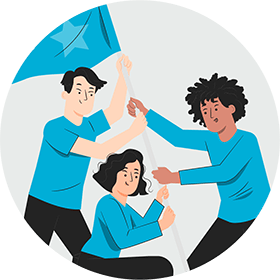 Drive Team Collaboration And Performance
Positive recognition culture is proven by research to be a driver of stronger collaboration and financial performance.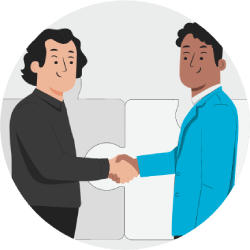 Boost Employee
Retention
Lack of recognition is the number one reason employees leave jobs. 69% say better recognition and rewards would motivate them to stay longer.
MangoApps Rewards & Recognition Features
Send & Receive Awards
Colleagues and managers can instantly celebrate the contributions and achievements of individual employees or entire teams, with easy to create and send awards.
Company-wide News Feed
Rewards and recognition appear in a public feed where everyone can see each other's good work and like/comment.
Gamification
Point systems with tangible prizes encourage friendly competition among teammates by tracking progress through showcasing leaderboards and displaying awards in employee profiles.
Redeem Reward Points
Integrations can allow your employees to redeem their points for gift cards, company swag, or other items of your choosing.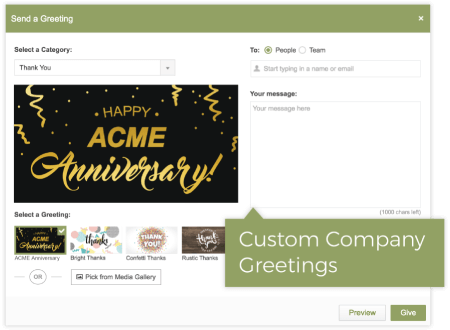 100+ Greeting Templates
Never miss important moments with the help of reminders, automation, and personalized templates.
Customization & Branding
Create custom awards and greetings that align with company culture and core values.
Mobile Access
Quickly recognize and celebrate workers from anywhere with our mobile-first platform.
Ease of Administration
Intuitive, flexible admin controls allow you to easily manage your rewards and recognition program, no IT expertise necessary.
How our Customers Use Rewards & Recognition
Give Award Badges for Hard Work
Employees can be awarded different badges for completing specific actions or assignments to be displayed pridefully on their individual profiles.
Send Well Wishes to Sick Coworkers
Deliver custom messages via greetings to help support recovery of ill employees.
Acknowledge Birthdays & Work Anniversaries
Celebrate birthdays and special occasions with automated greetings to foster a sense of belonging within the work environment.
Greet New Employees
Promote an inviting workplace through welcoming new employees using the customizable messages and greetings.
Recognize Personal Milestones
Express support and felicitations towards others' personal milestones, such as weddings, to encourage employee value and inclusion.
Celebrate Holidays
Help spread holiday cheer by selecting from multiple pre-built festive greetings to send to all other employees.
Never Forget Birthday & Work Anniversaries With Automated Story Collection
Remotely create a virtual card "signed" by the entire office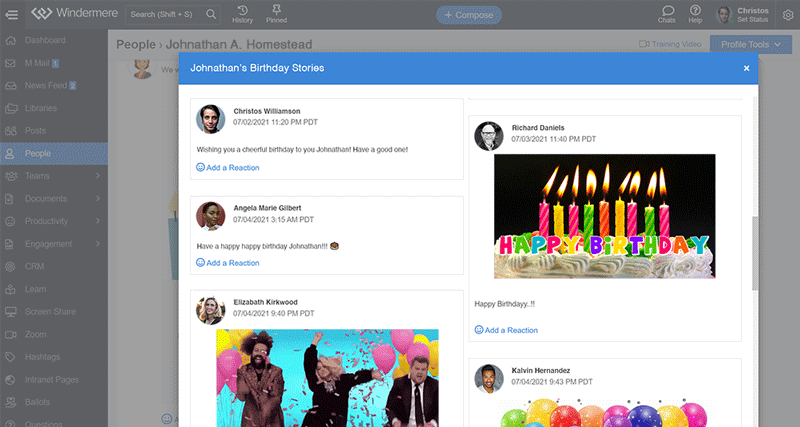 IT'S EASY:
1.
Prior to a birthday or work anniversary, story collection requests are sent automatically to managers, peers, reportees, or followers
2.
These colleagues can respond with text, images, gifs, and video well wishes/stories
3.
These personalized stories are added to the greeting post on the day of the event
How MangoApps Stacks Up
Features Available
MangoApps
Hallmark Business Connections
Bonusly
Fond
Recognize teams/departments
Story Collection Requests
Functions Beyond Rewards & Recognition
Take Your Employee Experience to the Next Level
Keep your team engaged and productive with MangoApps Recognition and Rewards. Get your free demo today!
Get Free Demo