Create Action Items
Discussion items from meetings and emails are often forgotten about.
With MangoApps, you can make sure that discussions and important topics never get lost in the mix again.
MangoApps makes it easy for discussion to be turned into action items that can be added to your to-do list and tracked/monitored over time.
Turn conversations into tangible tasks that can be assigned to the relevant people and get completed.
With an intuitive, user-friendly platform, MangoApps makes it simpler than ever for your non-technical employees to track and view tasks.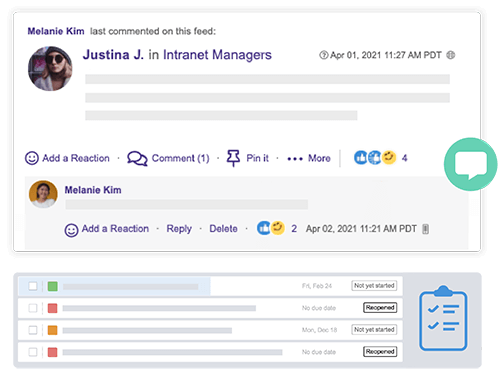 Advanced Tracking
Skip the hour-long briefing meetings. With MangoApps, you get access to a collaborative
workplace where projects are being tracked, and can be executed much faster.
MangoApps' collaborative workspaces ensure that everyone can see each other's work, can comment, offer feedback, check off tasks, and much more.
With a visibility-centric approach, your employees will be able to clearly see relevant work items. This reduces confusion, saves time, and ensures everyone can react quickly.
Advanced oversight into the execution of action items can improve the experience of both the managers and employees.
Eliminate Duplicate Work
Remove the siloed email threads and countless versions of documents.
With MangoApps, you can remove the wasted time associated with duplicate work.
With open access to a searchable workspace, employees across teams (and time) can quickly find projects, past conversations, and documents.
With a searchable workspace, your employees can build on each other's work, instead of having to repeat it.
Skip out on the irrelevant email threads and meetings by only including the people who actually benefit from being involved in the discussion.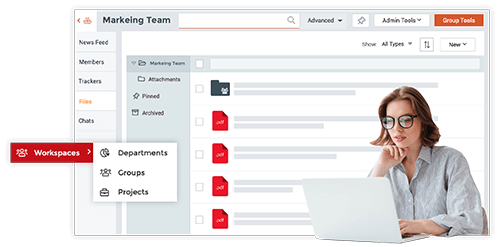 The thing I like the most is the fact that I can get to my files whenever and wherever I am. We can collaborate on one document together rather than circulate it by email to update, or we can actually collaborate on a board to share ideas, which is more productive and more nimble.
- Antony Moore, Head of Retail for Lotteries, Tatts Group
Improve Productivity
Improve your internal collaboration and generate a more productive team by removing the inefficiencies
and wasted time associated with email & meetings.
MangoApps gives employees the power to control their notifications. By picking and choosing the most important projects/groups, they can stay in the loop without being bombarded with information all day long.
Visible groups and projects allow employees to insert themselves into conversations on an as-needed basis, or tag colleagues who could provide relevant experience.
Employees no longer have to sit through long meetings that aren't relevant to them, nor do they have to miss out on a conversation where they should have been included.
We have people who are geographically distributed across the UK coming together to work on collective initiatives. We can create these virtual teams where people wouldn't necessarily have much opportunity to meet up and collaborate or work together in person... we're sharing and having discussions on there, sharing documents and getting feedback.
- Tim Middlecote, Head of ICT, Wildlife Trusts