Remove Inefficiencies
With MangoApps, you can create a central communication network that is accessible from any device,
making it much easier to distribute updates to your organization.
Remove duplicated efforts of moving across siloed solutions to try and capture everybody in your workforce with an update/message.
With MangoApps, you can track how well messages are being delivered and received, allowing you to gain clear insights into the effectiveness of your messaging.
In crisis situations, you can quickly target impacted employees and see in real-time whether they have viewed your alerts.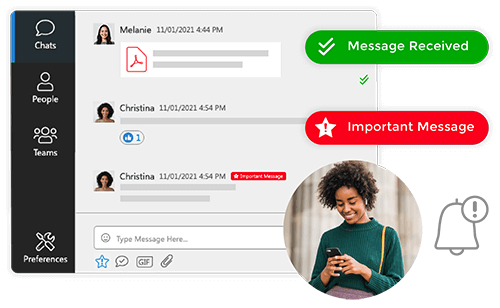 An Inclusive Comms Platform
Communication doesn't just happen between desk workers. Bring everyone into the loop
with a unified internal communications platform.
Equip both frontline and desk workers with an inclusive communications platform that ensures they receive notifications/updates in whatever manner suits them best.
Build a connected workforce with employee profiles that are always up to date, and analytics that make it easy to identify employees who are missing out on key information.
Improve employee engagement, generate more effective teams, and create a more engaged workforce when all of your employees are brought into the fold.
Having people engaged at your organization because they have a platform that creates a community and an opportunity to participate cannot be quantified. There's an absolute return on investment and with MangoApps as our partner, we've been able to actualize our vision to make that happen.
- Dr. Kevin Klauer, Chief Medical Officer, TeamHealth
Encourage Feedback
With MangoApps, you're no longer just pushing out information into a void and hoping your employees see it.
Encourage employee feedback by allowing them to participate in surveys and polls, as well as enabling them to respond to important posts and updates that are sent out.
With analytics, you can gain better insights into your employee communications. Refine and improve your messaging over time to better foster open dialogue among your employees.
Build a more accessible workforce by encouraging teams who might have never interacted with each other to engage and build on each other's accomplishments.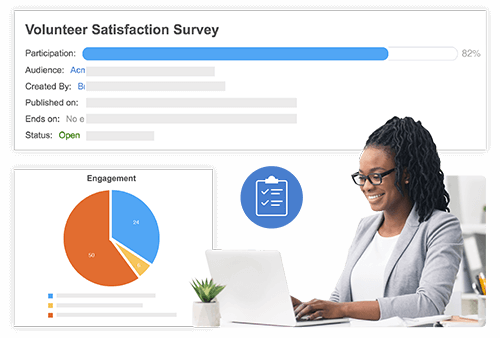 We have people who are geographically distributed across the UK in different trusts coming together to work on collective initiatives. We can create these virtual teams where people wouldn't necessarily have much opportunity to meet up and collaborate or work together in person... we're sharing and having discussions on there, sharing documents and getting feedback.
- Tim Middlecote, Head of ICT, Wildlife Trusts
Centralize Your Comms
Prevent duplicate work and siloed communication by creating a central repository of
information that all of your employees can access.
Give teams, groups, and departments a space to communicate and collaborate with each other.
Boost company-wide visibility, productivity, and engagement with a central communications platform.
Create a central, searchable database of employee information and resources that is accessible anytime, anywhere.
Before we had MangoApps, we always worked in silos. I have colleagues across the country, across the globe really, and I would only work with my team. With MangoApps, I've been connected with colleagues who I didn't even know existed, didn't know they did the role and the job that I do. It's really made my work product a lot stronger and has pushed me to grow as a professional.
- Annie Bidwell, Senior Director, CCS Fundraising