Flexible
We've been around for over a decade, listening to our customers and responding to their needs.
As a result, we can provide a flexible intranet platform that solves any problem you may have.
Unlike a 'makeshift' intranet, MangoApps was built to provide a nuanced solution to just about any use case that arises, without you having to do anything.
Guarantee employees a simple, effective intranet solution that solves their needs and can scale to grow with your organization
With our modular design, you can quickly turn on and off features to provide the best user experience possible to your employees.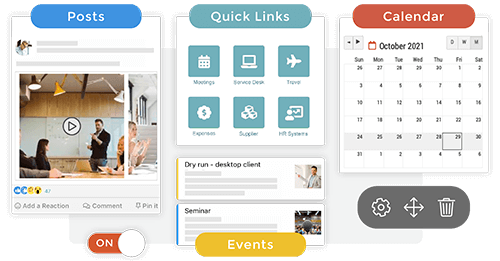 The most important part of MangoApps for us was that it was easy to use and that it was modular, so we could start small and use additional options and functionality to grow the platform. With MangoApps, we found all those functionalities within one tool.
- Reto Wenger, Project Manager, HUBER+SUHNER
Gain Control
Unlike a custom-built intranet which often lacks centralized ownership,
MangoApps helps you get a handle on your workplace communications.
MangoApps sets you up for success with flexible administration features that give you all the data and functionality you need to be successful.
Gain control and insights over your users with custom admin roles, content moderation, data archival policies, powerful analytics and monitoring, and much more.
Lean on our development team for a blueprint to what a successful intranet deployment and maintenance strategy looks like.
Insightful Analytics
Unlike a 'makeshift' intranet, MangoApps comes with insightful analytics, a complete overview of
intranet content and behavioral flows, and much more.
MangoApps is equipped with a suite of analytical tools for your administrators, making it easier than ever to gain clear insights into how employees are using the platform.
Gain a high-level overview into how content is being organized and used at the individual, team, department, and company level.
Stay ahead of user frustrations, disorganization, fraud, and other potential problems that would arise in a custom-built intranet.
Wide Breadth Of Features
With MangoApps, your employees will receive an intranet platform that has all the features your employees want and need.
MangoApps provides a deep, wide platform with nuanced solutions to all the issues your employees face.
Improve productivity by providing employees instant access to the features they need, from any device.
With features that can solve any need, employees will not need to seek out ad hoc solutions, workarounds, or other makeshift alternatives that could endanger the security of your company information.
Over 15 years ago, we had a really forward-looking IT team that built an intranet, but it was all hard-coded. Nobody could change the content except the IT department. It was great in concept but horrible in execution, because items would go out of date quickly and people had a hard time getting accurate information.
- Debra Helwig, Senior Internal Communications Manager, KCoe Isom

Save on Developer Costs
Skip out on the expensive IT and engineering developer hours associated with managing a custom-built intranet.
With MangoApps, you receive an intranet solution that will likely cost you less than you're spending now in upkeep.
Our modular approach and pricing means that you can start with a lean solution that addresses a specific use case, and add more functionality down the road if needed.
There's no more weighing your needs against development eam hours, no new implementation costs, no buying cycle—just flip the switch to turn on a feature.
If you're looking for a solution that extends beyond an intranet, we provide communication, collaboration, and training solutions that all integrate into the same platform!