Internal Communications
Private messages, team chat, and top-down communication ensure that everyone in the company stays on the same page. Templates, segmentation and read receipts make your corporate outreach to store managers and associates targeted and easy to draft and deploy.
Crisis Management
Ensure the safety of affected team members in any urgent situation, with easily customizable alert templates and real-time viewing insights. Quick targeting ensures that you can reach the right people in minutes with email, SMS, and push notifications.
Culture & Engagement
Make your store employees feel valued and heard with surveys, polls, and employee recognition/awards. Everyone in the company can give you valuable insights into how their working conditions and efficiency could be improved.
Retail Modern Intranet
Give your employees a unified dashboard with employee resources, a company directory, and other company content. Everything is organized and easy to find, and self-service access to IT and HR information saves time by reducing questions.
Training & Onboarding
Get new store associates up and running fast, with access to training and company resources from day one. Mango Training ensures a consistent onboarding experience and reinforces your brand to your newest employees.
Store Operations
Tasks, to-do lists and scheduling ensure that information is distributed to those who need to see it, and automation removes friction from store processes.
Break free from legacy systems and move forward faster with MangoApps.
A unified employee experience saves employees time, improves workplace efficiency and agility.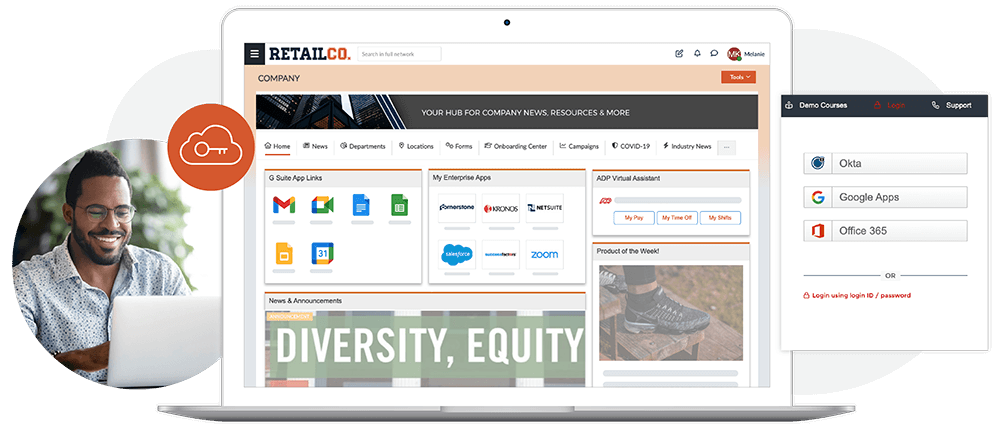 Talk to a product expert to learn more