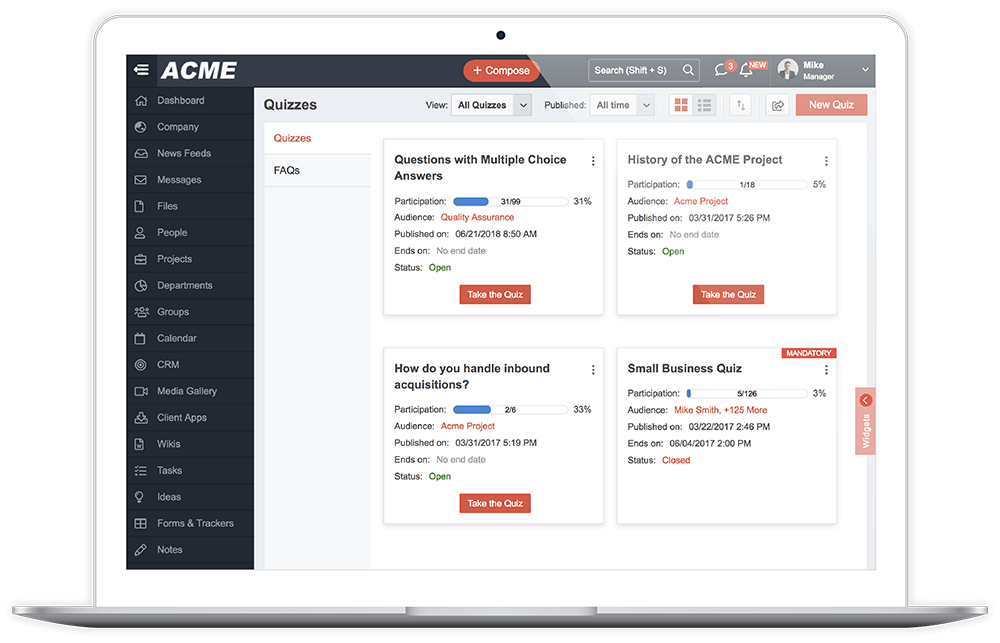 Test Employee Knowledge & Enhance Company Culture
Quizzes enable an organization to design any set of questions allowing them to test employees knowledge, conduct competitions, and drive fun employee learning through the company. Since users are already engaged in the platform, getting all or specific people/teams to participate is quick, safe, and easy without the need for a 3rd party site or getting lost in your employee's spam.
Quickly Create Quizzes and Select The Audience
MangoApps online quiz builder makes it easy to create custom quizzes right from the global 'compose' button using the easy quiz designer. Users pick from existing templates or start from scratch, and select an audience based on skills, department, etc. The quiz is customized with end dates, optional/required status, passing criteria, and other preferences. In addition, quizzes can be easily previewed, allowing the creator to take a test quiz to experience the flow.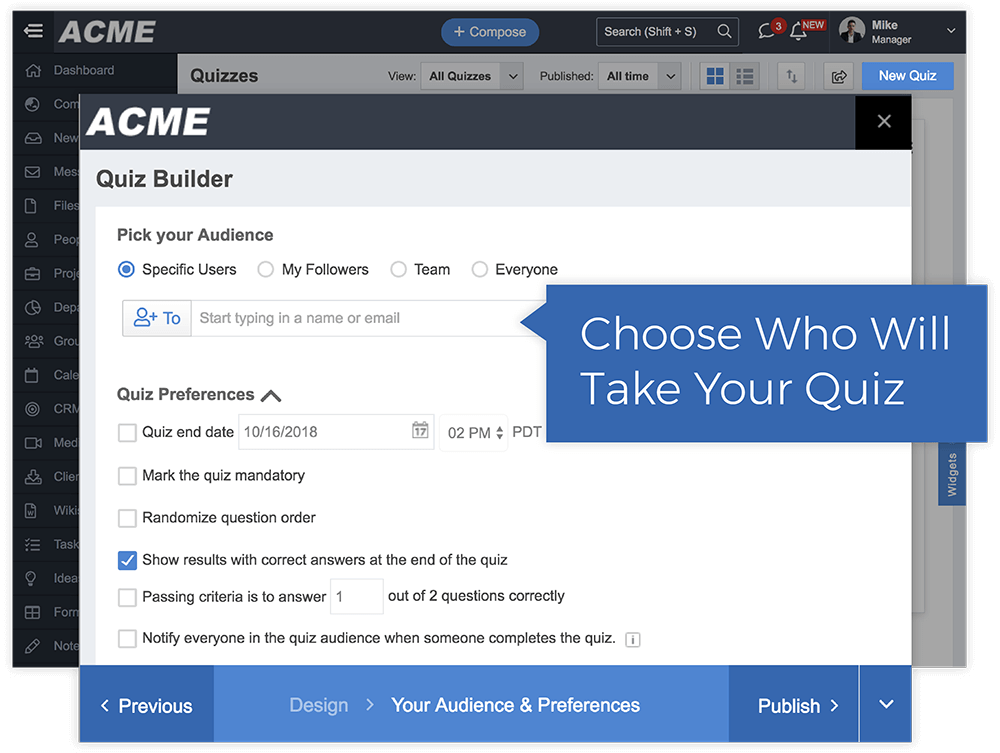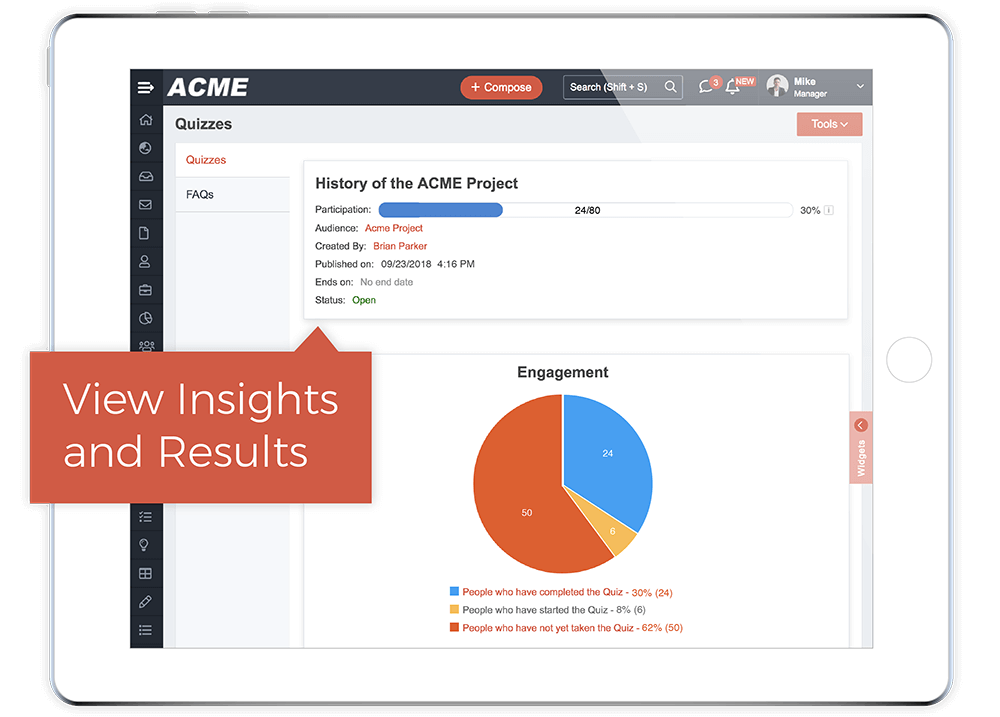 Helpful Insights Into Quiz Results
Access real-time stats about both quiz takers and their answers. The quiz creator, the team, and any domain admins can view insights right away (or after taking the quiz themselves, if they are part of the audience.) The data can then be exported all for in-depth analysis in other tools.
Rewards For Quiz Completion
If levels and badges are turned on for the domain, users will receive points for creating, completing and passing quizzes. Contributing to corporate gamification, the more points a user earns, the more badges they get and levels they will earn.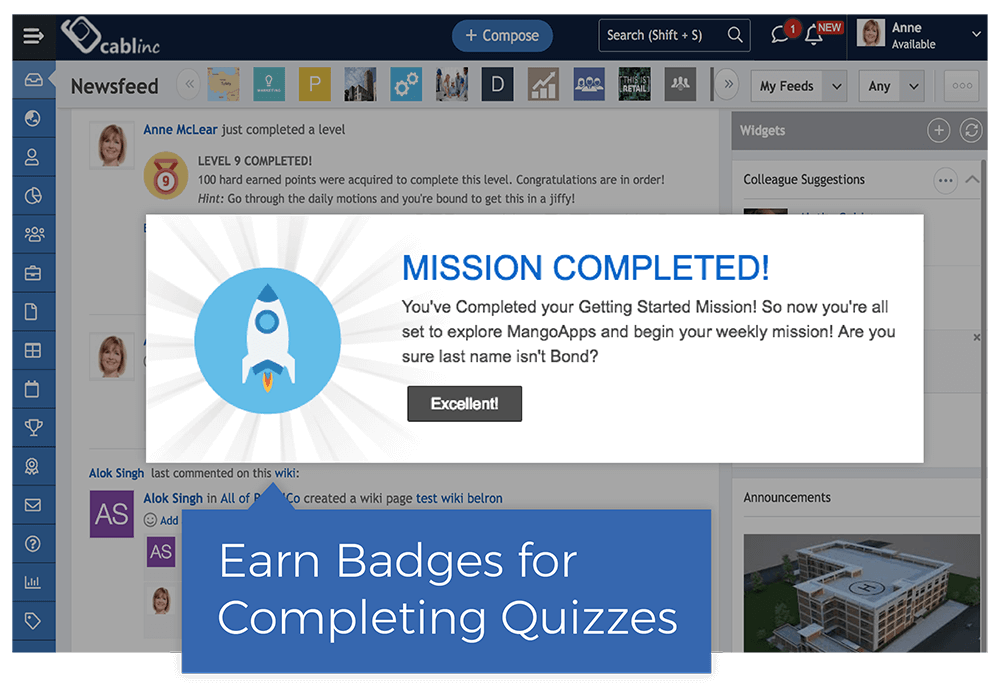 Additional Quizzes Features
Randomize Question Order
This option randomizes the questions order for the quiz.
Clone Quizzes
Cloning addresses the need of having the same or similar quiz for a different target audience.
Deleting or Disabling Quizzes
Quizzes can be deleted or restored from the trash can within the admin portal. If quizzes are not useful or being misused, the quizzes app can be turned off by an admin in the active modules.
Editing Quizzes
Once a quiz has been published, its content cannot be changed, however preferences and notification settings can be changed.
How Our Customers Use Quizzes
1

Test employee knowledge and ensure product or process comprehension

2

Quick and easy quiz builder that requires no technical skill or background

3

Create a fun company culture and gamification of points to earn levels/badges

4

Gather and share crucial quiz results and insights

5

Allow users to take quizzes on their own time from any device
Bring your frontline and office teams together on one common platform
It has never been this easy to create the perfect employee experience for your deskless and deskbound workers. Contact us to discuss requirements, pricing, rollout and support. Get your free demo today!