Give Employees A Voice
Build a better workplace with employee polls. Measure job satisfaction, evaluate performance,
and get crucial feedback from employees.

Build Effective Audiences
Quickly share polls with advanced filters that allow you to target the right people for any topic.
Add An
Expiration Date
Designate an expiration date for a poll to encourage participants to respond quickly and cap the accepted employee response time.
Add Relevant Tags
Attach relevant hashtags to polls to help make the objectives clear and make the poll easier to search for.
Seamless Poll Drafting
Our poll builder is easy to use, and can be created & sent out to a desired audience in seconds.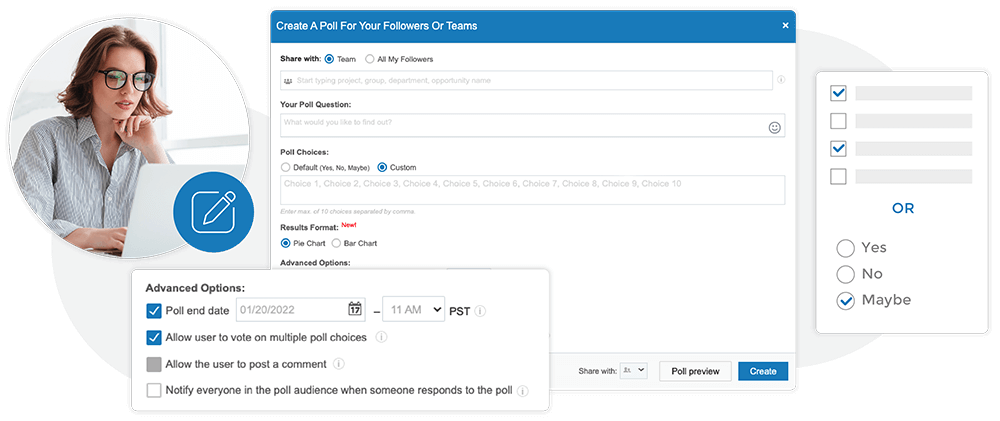 Detailed Analysis Tools
Dig into poll results in real time with detailed analysis tools that help you make informed business decisions.
Edit Existing Polls
Create and share polls in seconds. Existing polls can be edited without interfering with the already-acquired data.
Enable Comments
Users can enable comments to allow participants to provide alternative answers or additional details to a poll question.
How Our Customers Use Employee Polls
Gauge Interest
Gauge employee interest on topics and make informed decisions
Target An Audience
Easily build poll audiences using intuitive filters, targeting the right people for any topic.
Honest Feedback
Provide anonymity for sensitive questions, allowing employees to answer honestly
Gain Insight
Analyze poll results to draw relevant insights that help drive business decisions