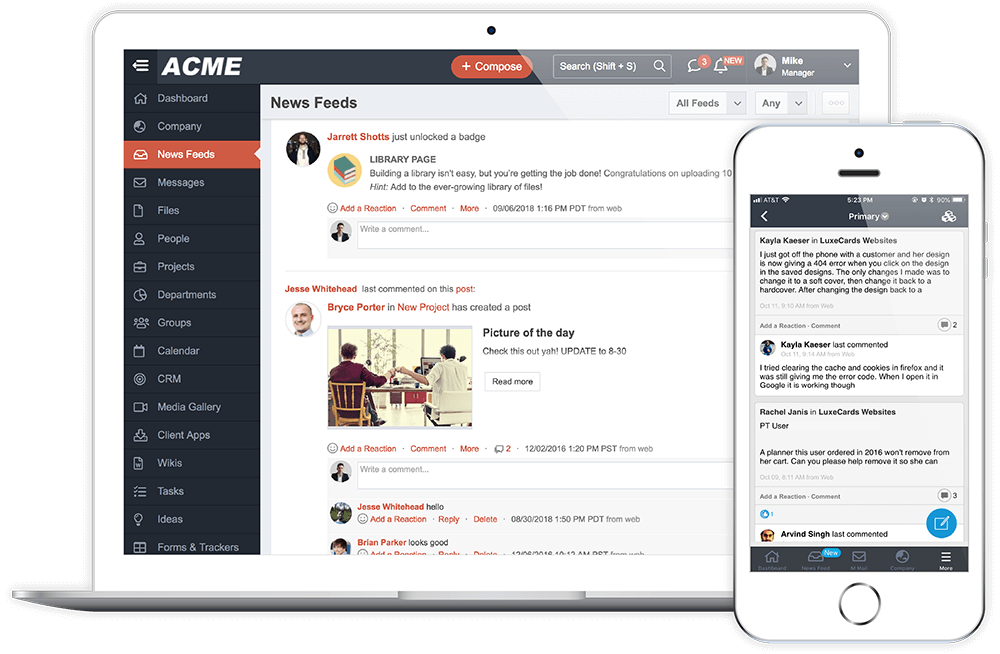 Enterprise Activity Stream
MangoApps news feed is the grand central station for all items a user is following or teams they are part of. It is the single location to read important items, react, comment, and share work conversations. Users are able to find what is meaningful to them and react or respond accordingly.
Keeping Everyone In The Loop
Unlike working through email strings which lack visibility as they fragment, everything that happens is visible to all associated users. If team members work through resolving an issue, or a colleague posts updated project files, every important action is documented and visible to all associated members.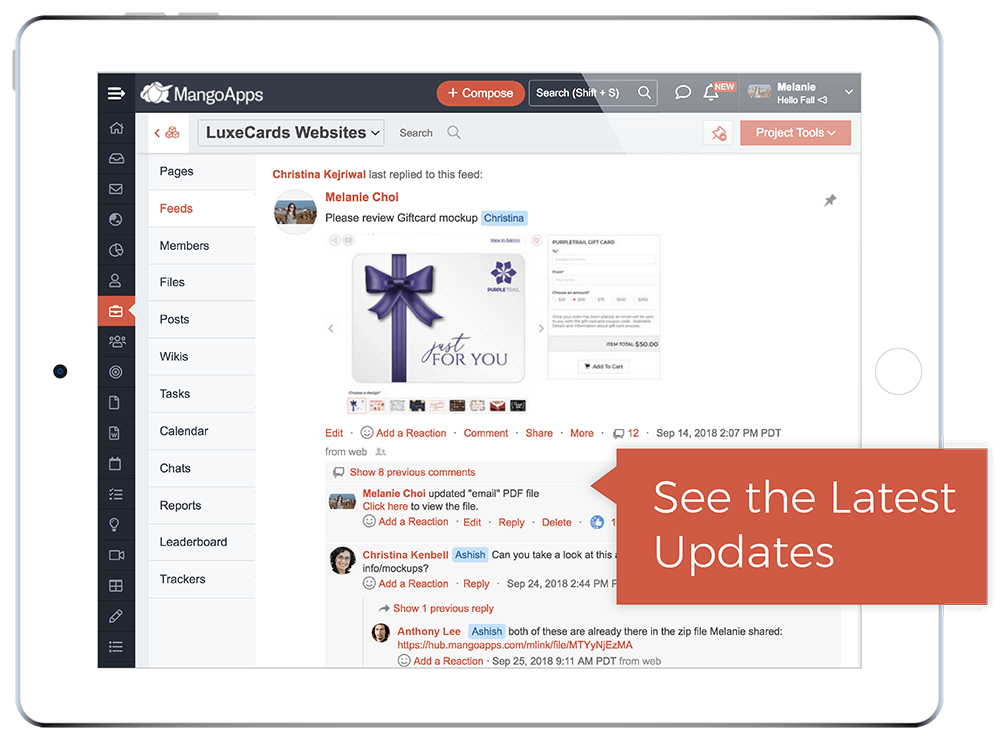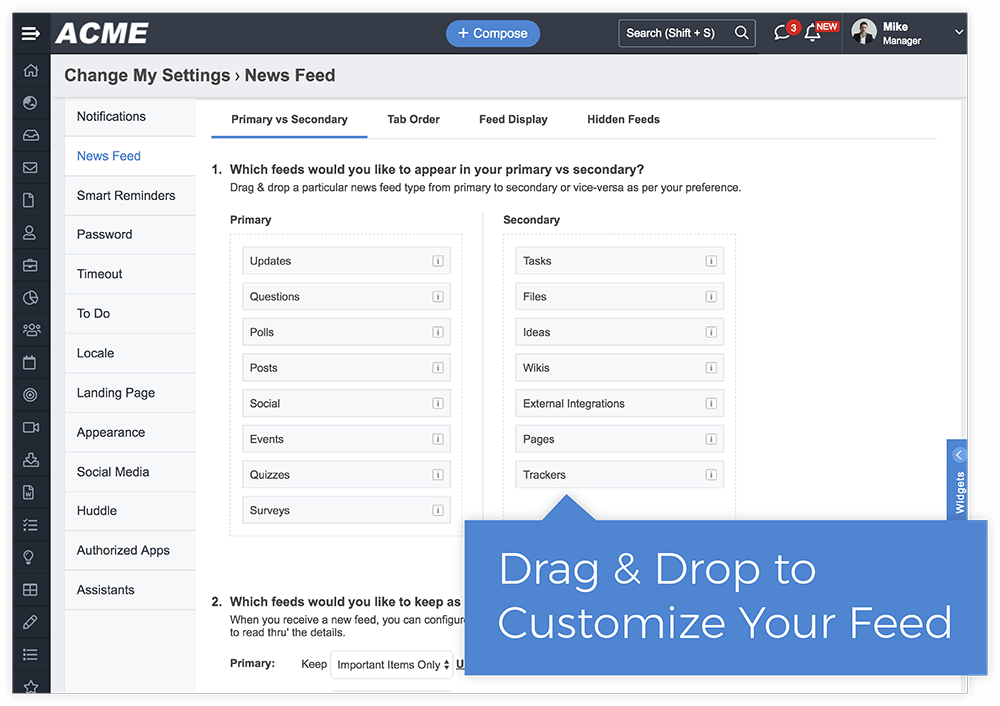 See Important News First With Feed Preferences
Users customize their feed and decide what news is the most important to see first. By classifying what shows up in the primary or secondary feed, only the most important items will be visible first. With an easy drag & drop, feed types are organized to fit the user's needs,
Better Content Than Email
Staying up to date with news and progress through email greatly limits the content and reach of conversations. With the News Feed, the right content experience is always available, allowing users to intuitively respond to polls, ask questions and get answers, preview links, share large files (up to 5GB per file, and a number of other engaging activities.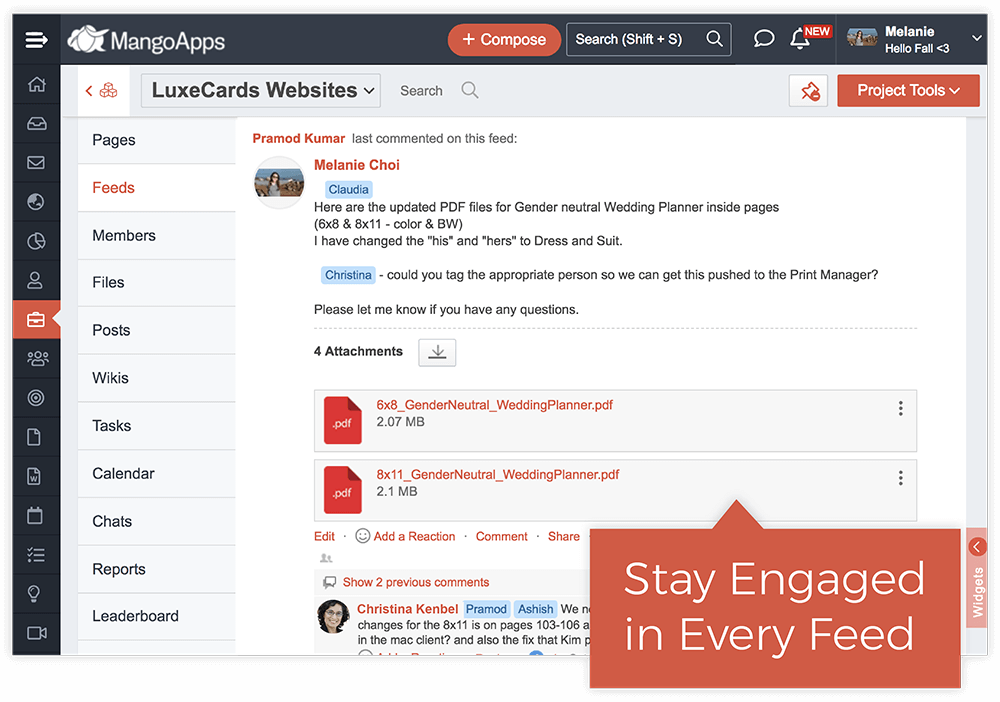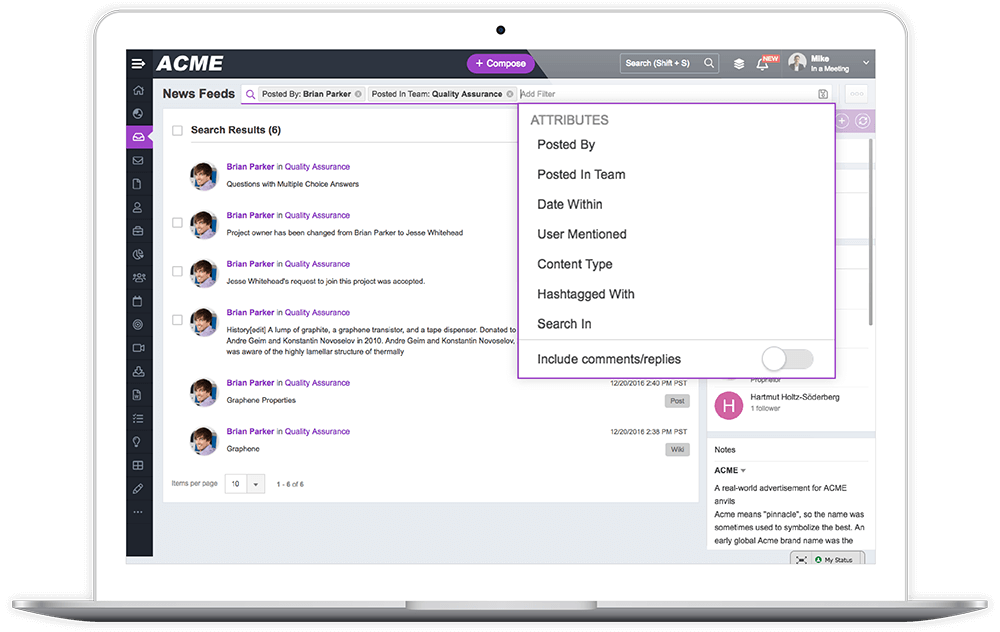 News Feed Search
While filters are a great way to narrow down content, users can also search for items broadly searching directly in the newsfeed module. Users will be able to find anything they are looking for by utilizing powerful advanced search using attributes such as: posted by, date within, user mentioned, content type, and more. Users can repeat searches they need often by saving a search and its filters.
Mark As Unread or Pin For Follow-up
News feed items can be converted to tasks to initiate a workflow, easily pinned to allow users to come back to it later, or added to the todo list. Anything on the feed can be marked as 'unread' giving users another option to make sure they don't miss following up on something important.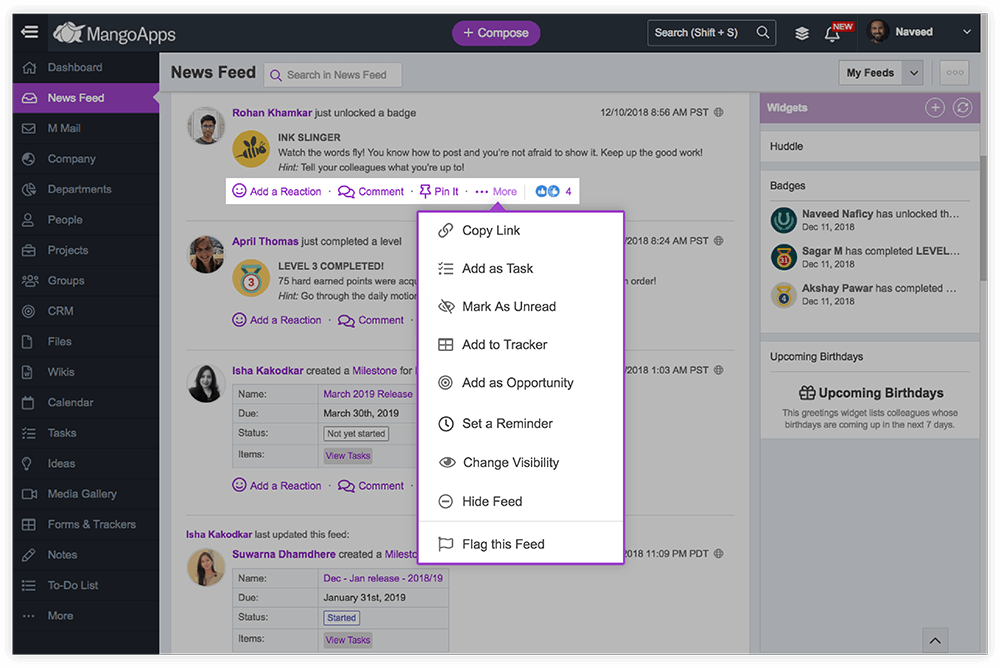 Additional News Feed Features
Mentions Feed
This feed filters all updates, comments, or posts that a user has been specifically mentioned in.
Hidden Feeds
Users can hide feeds as needed, selecting a particular feed to hide, or all feeds from a team or user.
Filter Updates Quickly Or 'Mark As Read'
Users can hide feeds as needed, selecting a particular feed to hide, or all feeds from a team or user.
How Our Customers Use News Feed
1

Read important items, react, comment, and share work conversations.

2

Manage and sort the order and important of news and updates

3

Pin important feed items based on its urgency for follow-up

4

Hide or quickly mark things as read to avoid distractions

5

Filter, search, and find important or actionable updates

6

Keep projects on target by keeping all stakeholders in the loop
Provide a unified employee experience with MangoApps
Bring company intranet, employee communications, work management and employee training in one platform for an integrated employee experience. It has never been this easy to create the perfect employee experience. Contact us to discuss requirements, pricing, rollout and support.