Stay On Top Of Tasks
And Updates In Real Time
One central source for your individual, team, and company updates, where you can respond, take action,
and bring in colleagues, all on a single page.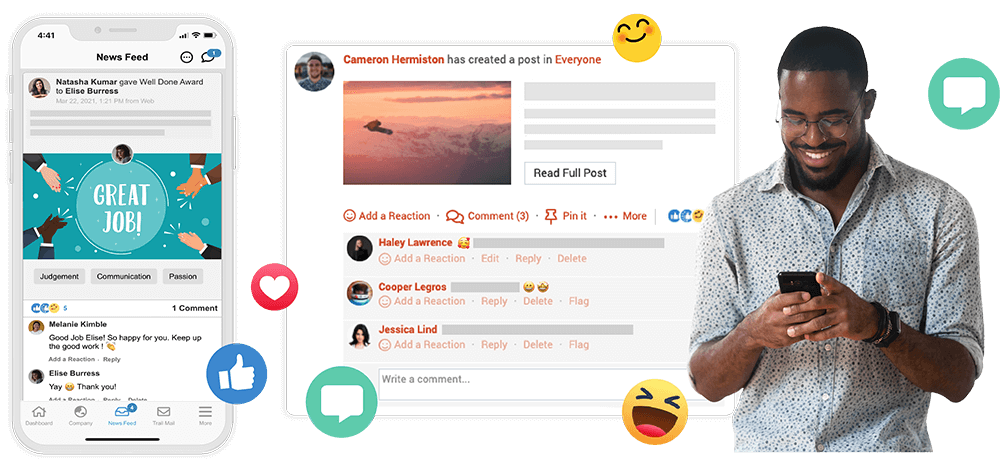 Enterprise Activity Stream
Read important items, react, comment, and share work conversations. Users are able to receive a constant stream of important and relevant updates without any clutter.
Stay In The Loop
Keep employees in the loop with a documented and easy-to-view thread of updates, project files, and conversations surrounding a specific topic.
Feed Preferences
Users can customize their news feed and decide what news is the most important to view, react, and respond to first.
Generate Project, Team-specific,
Or Department News Feeds
News feeds exist at both a general and team-specific level,
allowing you to see updates on specific projects or groups wherever you need.
When our employees come across a news feed post that they think is useful or important, they can pin it, and easily get to it later, which I think is great.
- Arshia Sultan, Senior Director, CCS Fundraising
Recommended Mode
Automatically personalize an employee's news feed, showing them what is most relevant to them first so that they don't drown in less relevant communication.
Improved User Experience
With the News Feed, the right content is always available, allowing users to respond to polls, ask questions, preview links, share large files, and more.
Pinned & Unread Items
News feed items can be 'pinned' to allow users to come back to it later. Mark an item as 'unread' to ensure that you don't miss following up on something important.
Additional News Feed Features
The News Feed dashboard widget shows all relevant updates and helps users with optimal productivity.
Filter all updates, comments, or posts to only include ones where a user has been specifically mentioned.
Users can hide feeds as needed, selecting a particular feed to hide, or all feeds from a team or user.
Updates can be quickly filtered to reflect a certain set of criteria determined by the user.
MangoApps gives me a perfect and instant sense of what's happening in our business, what the emotions or the trending topics are. It's the perfect way of getting to know what's going on within our stores.
- Jan Carel Uylenberg, HR Director, A.S. Watson Benelux
How Our Customers Use
News Feed
Stay In The Loop
Read important items, react, comment, and share work conversations
Take Action
Filter, search, and find important or actionable updates
Ensure Follow-Up
Pin important news feed items based on its urgency for follow-up
Minimize Distractions
Quickly hide or mark items as 'read' to avoid distractions
Remain Organized
Manage and sort the order and importance of news and updates