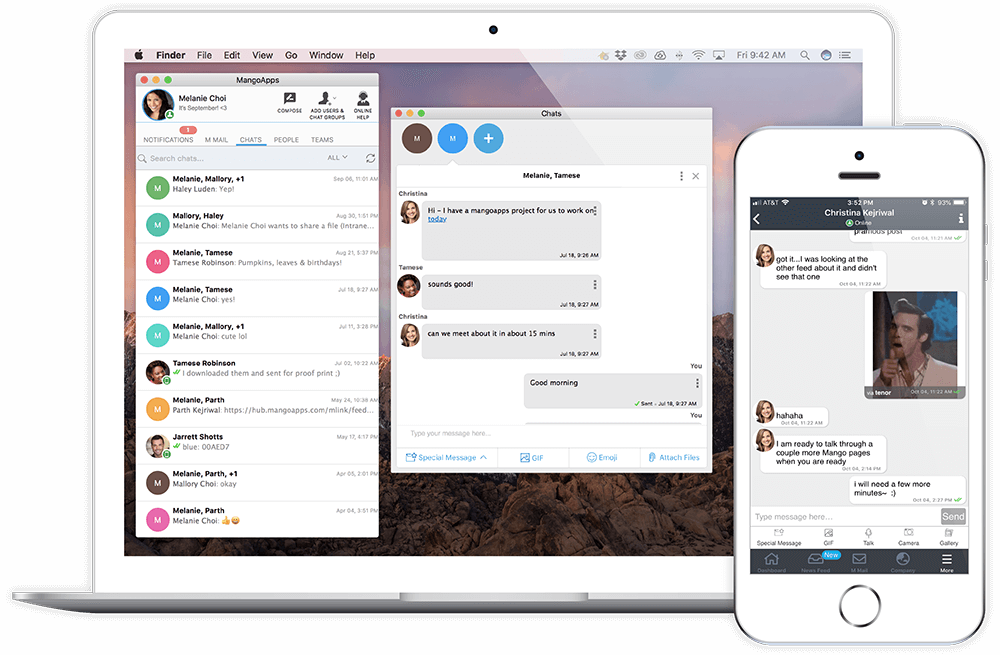 Instant Messaging from Anywhere
The fastest and easiest way to connect with co-workers online is chat. Real-time chat can be initiated with any co-worker or team at anytime, from any device. Instant messaging provides users with the ability to cut across complex team dynamics to get answers and get work done fast with intimate communication using the browser IM bar, or apps for Mac/PC, iOS, and Android.
Group Chat for Collaboration
Group Chat combines the immediacy of instant messaging with team collaboration to make small or large projects a breeze. Users can expand on ideas and tasks with dozens of other colleagues and stakeholders simultaneously. Initiating a group chat is easy to do by selecting specific groups or projects, or adding any two or more users to a conversation.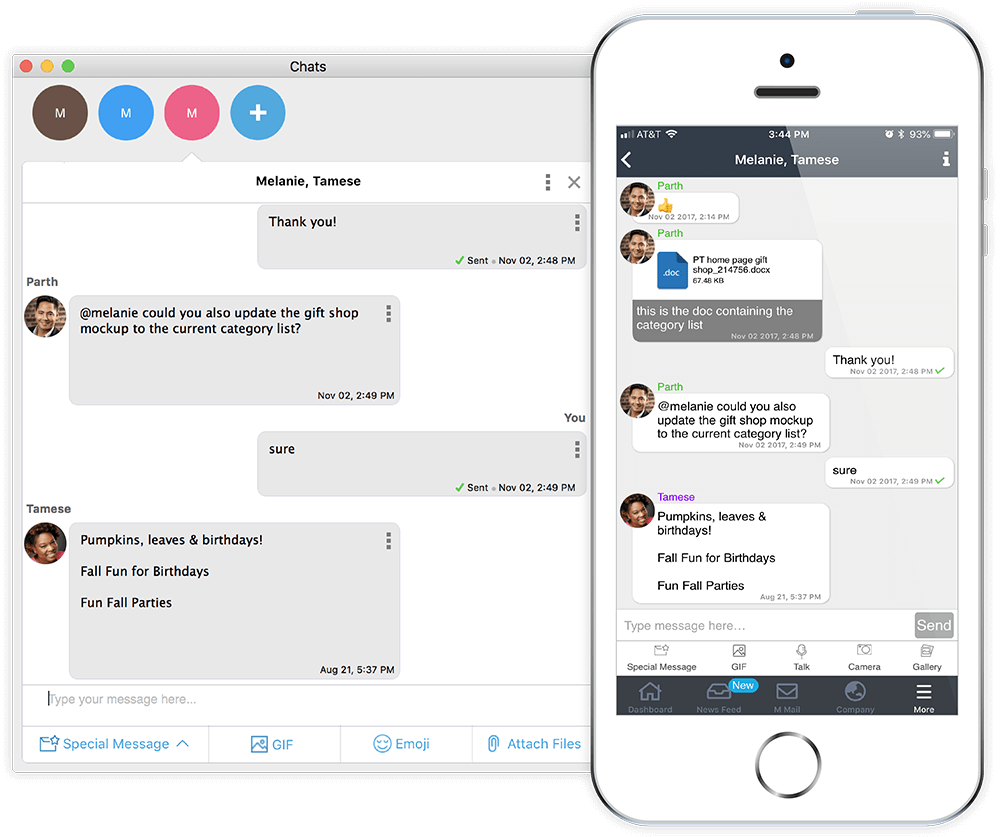 Know When Messages are Received and Read
Get important messages out to an individual or team, and get confirmation that it has been received and read. If a user is running late to a meeting or there are last minute plan changes, it is important to know that the notice is received. The read receipt feature allows for peace of mind knowing that a chat message has been seen in time.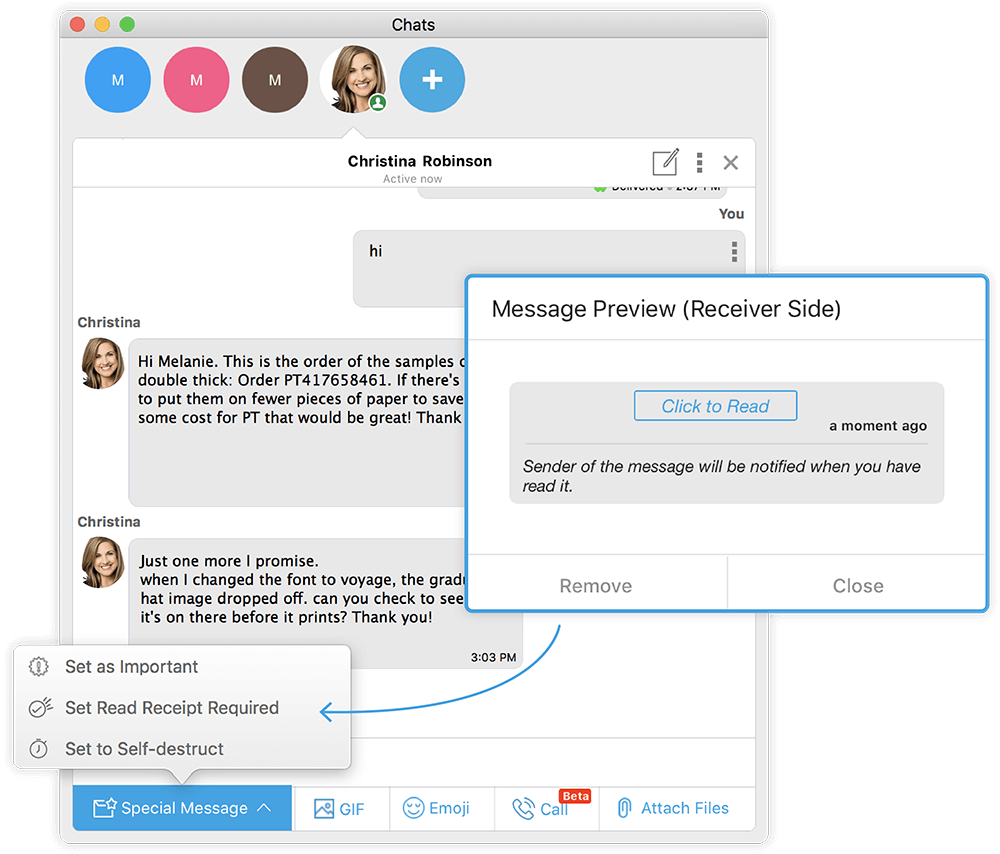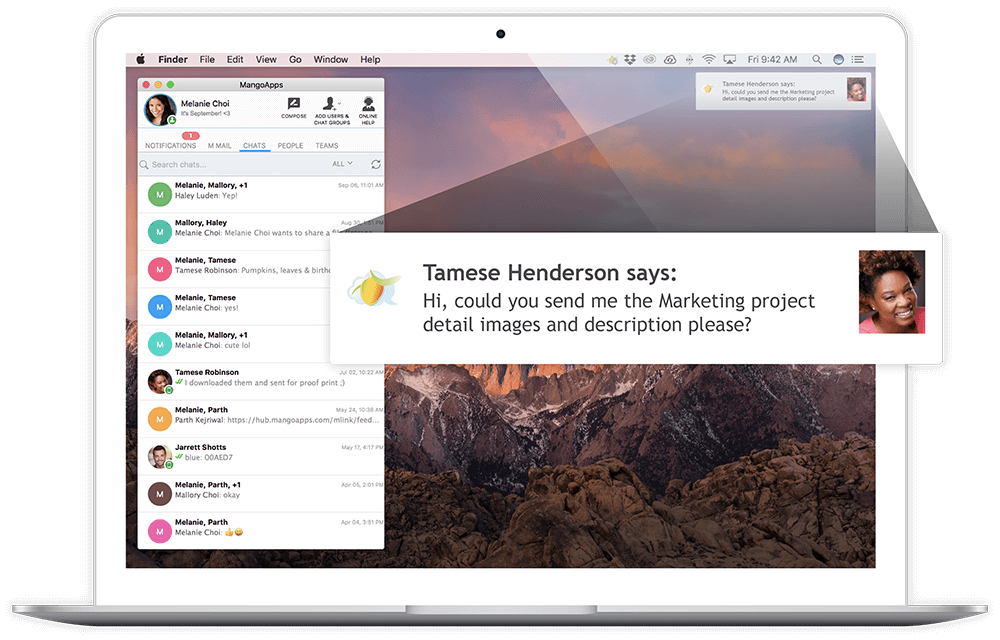 Never Miss a Message with Notifications
Not only are web notifications enabled in the browser, but mobile and desktop versions of MangoApps ensure that users never miss a message. iOS and Android devices can be configured to send push notifications as chats are received, while the desktop application has settings for new message sounds, notification toaster and animated application icon.
Additional Instant Messaging Features
Unread Chats While Offline
If chats are received while offline during a group chat session or conversation with an individual, those chats are saved and available for quick access next time the user is online.
Share Large Files
Sharing large files (up to 5GB) is easy with MangoApps. Users can share any number of documents, large video files or image collections freely. Dragging and dropping a file into any IM screen on browser or desktop makes for quick and easy messaging.
Deleting Chat History
Network admins can set the permissions to allow or prevent deletion of instant messages. Users can be allowed to their delete their own messages only from a private chat, or have no ability to delete messages. In a team or group chat, members can either delete their own messages, limit deletion to admins only, or prevent all deletion.
Admin Access To Chat History
Admins in MangoApps have many privileges. If an admin needs to see the conversation of one user to another they can either log in as that user with a superuser password, or export domain data and search by user ID to discover message content.
How Our Customers Use Instant Messaging
1

Allow colleagues, teams, and groups to instant message in real time from any device

2

Collaborate on group projects with members from different teams and offices

3

See who is online and send them an instant message based on availability

4

Send crucial messages with read receipts to confirm that they have been acknowledged

5

Share sensitive information with expiring messages

6

Allow users to share large files or videos through chat

7

Never miss a notification or message on any device, or when offline

8

Find important files, information or conversations by searching deep in chat history
See how MangoApps works. Get a personalized demo.
Schedule an introductory call so we can go over your requirements, demonstrate how MangoApps will meet those requirements, discuss pricing and help you decide if MangoApps is right for you.