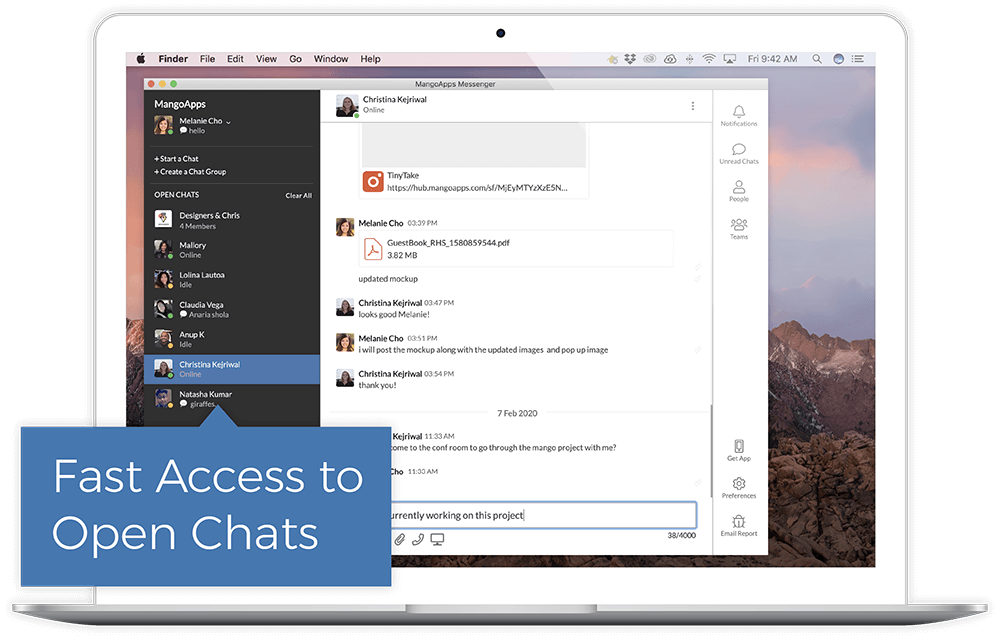 Real-Time Communication From Anywhere
MangoApps Messenger for PC/Mac, mobile, and web allows users to quickly and securely connect and chat with coworkers or employees through real-time messaging. Users can privately message individuals or reach out to groups completely hassle free from any device. A list of open and pinned chats makes it easy for users to have fast access to important or ongoing conversations.
Know When Messages are Received and Read
Get important messages out to an individual or team and get confirmation that it has been received and read. If a user is running late to a meeting or there are last minute plan changes, it is important to know that the notice is received. The read receipt feature allows for peace of mind knowing that a chat message has been seen in time.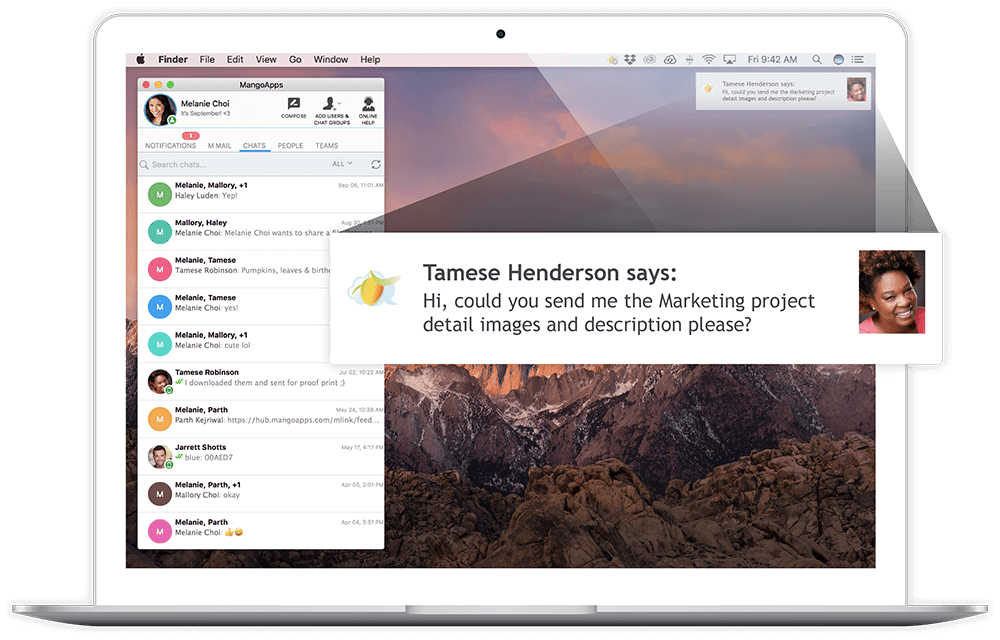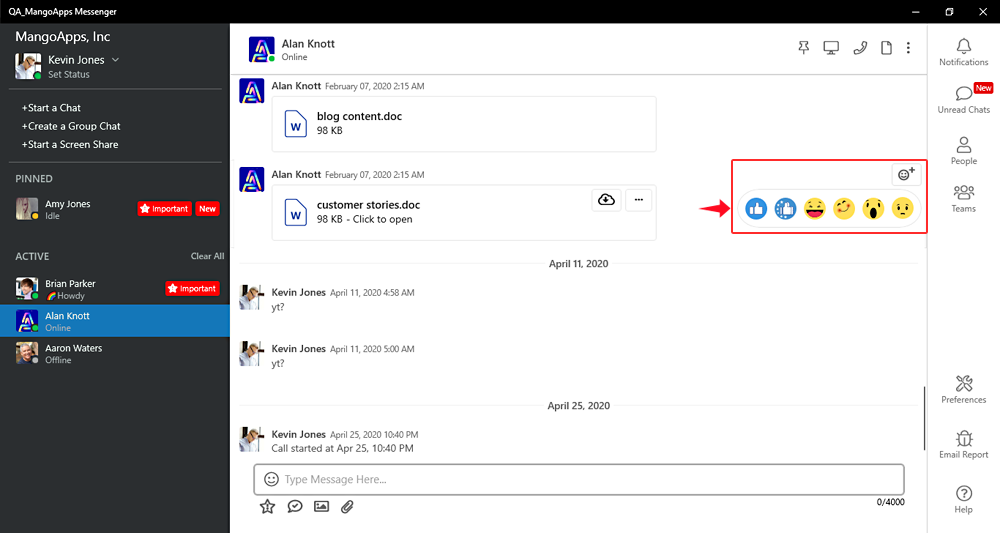 React & Engage With Chat Messages
Users can like, super-like, and add other reactions to any chat message. These chat reactions are available in both 1-1 and team chats, and users can view a list of users who have already reacted to a chat message. This is supported on both Windows and Mac desktop chat clients.
Additional Instant Messaging Features
Unread Chats While Offline
If chats are received while offline during a group chat session or conversation with an individual, those chats are saved and available for quick access next time the user is online.
Share Large Files
Sharing large files (up to 5GB) is easy with MangoApps. Users can share any number of documents, large video files or image collections freely. Dragging and dropping a file into any IM screen on browser or desktop makes for quick and easy messaging.
Deleting Chat History
Network admins can set the permissions to allow or prevent deletion of instant messages. Users can be allowed to their delete their own messages only from a private chat, or have no ability to delete messages. In a team or group chat, members can either delete their own messages, limit deletion to admins only, or prevent all deletion.
Admin Access To Chat History
Admins in MangoApps have many privileges. If an admin needs to see the conversation of one user to another they can either log in as that user with a superuser password, or export domain data and search by user ID to discover message content.
How Our Customers Use Instant Messaging
1

Allow colleagues, teams, and groups to instant message in real time from any device

2

Collaborate on group projects with members from different teams and offices

3

See who is online and send them an instant message based on availability

4

Send crucial messages with read receipts to confirm that they have been acknowledged

5

Share sensitive information with expiring messages

6

Allow users to share large files or videos through chat

7

Never miss a notification or message on any device, or when offline

8

Find important files, information or conversations by searching deep in chat history
Bring your frontline and office teams together on one common platform
It has never been this easy to create the perfect employee experience for your deskless and deskbound workers. Contact us to discuss requirements, pricing, rollout and support. Get your free demo today!