Quick Messaging From Anywhere
Individual and group chats within MangoApps are fast, easy, and accessible from desktop, mobile, or web.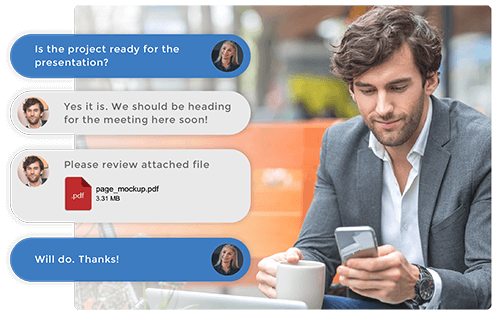 Find and Connect With Anyone
Send a quick message, share your screen, or jump into a video call in seconds, straight from your employee directory.
Presence Indicators
See at a glance who is online or offline at any moment. Optional notifications show when users you follow move online or offline.
Status Updates
Users can select a status that is visible within chat, letting colleagues know of their current activity and availability.
Video Chat And Screen Share
Users can share screens and start video chats instantly, ensuring that remote teams can collaborate on projects and communicate with their peers.
Rich Media
Users can share and view images, videos, and audio files inside any active conversation, which are saved into a library for future access.
Notifications
Flexible notification preferences let you decide how and when to be notified. Notifications can be configured to be 'sticky' or 'auto-close' after 5 seconds.
Group Chat
Need to collaborate with a group of your peers? Add a team or select individuals to the group chat. Chat history is automatically saved.
Admin Permissions
Network admins can set permissions to allow or prevent the deletion of instant messages at different user levels.
Native Apps
MangoApps Chat is available on Windows, Mac, mobile, and as a web-app.
Fully Searchable Archive
Chat history with colleagues and teams is archived, searchable, and wrapped into the MangoApps Global Search.
We use chat all the time in our team, even across teams, which makes it really good for us. This is the first time that we've had a product that is both on the clinical side of the house and the administrative employee side of the house where we can all talk to each other and it's really aided in collaboration.
- Jonathan Hensleyr, Cloud Engineer, TeamHealth
Read Receipts
Check marks under every message show when they've been read or received. Must-read and important messages let you cut through the noise with crucial information.
Emoji Reactions
React to messages with likes, super likes, and other emojis, and see a list of users who have reacted. This reduces unnecessary messages and promotes engagement.
Additional Instant Messaging Features
Chats received while offline are saved and available when you return. Mobile app users can configure push notifications to ensure they always receive messages.
Pin the conversations you use the most, so that they are easy to find at all times.
Mark conversations that include any unread important messages or messages that require an acknowledgement as read.
How Our Customers
Use Instant Messaging
Collaborate
Collaborate on group projects between teams and locations
Share Files
Allow users to share large files or videos through chat
Real Time Message
Allow colleagues, teams, and groups to instant message in real time from any device
Search History
Find important files, information or conversations by searching deep in chat history
Online Status
See who is online in real time
Offline Messages
Never miss a notification or message on any device, or when offline
Message Alerts
Send crucial messages with read receipts and important message alerts
Looking For a Standalone Chat App?
Our sister company OfficeChat offers a standalone version of MangoApps Chat.
LEARN MORE