Ditch the Walkie-talkies
Make it easy for operational workers and management to communicate with each other, regardless of their physical location.
Mobile apps, downloadable on personal or company phones, allow you to reach workers wherever they are and give them important updates
Send important messages without the added cost of an email account for every staff member
Enable instant two-way communication with anyone regardless of where they are, to ensure that messages are received, understood, and carried out
Automatic translation into dozens of languages ensures that your messages are understood
Hands-off Onboarding
Training courses supplement hands-on instruction and are easy to import, create, and deploy.
Personalize the onboarding process for each staff member with different formats (multimedia, self-paced, instructor-led, live courses) to suit diverse styles of learning
Track employees' progress with certificates and automated alerts to make sure no one is left behind or put out on the floor without proper training
Extinguish Burnout
Constantly being on call or working long, thankless hours can be exhausting—increase employee satisfaction to reduce turnover.
Informal workspaces and group chats give your hard-working employees a place to connect and share their thoughts
Show appreciation for all that your staff do for guests with a recognition and rewards program
Employee sentiment surveys give you insights that keep you ahead of potential issues
Renovate Workflow Processes
Revamp operational tasks to empower operational employees to work efficiently
Transform task-based collaboration with tracking spreadsheets to save time and streamline work fluency
Automate repeatable business processes to minimize margins of error and increase task completion for all workers
Mobilize Your Enterprise
Effective work can be done anywhere, anytime with our mobile platform.
Connect workers from every location with our fully functional app to maximize efficiency of all employees regardless of their computer accessibility
Simplify the operational process for operational staff members with the mobile app to allow for easy access for your workers
Keep managers and non-operational staff in the loop when they are on the go or working remotely
File Organization
Develop a well-arranged, secure database to collect and store company information and files all on one centralized platform.
Create interactive forms for workers that convert to easy-to-read spreadsheets for error-free, streamlined requests and information gathering
Give every employee an organized repository of policies and information, reducing questions through self-serve HR and IT content
Break free from legacy systems and move forward faster with MangoApps.
A unified employee experience saves employees time, improves workplace efficiency and agility.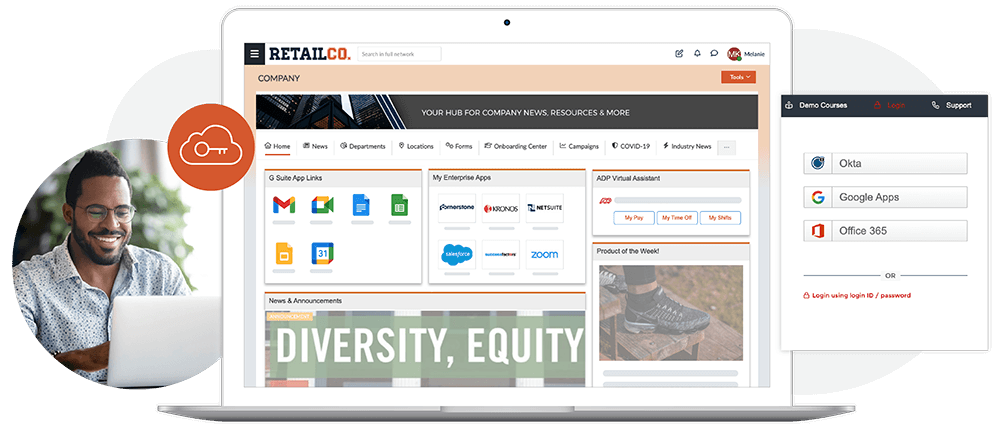 Talk to a product expert to learn more