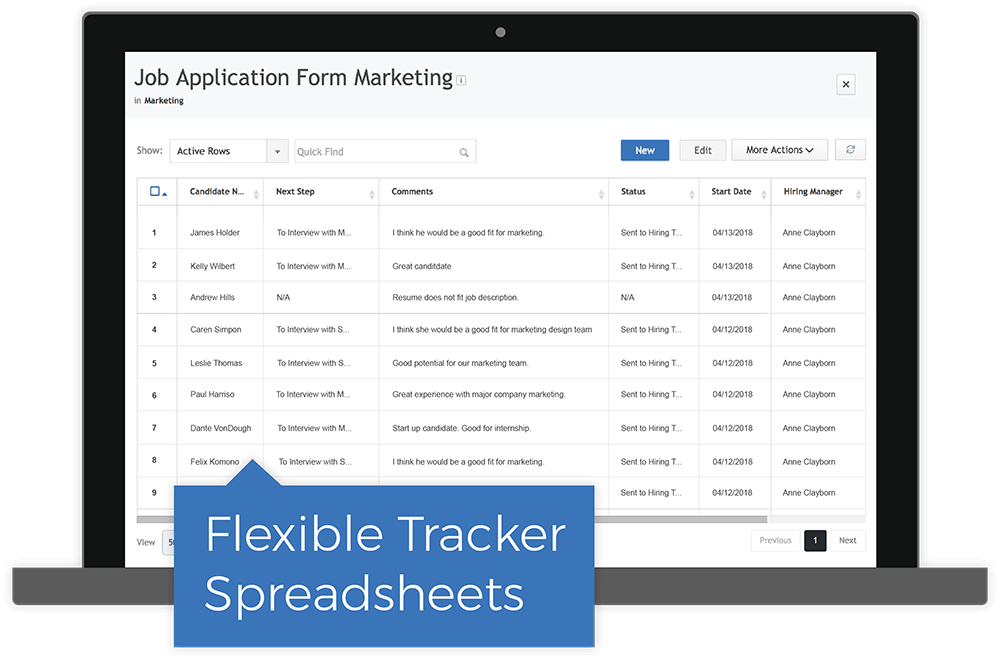 Maintain & Track Important Data
MangoApps trackers act as a modern database, allowing users or admins to maintain and manage crucial information. Users and admins get access to flexible data tables just like spreadsheets, with powerful database tools allowing users to search, share, modify, import/export, share, or use the data in a number of ways.
Secure Data Collection With Forms
Rather than making contributors access the database, or even reveal sensitive data, custom forms make it easy to collect information from anyone, saved directly into the tracker. Forms are easy to create with fields that can be named, described, or rearranged, and can even be assigned default values or set to required. Any number of forms can be created for a tracker, allowing for different views or points of data entry depending on the user.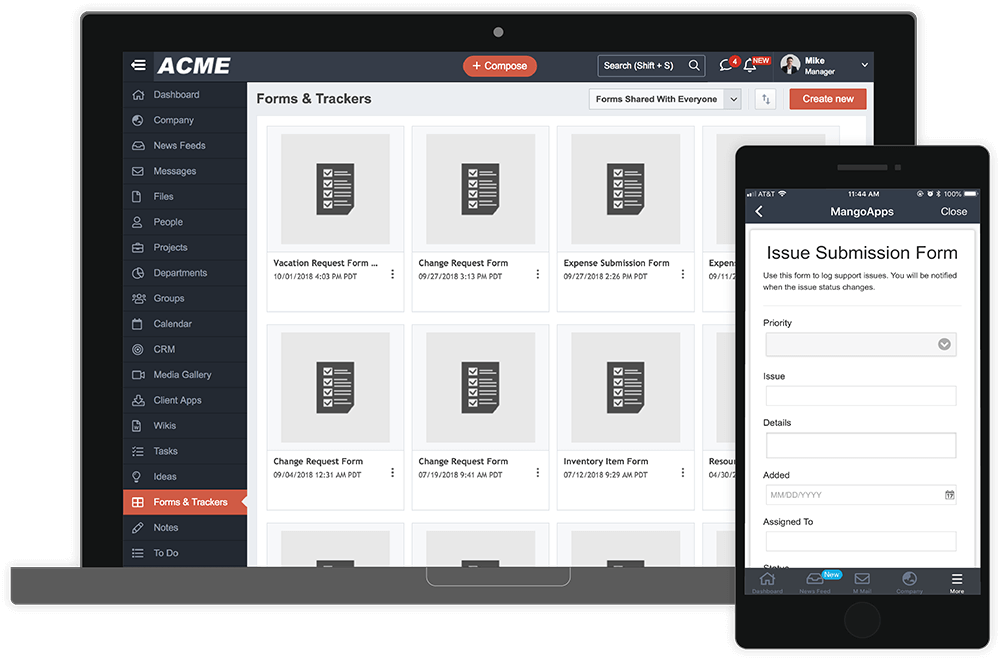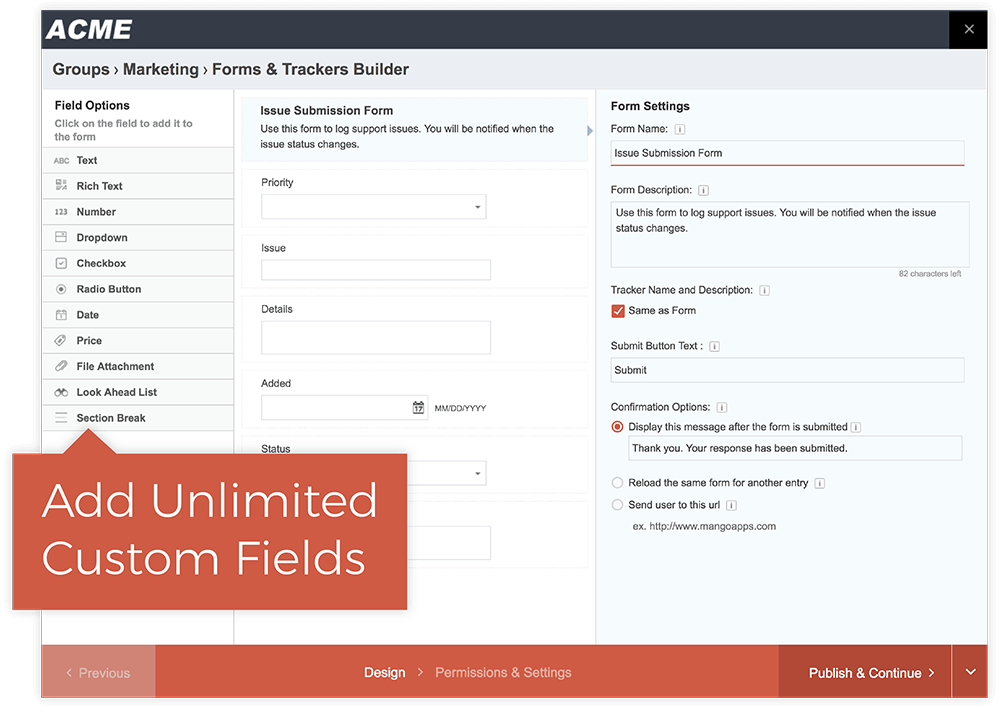 Easy To Create With Custom Fields
The online tracker designer makes it easy for anyone to create trackers and forms from scratch. Set rules or reorder fields with a simple drag and drop. Customizable field options include: Text or Rich Text, Numbers, Drop-downs, Checkboxes, Radio Option Buttons, Date, Price, Smart Formulas, File Attachments, or a pre-populated look ahead list.
Ready-To-Use Tracker Templates
MangoApps comes shipped with 20+ ready-to-use tracker templates to cover a range of use cases including applicant tracking, time tracking, expenses, asset/contract management, payroll, meetings, requests, bugs & issues, content planning, customer tracking, and much more! Save time and see better consistency with ready-made and customizable templates.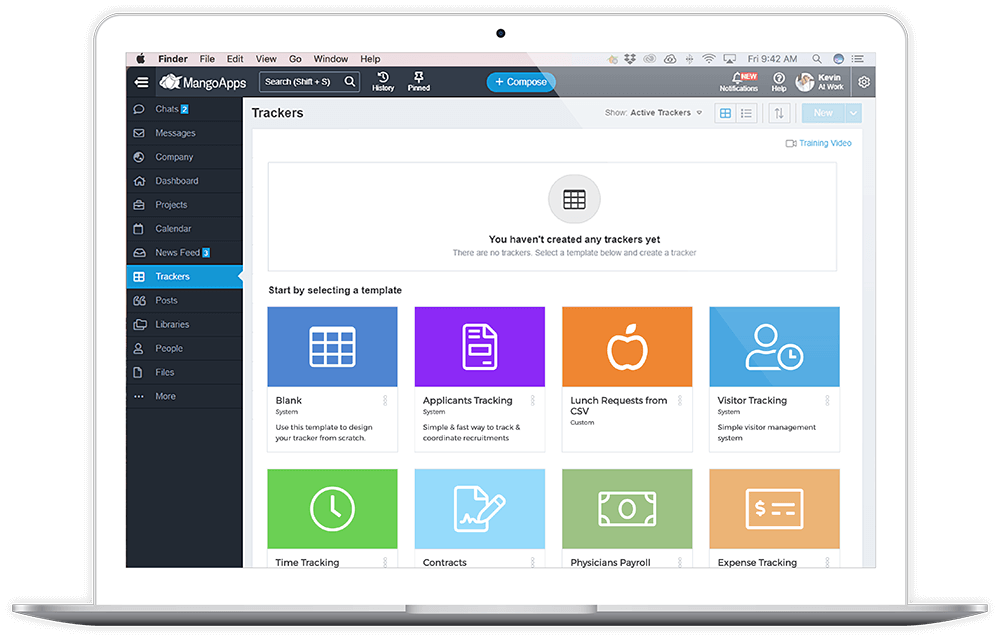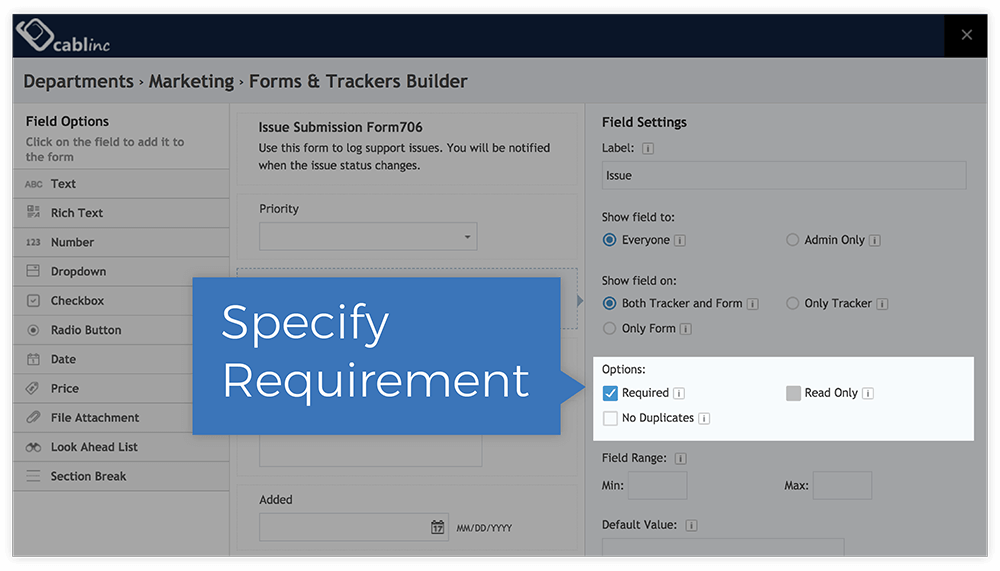 To ensure that collected data is clean and clear, when designing a tracker fields can be set to required or even specify a valid acceptance range. MangoApps will take care of enforcing validation on the input data, with error prompts for users to guide them in fixing the data input.
Give users access to relevant data, or limit prying eyes by creating unique tracker views. Enable or disable columns as needed, and even create filtering conditions that ensure only the necessary data is displayed. This makes it easy to share a tracker view with an entire team or organization, but limit individual view permission based on ownership or other filters.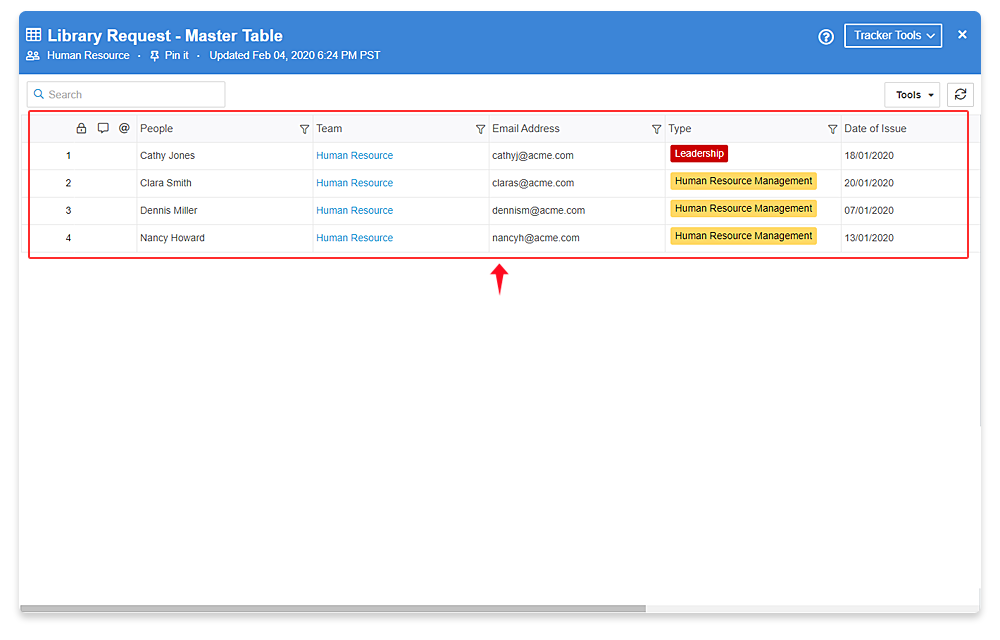 Additional Tracker Features
Manage Team Notifications
Configure team notification settings to alert for any kind of data changes, including when data is added, edited, or deleted. .
Set Permissions For Manipulating Data
Data entry permissions can be set to limit the ability of team members, non-team members, and public users to share data, make additions/edits, or modifications.
Tabular Data
Users make mistakes or change their minds when submitting information, meaning someone has to add it later. Trackers are flexible data tables, just like a spreadsheet, meaning they can be restructured with more columns, or added data.
Data Export
Data can be exported from any tracker with ease. Select necessary rows, or export all data to PDF, XLS, or CSV.
Archiving Data
Choose to archive rows and show them as needed.
Programmable With API
With RESTful Mango API, create and get data from trackers depending on business needs.
How Our Customers Use Trackers
1

Track and maintain important business data

2

Quickly and easy gather data or submissions using forms

3

Search, share, or use tracker data based on business or team needs

4

Manage notifications and set permissions for internal or external user editing

5

Export data with ease in a number of usable formats

6

Track and manage the response of change requests, purchase requests, and issue reporting

7

Maintain facility and office inventory or assets
See how MangoApps works. Get a personalized demo.
Schedule an introductory call so we can go over your requirements, demonstrate how MangoApps will meet those requirements, discuss pricing and help you decide if MangoApps is right for you.