Distribute & Oversee Action Items
Delegate tasks, break down assignments, and get both high-level and granular views of your projects.
Our deep task management feature set can fit into any team's workflow.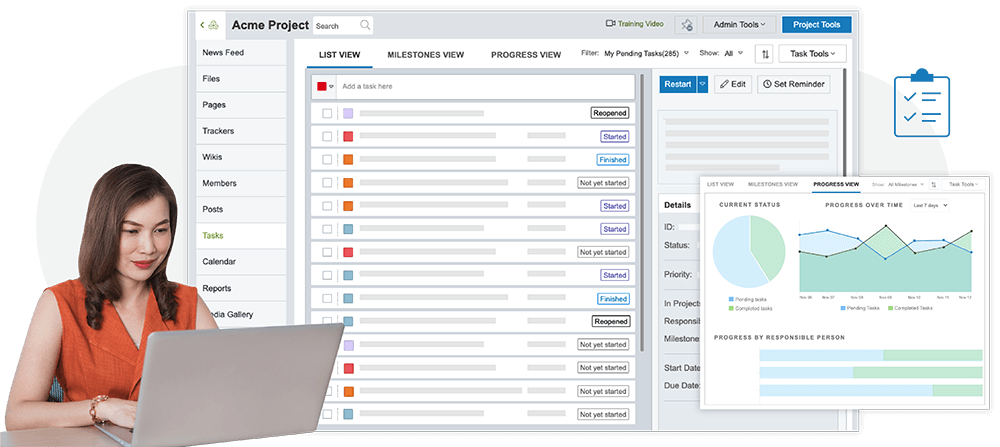 Stay Organized
All tasks, across multiple projects are integrated in one place. Users always stay focused because priorities across multiple projects remain clear and organized.
Keep Projects
On Track
Make sure projects stay on track with due dates, conversations, files, checklists, and time-logs for each task, all in one place.
Filtering & Sorting
Quickly find and view any subset of tasks with advanced filtering and sorting. Filters drill down by task status, type, priority level, or specific projects.
Task Workflows
Tasks have a logical flow and change state as work progresses. Marking a task as 'started' indicates that it is being actively worked on. Tasks then move through steps from finished to delivered.
When we launched our volunteer project space, we added a bunch of tasks so people can come grab them and go and knock them out.
- Scott Fahrney, Chief of Staff, Florida State Alliance of YMCA
Milestones
Milestones help with release management to keep projects on track. Ensure that projects are delivered on time by keeping up to date with a milestone's health status & using daily check-ins.
Checklists
Use checklists within a task to break down big chunks of work into smaller items that are easier to track and complete.
Additional Features
Users and admins can create their own vocabulary to match how teams work.
Users get notified when changes are made to project tasks that they are responsible for completing, or if they are an approver.
As work is broken down and organized into multiple tasks, a user can add them together into the project pool as a bulk action.
Tasks that happen every couple of days or on a regular schedule can be set as 'recurring', and will repeat until a defined date.
How Our Customers
Use Tasks
Stay Organized
Stay organized and on track with projects and milestones
Improve Productivity
Turn big projects into manageable and collaborative experiences
Prioritize Tasks
Work on tasks based on their importance, due date, or other signifiers
Remain On Track
Manage task workflows to ensure that projects stay on track
Update Customers
Export task lists to PDFs for sharing with customers or stakeholders