Create Searchable, Task-oriented
Team Workspaces
Project workspaces offer a visible, consolidated area for collaboration, with communication and task management
features that ensure your projects make it across the finish line.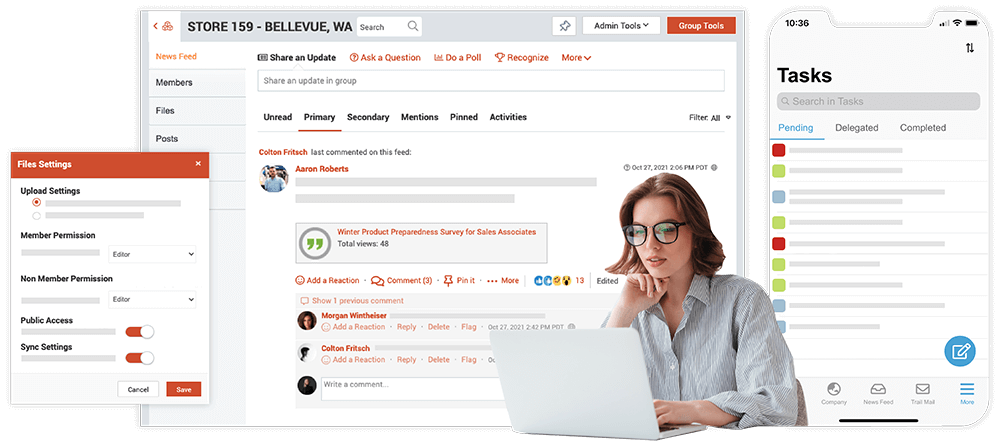 Project Visibility
When creating or editing a project, admins can set the permission level to Public, Private, or Unlisted. Users will only be able to view projects they have access to.
Customize Modules
Admins can modify project modules to fit the purpose of the project as needed. Modules that can be turned on/off include Files, Posts, Wikis, Tasks, Calendar, IM, and more.
Keep Projects
On Track
The task management module keeps projects on track, ensuring the right resources are there to finish on time or on budget.
Improve Collaboration And Productivity
Collaborate and track progress across multiple projects. Users can stay in the loop and chime in when needed.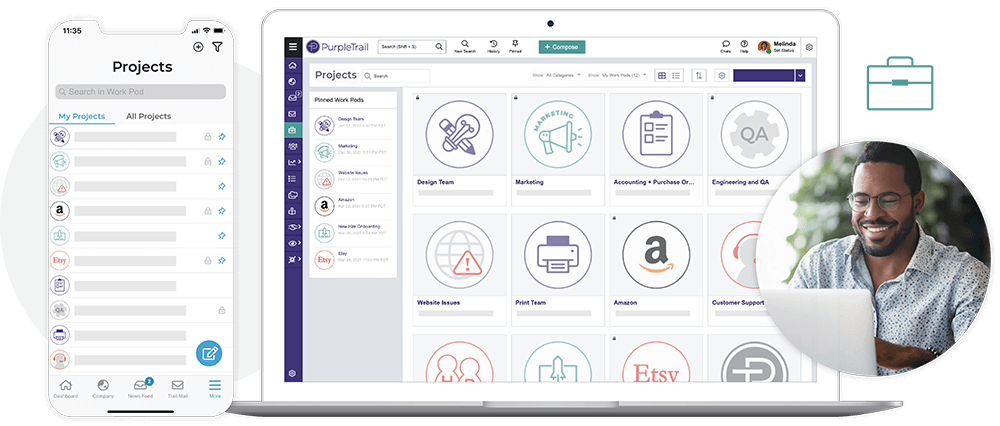 Project File Sharing
Sharing a file in a project is as easy as attaching it to an update, comment, or post. After a file is shared, colleagues can make edits or upload revisions.
Customers
& Guest Users
Invite customers/guest users right into a project. Guests are provided immediate transparency during project execution, and can contribute at the permission level allowed.
Searchable History
All project work and communication is fully searchable (including content inside wikis, posts, chats, and files) and stays neatly documented for future reference.
MangoApps has been really helpful for us. When we onboard a new customer, we just have to create a project, which takes two minutes, and add them to it. We're then able to communicate with them, ask questions, and collaborate inside MangoApps. It's been a very positive experience.
- Guillaume Sourd, IT ERP Specialist, Ekspert
Additional Project Features
New employees or members can quickly get up to speed searching through the project feed for previous communication.
Admins can export anything that has been said in projects. Exporting images and files can also be done with desktop sync.
Admins can select a list of users from the admin portal and add them to multiple groups and/or projects in one bulk action.
Archiving rather than deleting completed projects retains valuable information and contributions.
The project calendar allows teams to share project events, deadlines, and manage milestones.
How Our Customers
Use Projects
Team Collaboration
Peer to peer team collaboration on projects and common goals
Track Progress
Manage and track project progress with tasks
Transfer Knowledge
Make knowledge transfer to new employees easy with searchable project history
Customized Workspaces
Manage and activate modules that are necessary for specific project goals
Guest Users
Give customers and guest users access to a digital workspace that is only relevant to them
Internal Use
Create secret project groups for sensitive product development