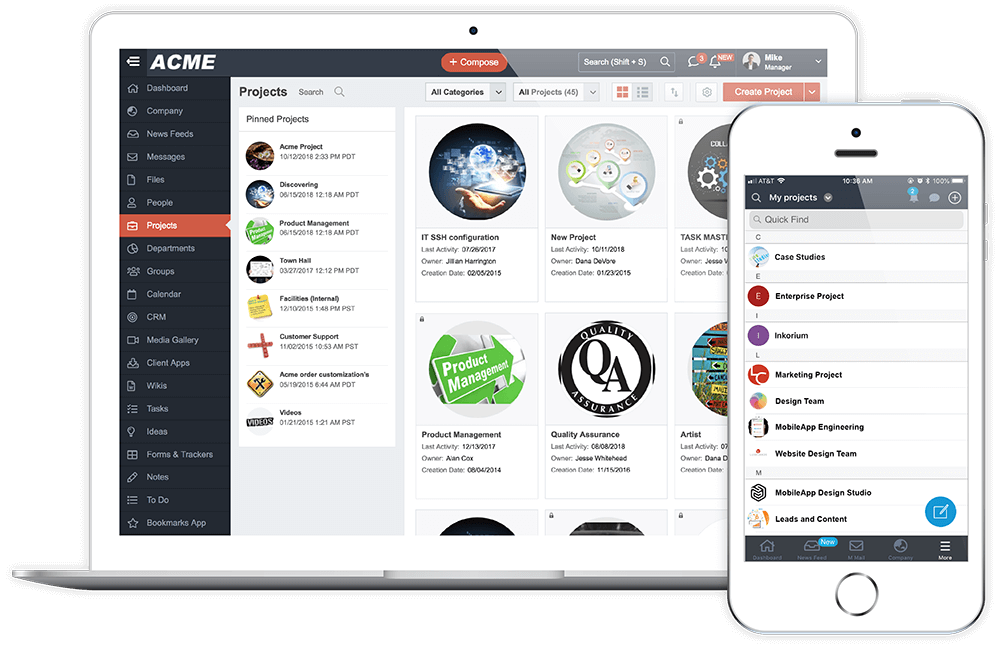 Work Together Towards a Clear Goal
Many project teams today communicate through email, share plans or progress through spreadsheets and don't have a good place to share, store or collaborate on documents. MangoApps Projects solves this problem with feature rich team spaces dedicated to creating a collaborative place for internal teams and external guests to work together and share duties in an organized and efficient way on any device.
Collaborate and Track Progress Across Multiple Projects
Collaborate using updates, posts, wikis, documents, file-sharing, and more. All members have access to a project activity feed, making interaction with updates or posts easy. Taking full advantage of the collaboration tools available in MangoApps, projects give users all of the tools to share, contribute, and ask for help in any way they choose.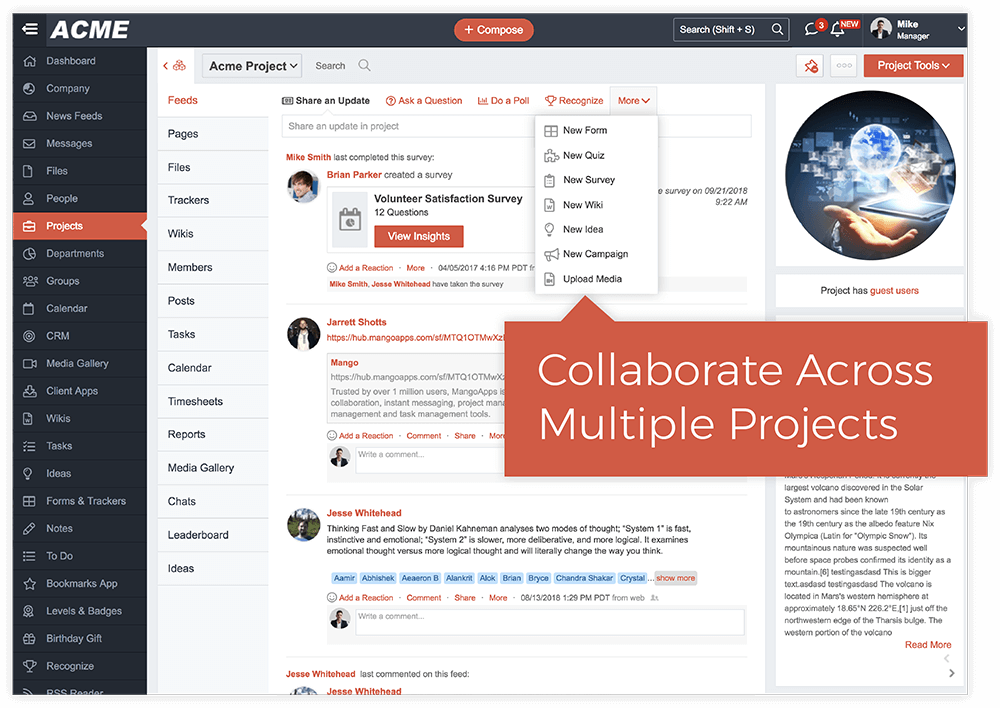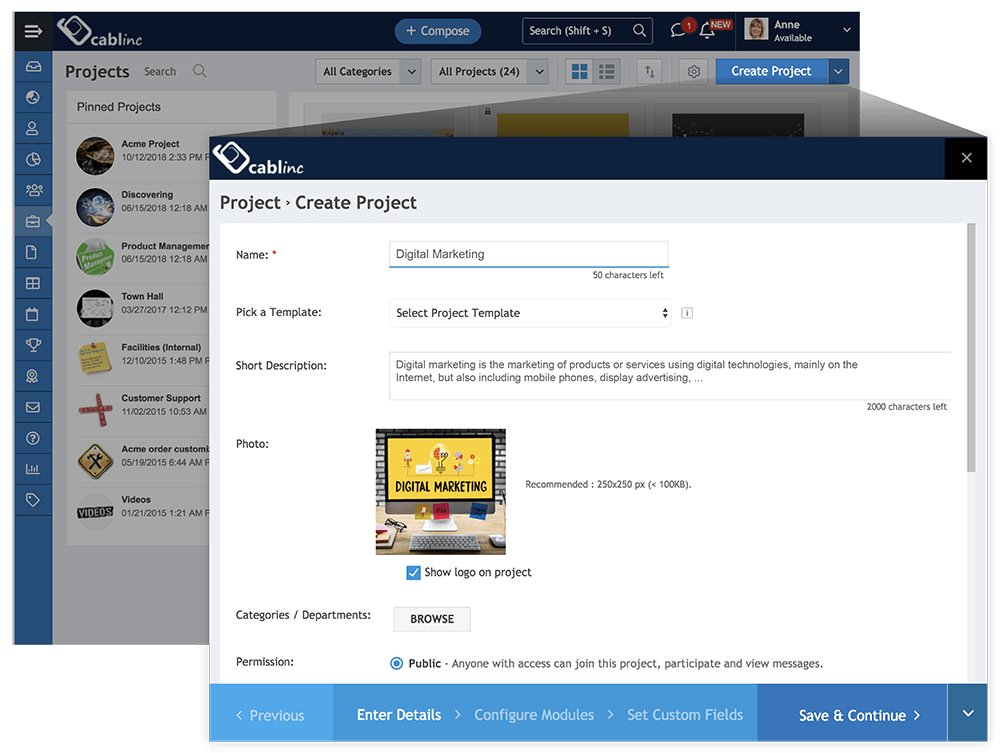 Create and Setup Projects
Creating Projects in MangoApps is easy. Users name the project identifying its use, provide a short description, add a photo, assign hashtags categorize it by department, and assign start/completion dates if needed. Default membership can be set to give new users standard or admin privileges, and the project itself can be set to a variance of access permissions.
Project Permission and Visibility
When creating or editing a project, the permission level can be set to Public, Private, or Unlisted. Public means anyone with access can join the project, or simply participate and view messages passively. Private projects require membership to view messages or participate, while an unlisted project is an invisible project only accessible to its creator and invited members making it perfect for anything under wraps.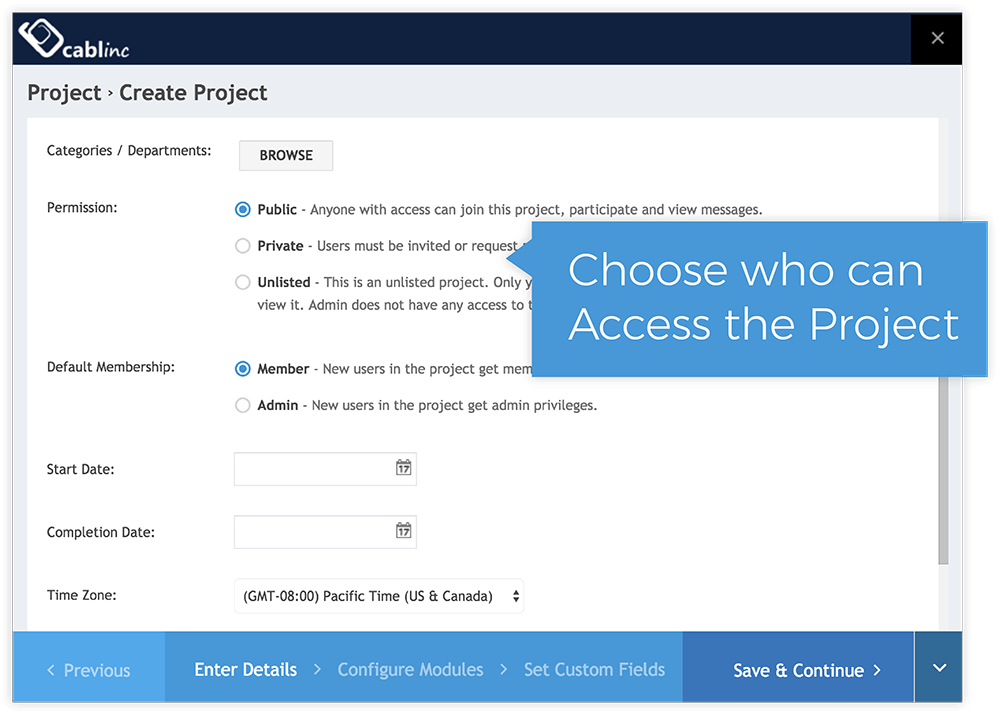 Structure and Compliance With Project Templates
Standardize the creation of projects with templates. Decide on base modules, folder structure for organizing files, project pages for capturing project goals and purpose, getting started posts or wikis - all in a template, and then create unlimited projects from it with just a few clicks.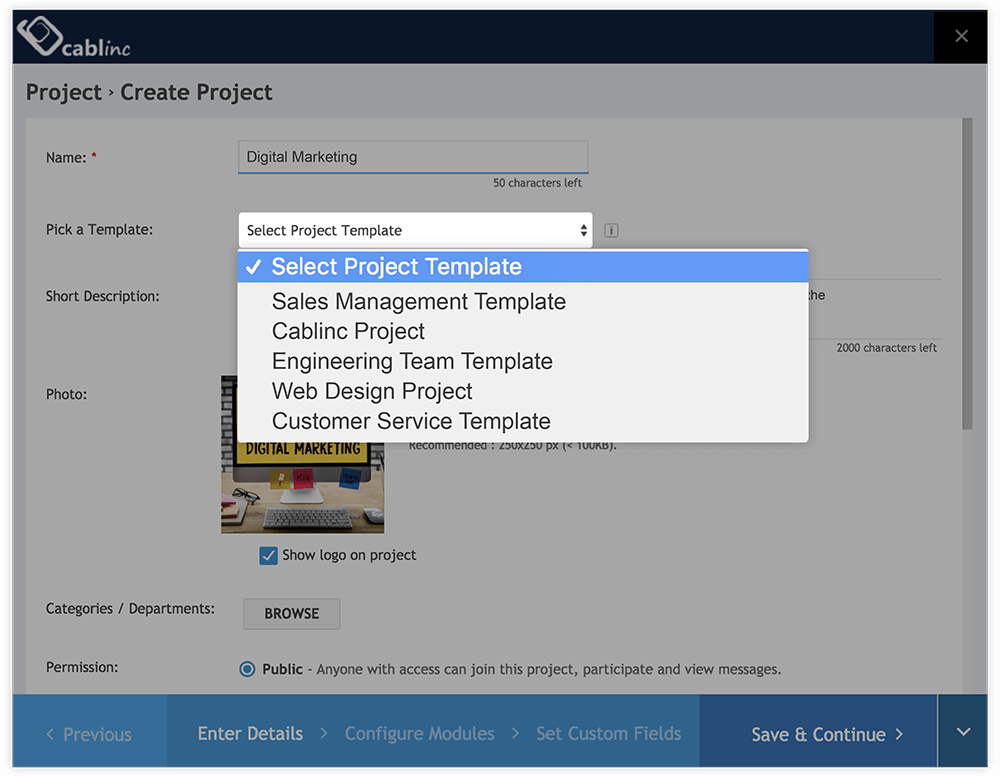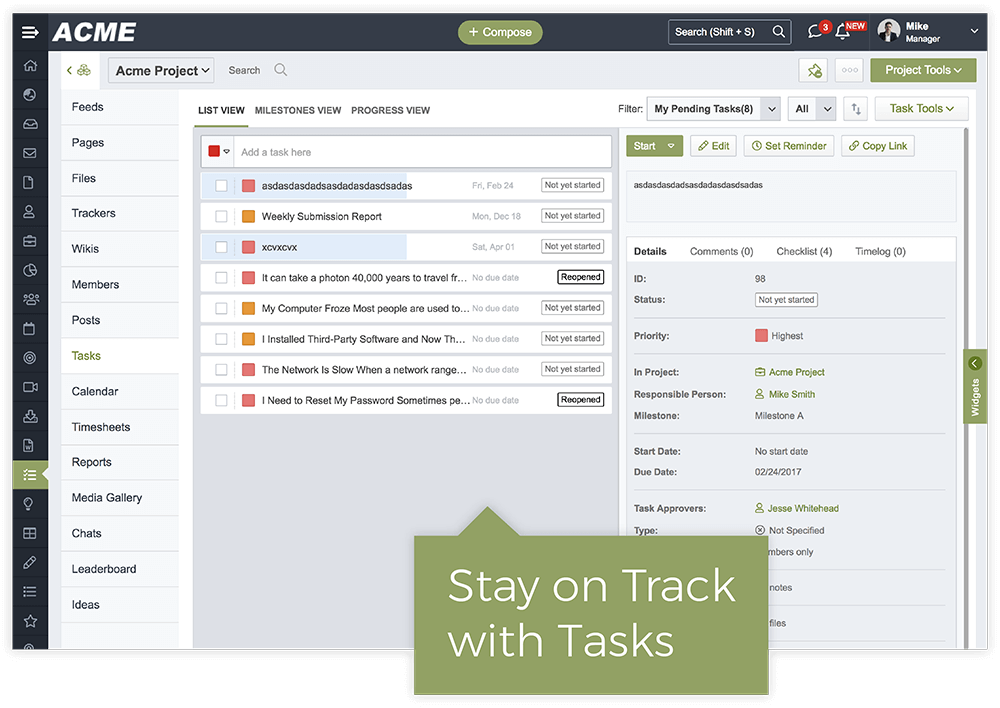 Keep Projects On Track With Tasks
The task management module makes sure that projects stay on track, ensuring the right resources are there to finish on time or on budget. All project members can see associated tasks, monitor its health, or see if it is overdue. A project task pool provides the opportunity for members to assign themselves to a task that is not assigned to a specific member.
Sharing a file in a project is as easy as attaching it to an update, comment, or post. After a file is shared, colleagues can make edits or upload revisions. A history of files is available at anytime, allowing users to access older versions. Admins can also set granular permission levels to indicate the role of contributors as owner/editor/viewer or no access.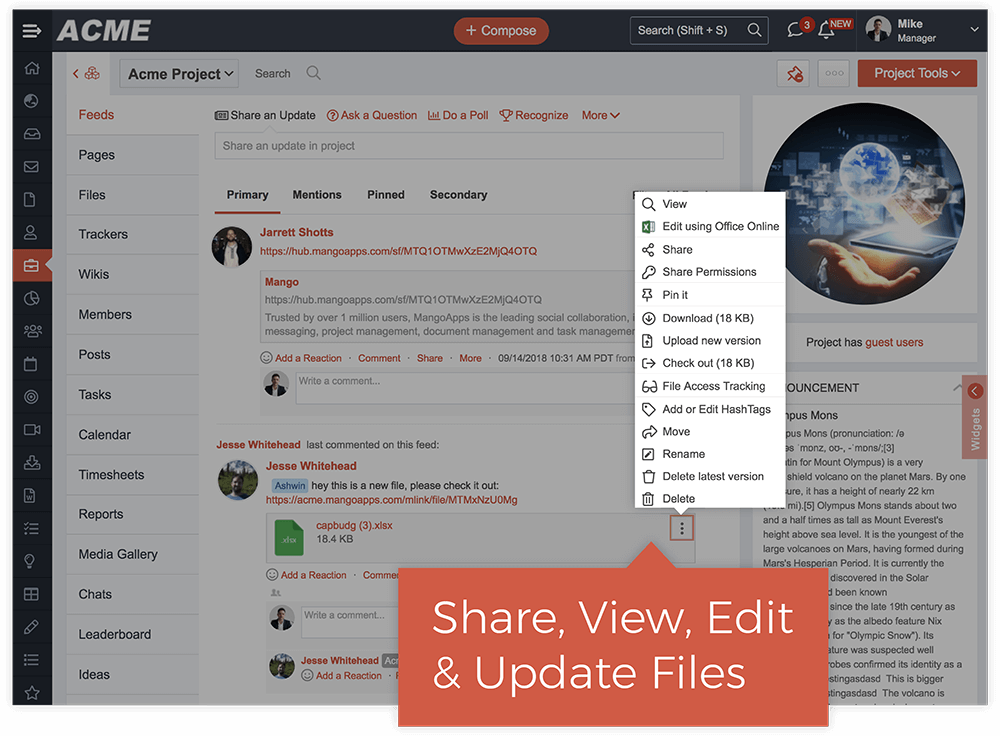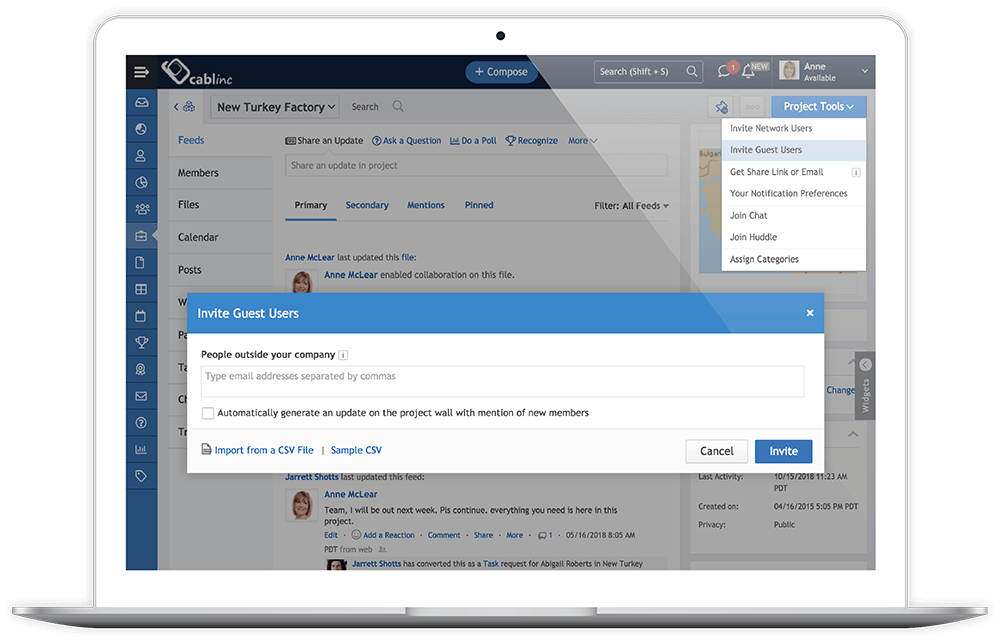 Customers and Guest Users
Projects that require the involvement of outside users are made easy, allowing them to be invited right into the project. Guests have immediate transparency and visibility during the project execution, and can interact or contribute at the level allowed in guest user settings.
Searchable History and Knowledge Transfer
All the project work and communication is fully searchable at anytime and stays neatly documented for future reference. Even the content inside the wikis, posts, chats and files is fully searchable. As new employees or members join a project, they can get fully up to speed searching and looking through the project feed for previous communication.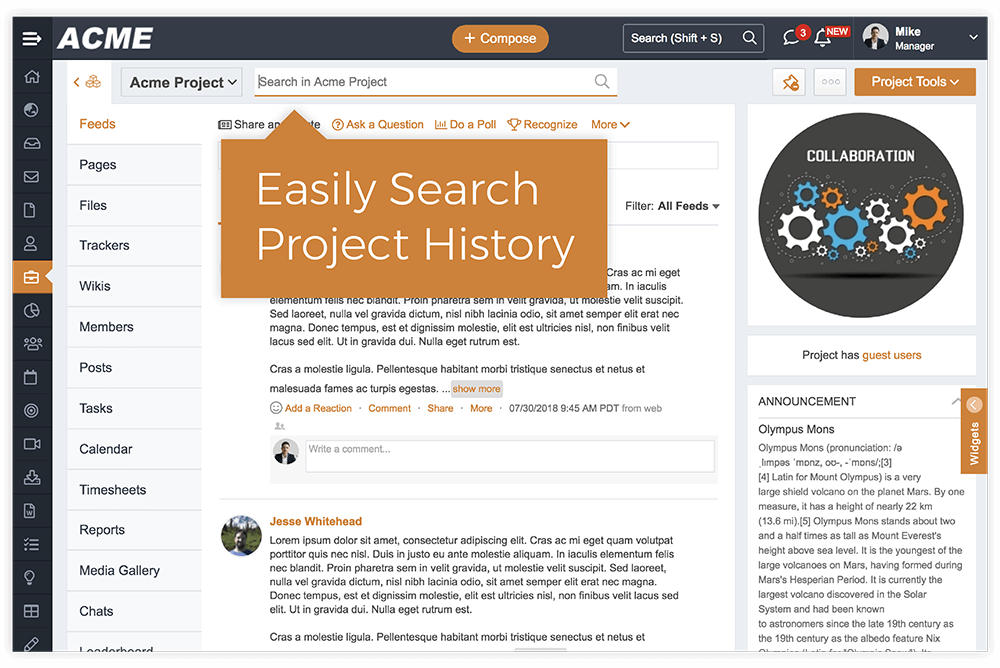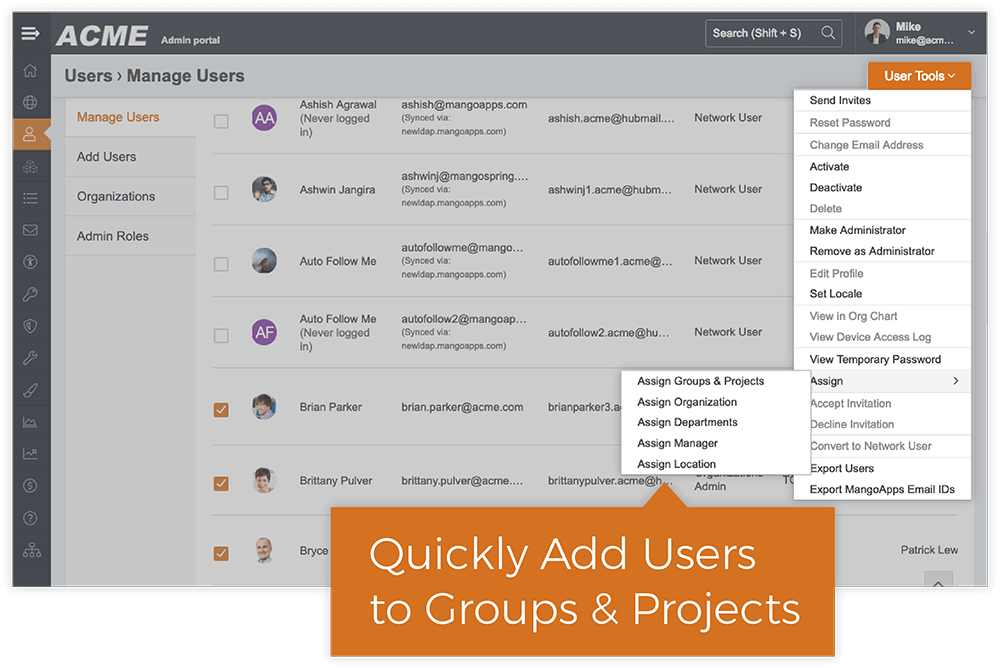 Add Users To Multiple Groups and Projects
Domain admins have the ability to select a list of users from the admin portal and add them to multiple groups and/or projects all in one action. All public and private groups and projects are visible when carrying out this action, and users are notified based on their settings.
Additional Projects and Teams Features
Export Project Data
Admins can export anything that has been said in projects. Exporting images and files can also be done with desktop sync.
Project View
Projects can be viewed in a list or grid format, allowing a user to showcase projects with profile pictures and large text, or in a list format with smaller details to view more projects at once.
Timesheet
Project members can keep track of hours worked, allowing members to clock hours and make them as billable if necessary.
Custom Label
The term 'project' can be replaced with a different label, and appear in place of 'project' throughout the domain.
Project Calendar
The project calendar allows teams to share project events, deadlines, and manage milestones.
Color Coded Project Events
Give a project a color of choice, used to identify project events on the project calendar.
Archiving Projects
Archiving rather than deleting completed projects retains valuable information and contributions.
Built-in Integrations
GoToMeeting and Join.Me allow teams to huddle together for desktop sharing or presentation at a moment's notice. Other integrations: Airbrake, Beanstalk, Github, Jira, MailChimp, New Relic, Pingdom, Slack, Zendesk, and create your own custom integration.
Make New Members Directly Admins
When adding new members to the group or project, MangoApps allows an action to directly add new members as team admins- saving a further step.
How Our Customers Use Projects and Teams
1

Peer to peer team collaboration on projects and common goals

2

Manage and track project progress with tasks

3

Make knowledge transfer to new employees easy with searchable project history

4

Create secret project groups for sensitive product development

5

Share and work together on files and documents

6

Manage and activate modules that are necessary for specific project goals
Read our post on How Customers Use The MangoApps Projects Module »
Bring your frontline and office teams together on one common platform
It has never been this easy to create the perfect employee experience for your deskless and deskbound workers. Contact us to discuss requirements, pricing, rollout and support. Get your free demo today!