Collaborate and track progress across multiple projects
Customize the view of multiple projects with most important fields and keep everyone up-to-date at a glance.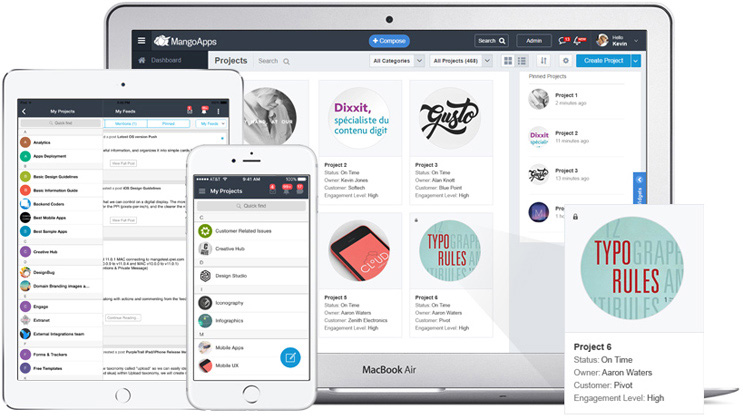 A little more conversation, a lot more action
Share an update, ask a question, do a poll, recognize a team member - all helping to make progress in projects and get results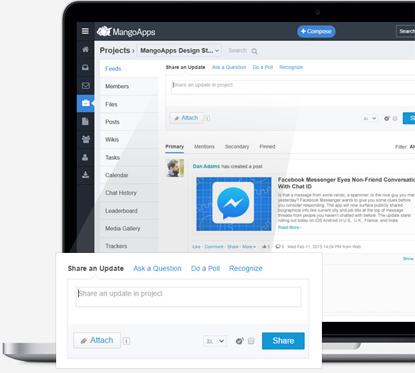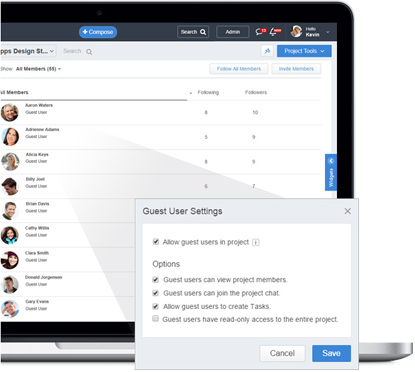 Customers, partners as guest users in projects
Have projects with customers or partners invited as guest users to give them transparency and visibility during project execution.
Customize projects from simple to full-featured
Every project is different and we don't believe you should have to change how you work to fit into a team collaboration software. With MangoApps projects, you choose the modules to fit with the purpose of the project. Project admins can add modules anytime as the needs of the project grows.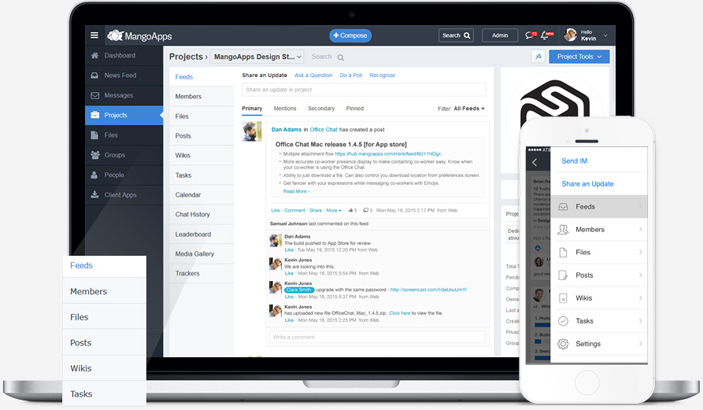 Connect your business systems to Projects
You can make MangoApps projects even more powerful with the apps you already use. Integrate with a growing number of applications. Our two-way communication with apps makes MangoApps the best integrated team collaboration software.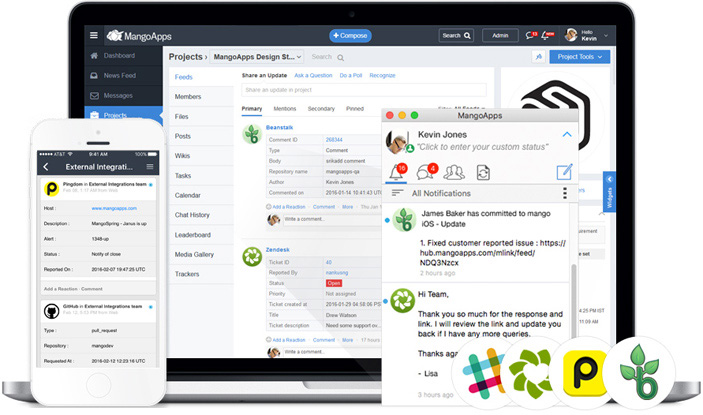 Tasks to track work and get results
Use the task management module to make sure your projects are staying on track, and that you've got the resources you need to finish on time and on budget.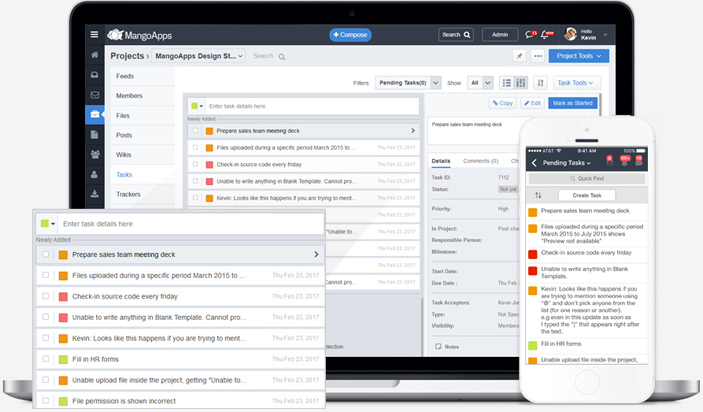 Folders to keep your project files organized
MangoApps makes it simple to securely share files and folders inside your project. Simply drag and drop files in your project folder, then set default permissions: Internal project members only; non-project members; or everyone in the company.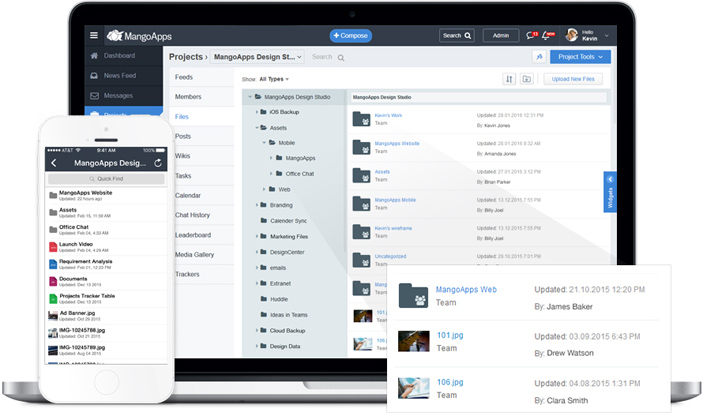 Posts to share project news, announcements and notes
Project blog posts are a great way to share project specific news and reports with your team. Use the post WYSIWYG editor to write, format and edit in the browser. It's just like using Word, but easier. Embed images and videos with ease. And if you're nerdy, you can add your own HTML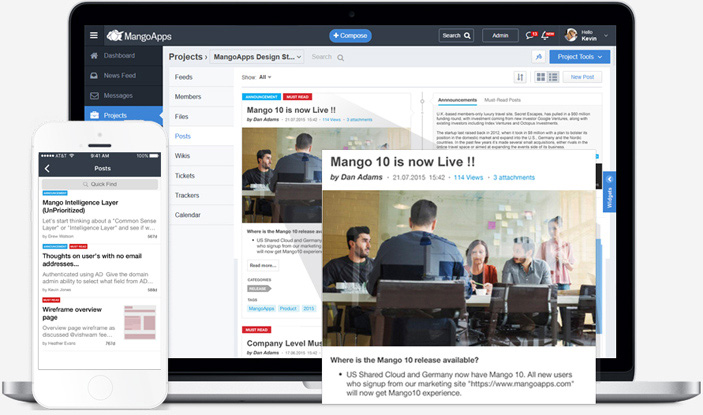 Project calendar helps plan events and milestones
Share projects events, manage milestones and keep track of project trainings and meetings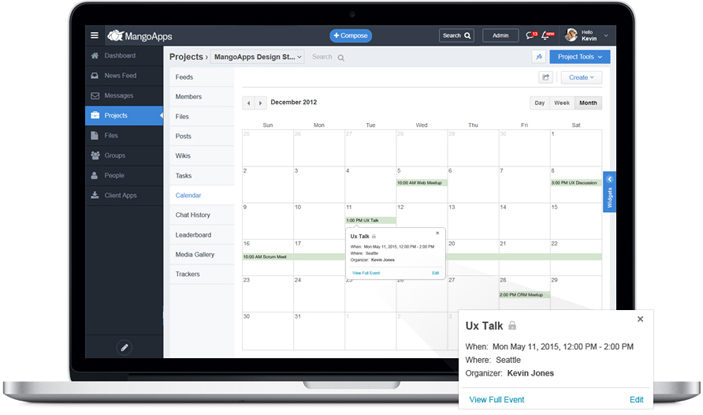 Trackers to coordinate or track list of requests, submissions
No more version control, no more lost emails. Get consistent status and manage all project requests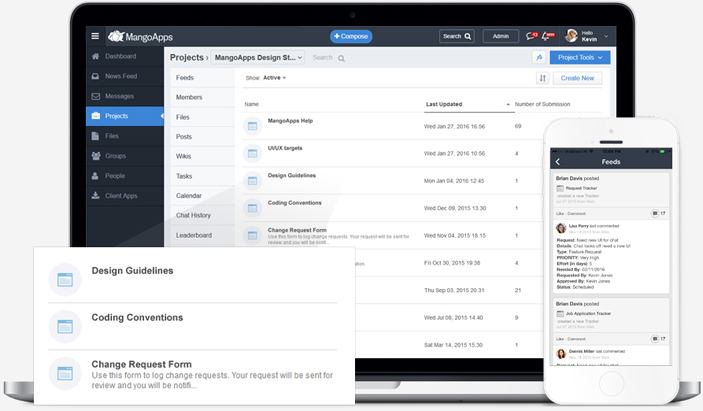 Pages to share project vision, processes and plans
Build a powerful source of project information which you can organize and manage it effectively in one place. You can link, arrange hierarchically, re-order and tag your pages which helps in fast and easy navigation. You can even attach files to these pages.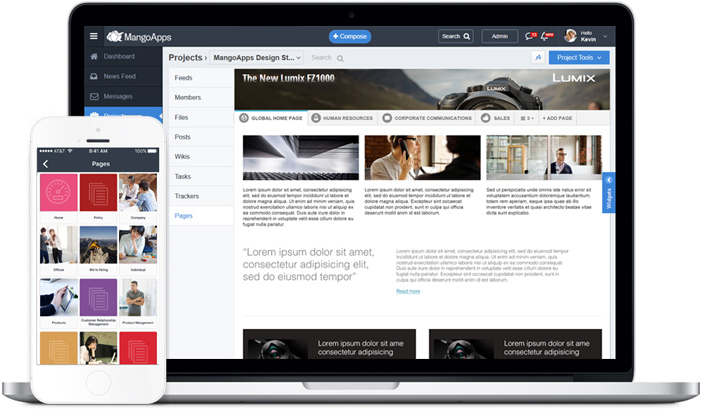 Wikis to document requirements, designs and more
Wikis lets your team collaboratively build a repository of information for the project. Requirements, reference material, specifications or any other information relevant to everyone in the project can be created as a wiki.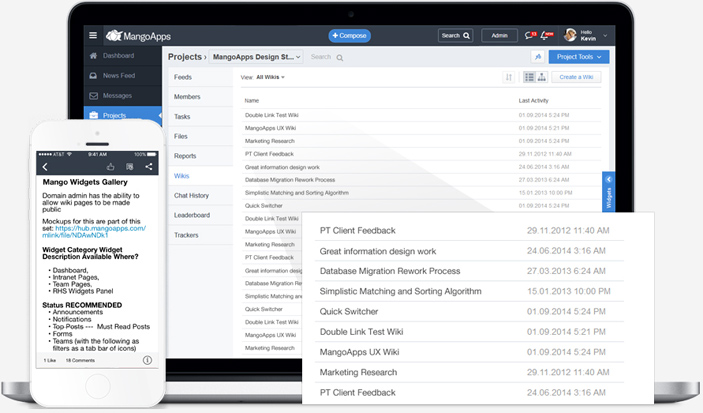 Project chat and huddle to speed up collaboration
Projects come with real-time communication through built-in chat, which allows everyone to quickly come together to discuss time-sensitive topics. Best of all, you can participate from any device, and most importantly transcripts stay there. With integration to GoToMeeting and Join.Me you can huddle together for a desktop sharing or a presentation session at a moment's notice.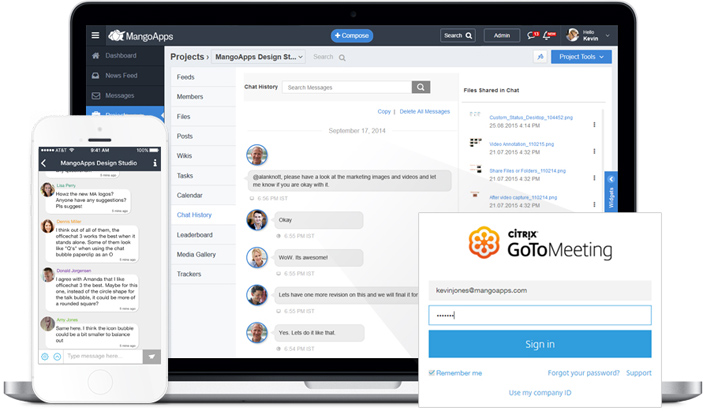 Highlight top contributors and influencers
Know which members of the project make things happen consistently and are your go to experts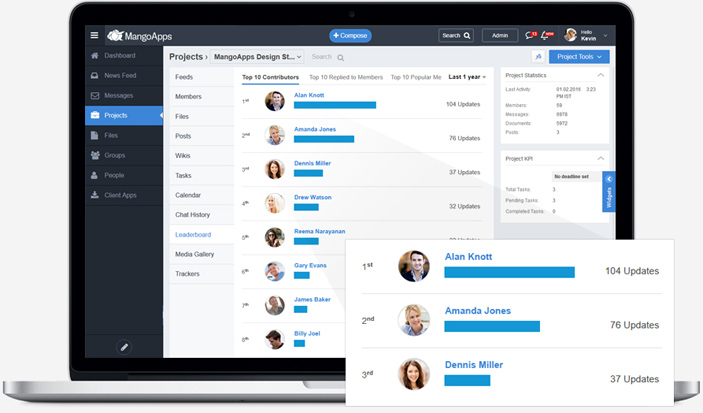 Administration tools for control and moderation
Keeping control and order across the project is a part of a project admin's job. Need to keep some members from changing project content? No problem, just use the permission management capabilities of the project modules. You control the membership of the project, privacy of files, what guest users see and more.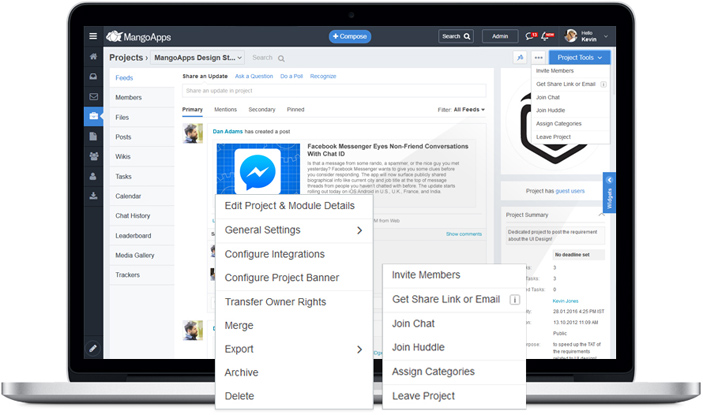 Forwarding emails to your project
No more sifting through emails or searching for attachments. Forward your external communication about the project, into the project keeping your project emails, replies and attachments in one secure, shared and relevant space. Keep it simple - no more time wasting.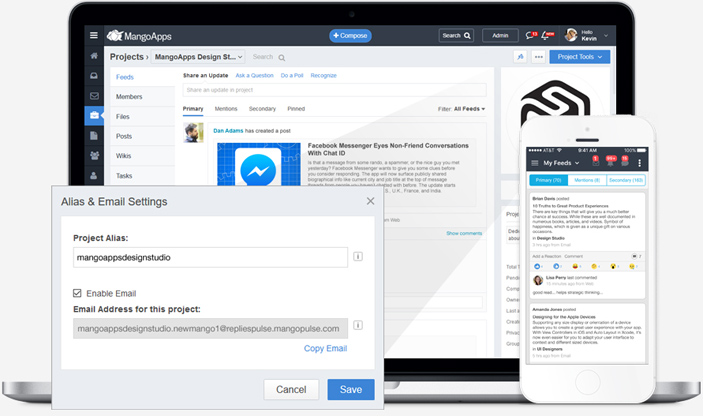 Upgrading project members to admins and inviting more members
Share project administration responsibilities with some of your co-workers by giving them project admin privileges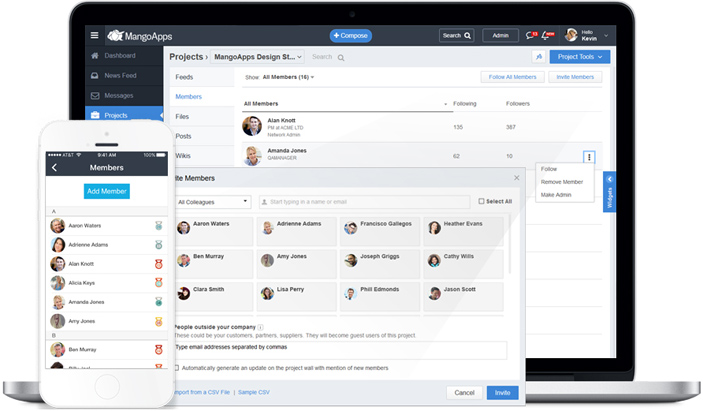 Project search on its full content
All the project work and communication is fully searchable at anytime and stays neatly documented for future reference. Even the content inside the wikis, posts, chats and files is fully searchable.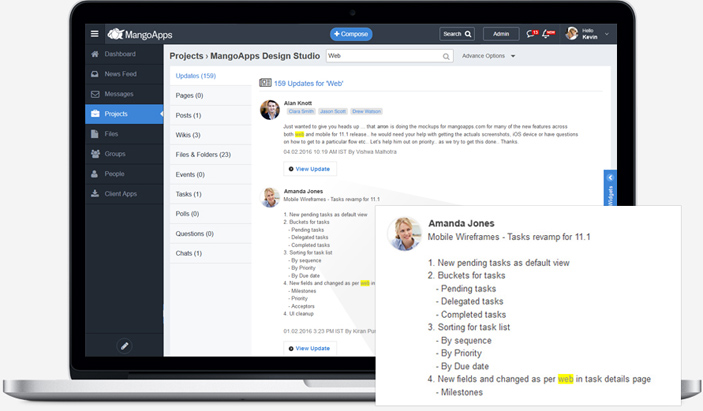 Get structure and compliance in place with project templates
Standardize creation of projects with templates. Decide on base modules, folder structure for organizing files, project pages for capturing project goals and purpose, getting started posts or wikis - all in a template and then create unlimited projects from it with just a few clicks.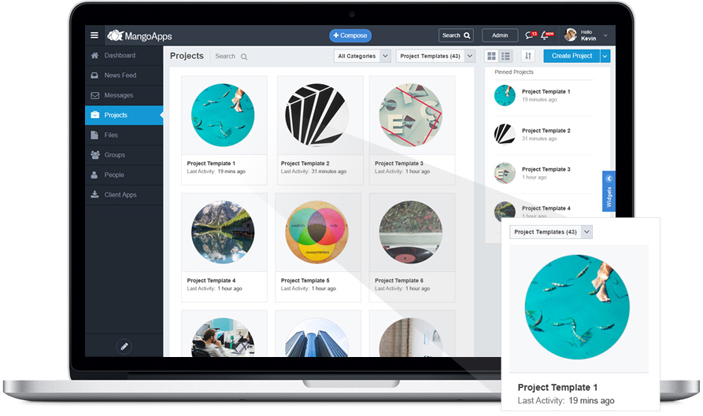 Project widgets on dashboard for direct access
Visual widgets on the dashboard allow you to gain quicker access to different pieces of content and get richer insights into how the team is performing, giving you time to make adjustments.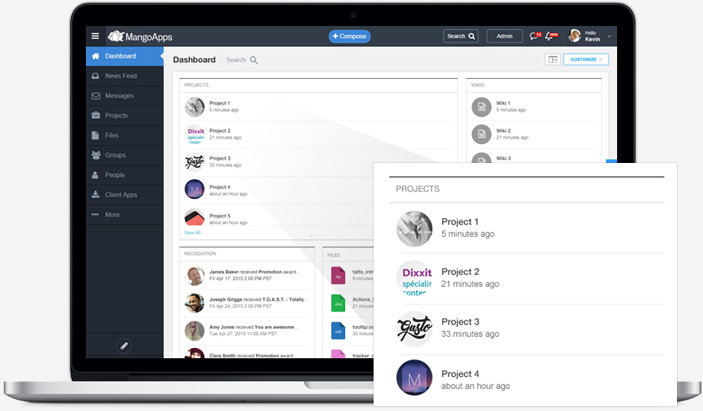 Get started by creating a new project
Start a project using the simple three-step wizard and be on your way to working smarter. Create an online project workspace with killer features that help your team collaborate and communicate with a highly effective tool.