Personalized Employee Profile Pages
Employee profiles offer detailed and personalized information designed to increase
communication and strengthen company culture.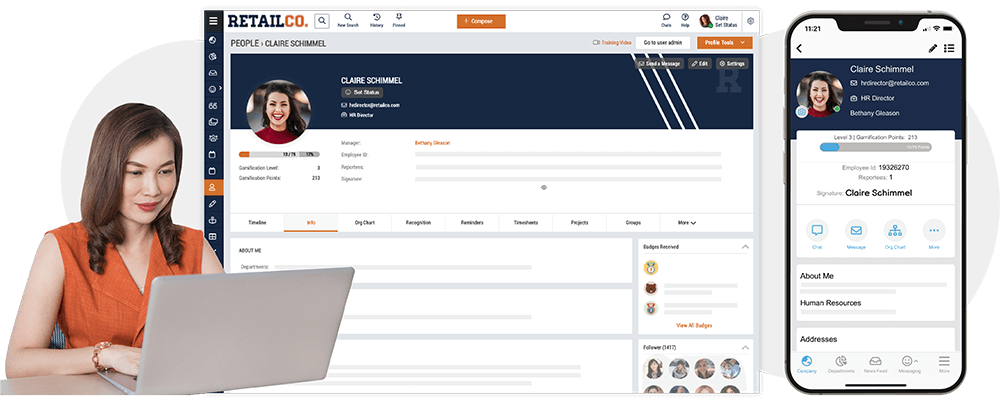 Descriptive
Profile Pages
Employee profiles include bios, expertise, experience, interests, and even your office location. Profiles are updated by employees in real time, ensuring that information is always up-to-date.
Personalized Page Content
Profile pages act like an internal resume, showcasing skills, experience, social media links, and accomplishments company-wide while helping employees engage in productive collaboration.
Simple Synchronization
The MangoApps Directory auto-syncs with LDAP and other enterprise systems, giving you a user-friendly, searchable system that is always up to date.
Multiple
Directory Views
Employee directories can be browsed by either department or location, as well as org chart. This approach allows employees to stay organized, and find each other faster.
Learn more about employee directory »
We've got such a large workforce in a number of different locations, and MangoApps has helped bring everybody together. One of the biggest comments I've heard is: 'I feel like the business got smaller because I can contact more people, and I've got friends that I didn't even know existed before.' It has been absolutely transformational for us.
- Jo Mackie, Customer & People Director, SuperDrug
Complete Admin Control
Admins can specify which fields in an employee profile are required and which are unnecessary. This ensures that profile pages are always relevant and useful to employees and other directory users.
Global Search Options
Search employees by department, location, expertise, skills and more. You can also look for people matching multiple search criteria and save advanced search filters for later use.
Additional Employee Profile Features
Display certifications and transcripts from LMS courses directly on your employee profile. Search and filter employee directory to find users with specific skills.
Bridge the gap between your desk and deskless workers with employee profiles that are accessible via mobile app, making it perfect for remote workers and employees on the go.
Badges, recognitions, certificates, and projects are all displayed on an employee's profile as they are accomplished, causing it to become richer and more informative over time.
Quickly find the perfect person to join a project or answer a question. Filter users by customizable criteria like experience, certifications, location, or areas of specialty.
How Our Customers Use Employee Profiles
Connect With Colleagues
Learn more about colleagues through detailed profile photos and information
Develop Relationships
Establish relationships and collaborate more effectively with coworkers
Improve Collaboration
Save time and collaborate better by using a department or location based directory
Understand Company Hierarchy
Discover company hierarchy through a visual and interactive org chart
Quickly Find Resources
Find the right resource for a project or need by optimizing advanced searching
Centralize Employee Information
Create a single location to access employee details and contact information