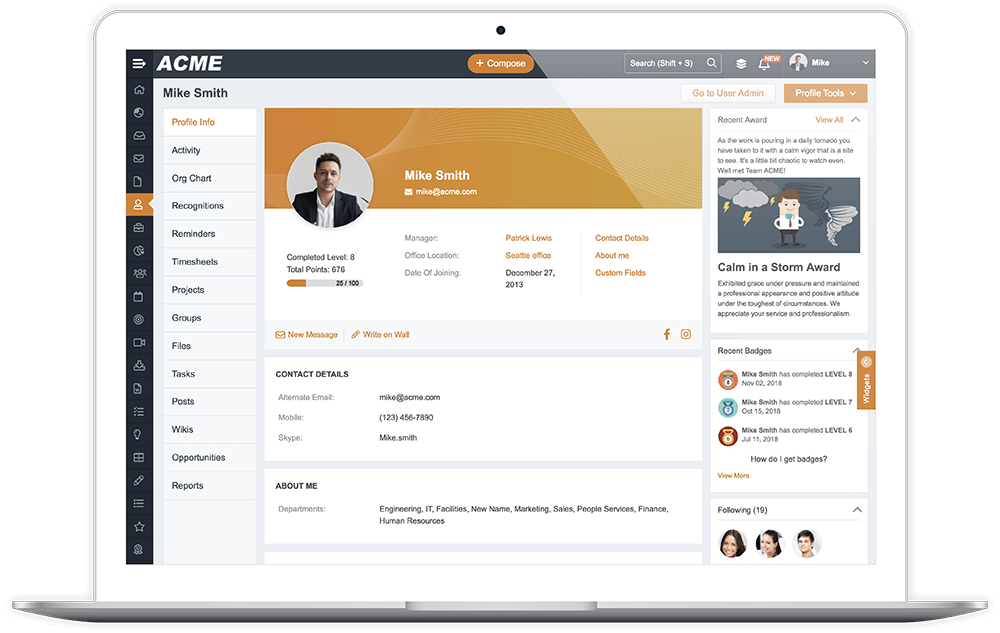 Descriptive Profile Pages
Descriptive rich profile pages can include bios, expertise, experience, interests, activities and even multiple addresses and your office location. Content is easy to find and interact with and users can effortlessly save phone numbers, addresses or any other contact information. Profiles are also updated by employees in real time, ensuring that information is always up-to-date.
Personalized Page Content
Updating and maintaining a personalized profile page benefits employees too. Profile pages are visually appealing and provide an opportunity to make a genuine first impression. Individualized profile pages act like an internal resume, showcasing skills, experience, social media links, and accomplishments company-wide while helping employees connect and engage in productive collaboration. Admins can also add new sections or custom fields, and re-order user profiles.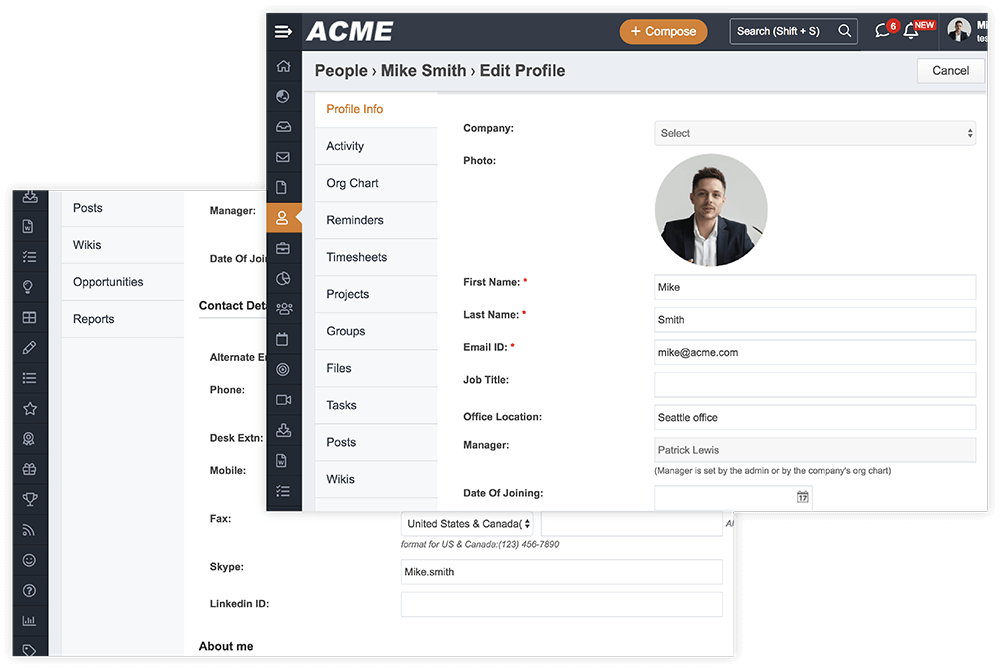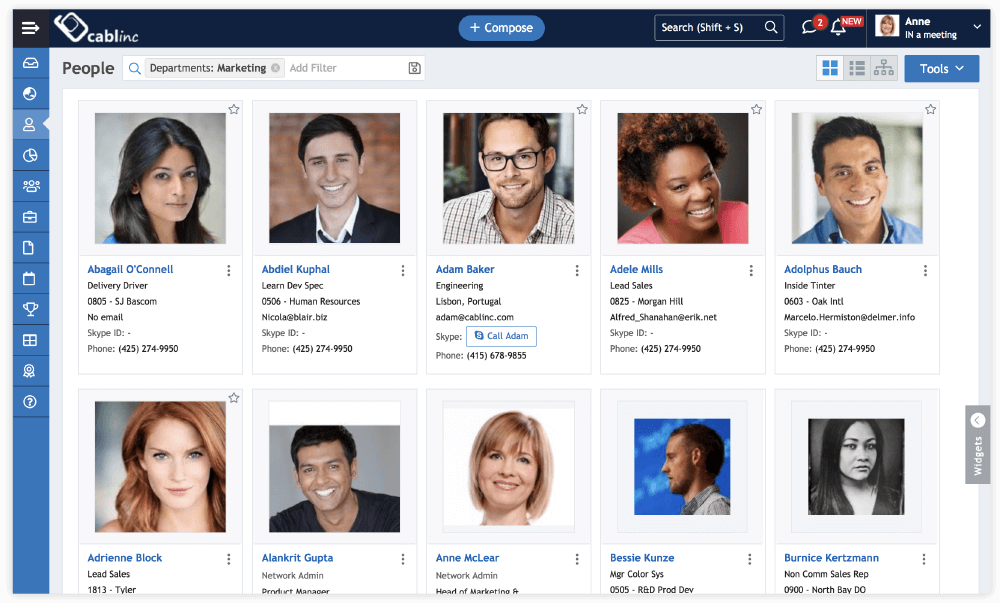 Multiple Directory Views
MangoApps company directories can be browsed by either department or location. This multiple view approach allows employees to stay organized, know who they need and find who they're looking for faster. It also helps employees learn more about their company's organizational structure, improving overall understanding and communication.
Admins have the ability to specify which fields in the employee profile are required and which are unnecessary. This ensures that profile pages are always relevant and useful both to your specific industry and to employees and other directory users. It also allows profile pages in the directory to be standardized and organized within the company, team, department or location.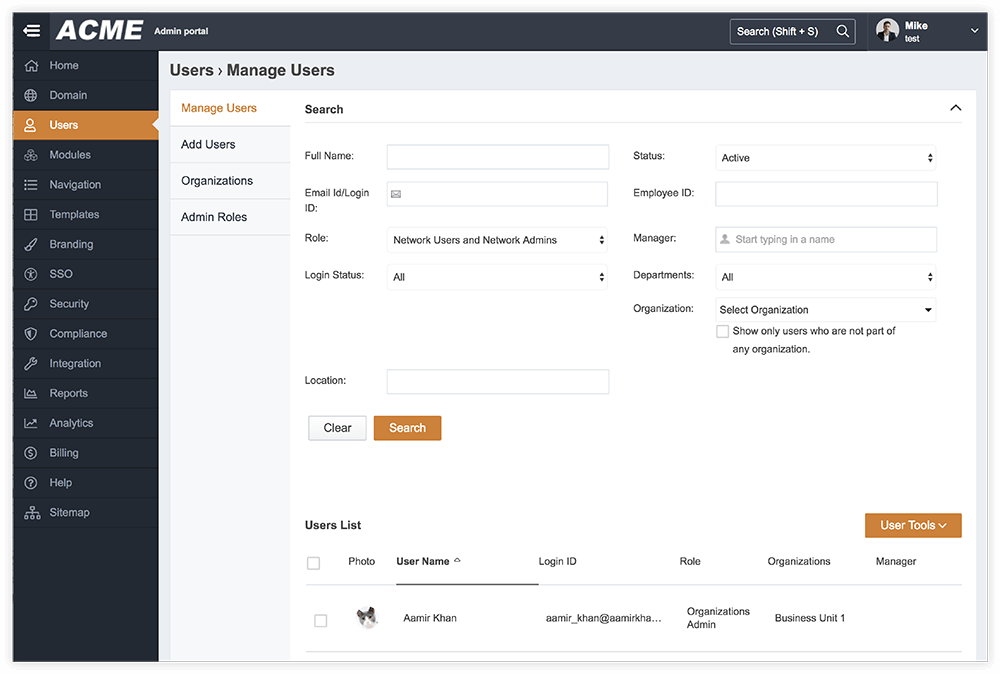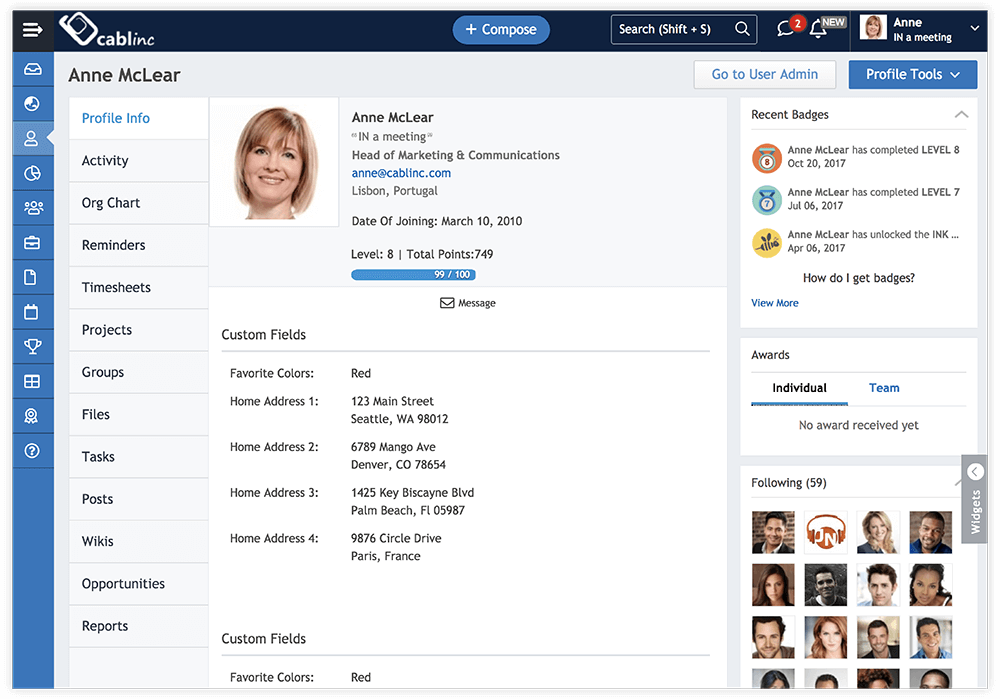 Industry Specific Areas
Profile pages are designed to support and inform coworkers and employers within the company's unique needs. Admins can create customizable fields for profile pages that are relevant to a specific industry. This guarantees that every profile will be helpful, specific and include all of the important information you need, no matter how niche or specific it may be.
MangoApps employee directory allows you to search for people by department, location, expertise, skills and more. You can also look for people matching multiple search criteria and even save advanced search filters for later use. Predictive type-ahead search bars make it easy to go directly to a profile page and help employees stay independent and find who they need.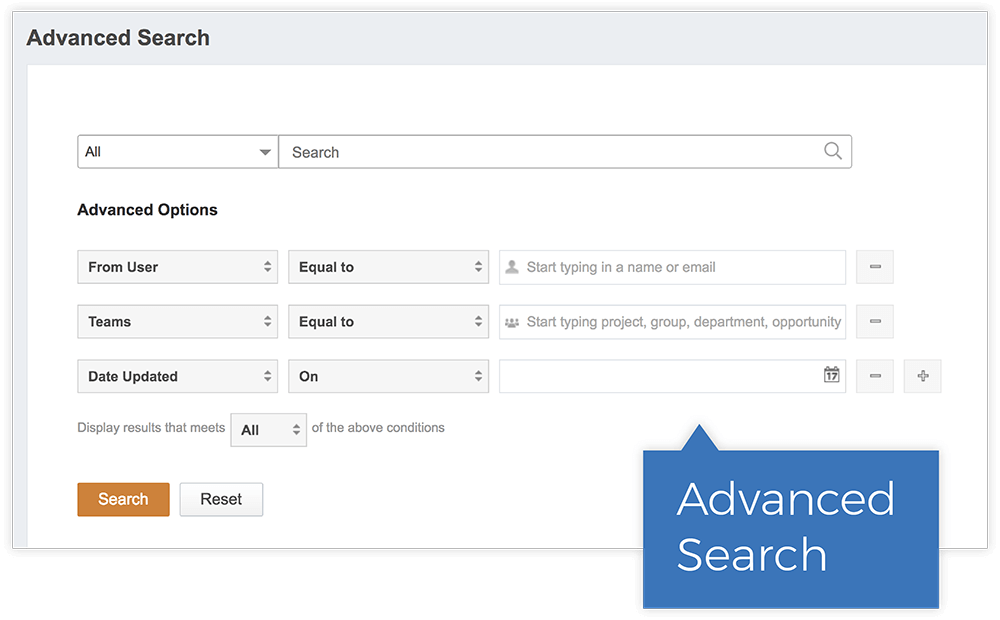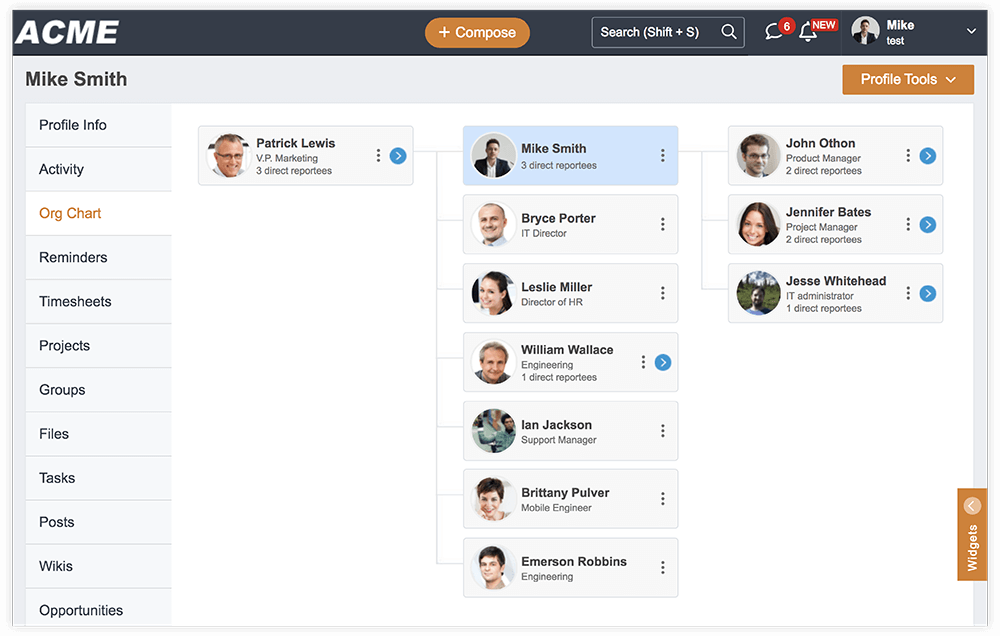 Informative Org Charts
Visual and well-defined org charts help employees see and understand company hierarchy and collaborate more effectively. MangoApps interactive org charts are designed to improve communication and orchestrate success. Clicking on an org chart image will lead you directly to that person's profile page, providing essential information and making it easier to connect.
Company directories are only useful if they are up to date. MangoApps company directories and org charts can conveniently integrate profiles and be automatically kept in sync from active directory, LDAP or other enterprise systems. This sync includes fields such as date of joining, date of birth, and employee ID. Employee profile pages all save in real time and can be built manually or via LinkedIn. Employees can also manually update details as needed.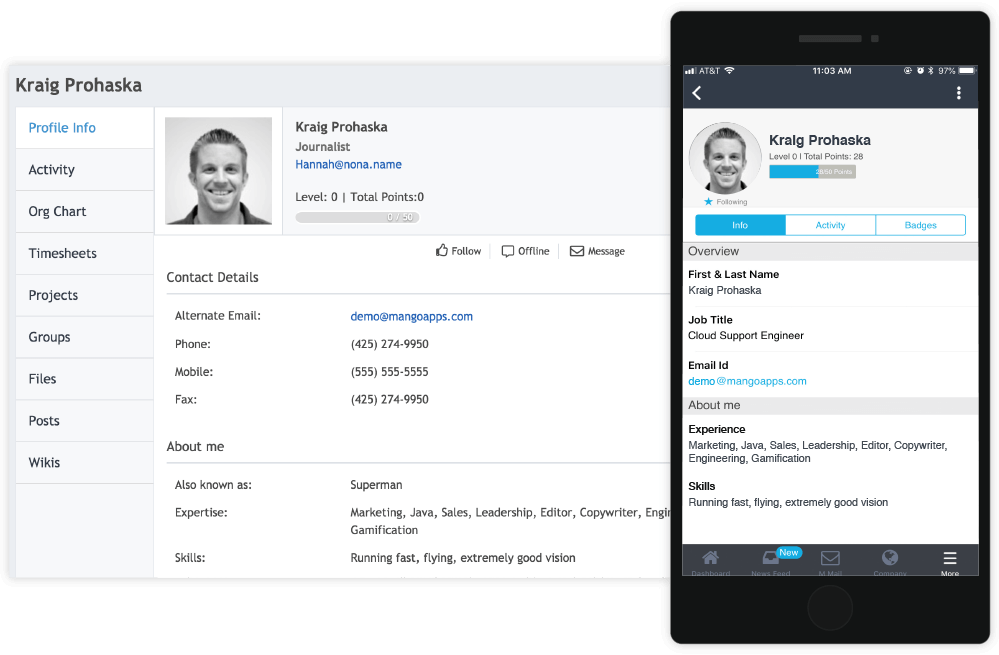 Additional Employee Profile Features
Accessible From Anywhere
Employee profiles are automatically optimized for mobile viewing and can be easily accessed on an Android or iOS device, making them perfect for remote workers and employees on the go.
Easy to Export and Share
Profiles can conveniently be exported as a PDF, downloaded or shared with others. Contact information is also interactive, allowing users to save contact information right to their phone.
Increased Quality Over Time
Badges, recognitions, certificates and projects are all displayed on an employee's personal profile as they are accomplished, causing it to become richer and more informative over time.
Expert Finder
Quickly find the perfect person to join a project or answer a question. Easily filter people by customizable criteria like experience, certifications location or areas of specialty.
Mark Fields As Private
If enabled by admin to allow control on visibility, users can mark fields on their profile as private which makes them not visible to profile visitors.
How Our Customers Use Employee Profile
1

Create a single location to access employee details and contact information

2

Save time and collaborate better by using a department or location based directory

3

Learn more about colleagues through detailed profile photos and information

4

Find the right resource for a project or need by optimizing advanced searching

5

Discover and understand company hierarchy through a visual and interactive org chart

6

Establish relationships and collaborate more effectively with coworkers in their network
Bring your frontline and office teams together on one common platform
It has never been this easy to create the perfect employee experience for your deskless and deskbound workers. Contact us to discuss requirements, pricing, rollout and support. Get your free demo today!